Consumers can avoid getting caught in the heat of the moment by maintaining or replacing air conditioning equipment
Save Money And Keep Cool This Summer By Increasing Your Air Conditioning IQ
Northeast Energy Star Appliance and Lighting Initiative | Northeast Energy Star Appliance and Lighting Initiative
Consumers can avoid getting caught in the heat of the moment by maintaining or replacing air conditioning equipment
Keeping the house cool accounts for as much as half of the average homeowner's summer energy expenses every year. Discovering problems with an air conditioning system after the temperature tops 90 degrees is uncomfortable as well as expensive. Fortunately, there are steps that all consumers can take to help reduce costs and stay cool.
To help consumers save money and help preserve the environment the Northeast ENERGY STAR® Appliance and Lighting Initiative, a coalition of local utilities and energy efficiency groups, has partnered with the U.S. Environmental Protection Agency (EPA) and the Department of Energy (DOE), to promote ENERGY STAR qualified appliances and lighting, including air conditioners and ceiling fans. Using ENERGY STAR qualified cooling equipment, sized and installed correctly, can save consumers up to 20 percent or even more of their annual energy costs.
These efforts have impact that extends beyond the pocketbook. Sixty-seven percent of households in the Northeast have air conditioning. That means, when a summer heat wave strikes, demand on local power spikes. In the Northeast, utility companies have been able to keep up with demand. However, the California blackouts and brownouts from previous years are a reminder that energy efficiency impacts all of us. In fact, according to the EPA, if just one out of ten homes used ENERGY STAR qualified heating and cooling products, the change would prevent 17 billion pounds of air pollution.
Following are summer-time tips to help beat the heat, conserve energy and save on energy costs:
Consider an Upgrade
If your cooling system is more than 10 years old, consider upgrading to a new unit that has earned the EPA's ENERGY STAR for high efficiency. ENERGY STAR qualified room air conditioners and central air use new technology that use less energy without sacrificing comfort. Visit www.myenergystar.com for more information.
Install Programmable Thermostats and Timers to Match Your Cooling Needs
There is no sense in paying to keep the house frosty when you aren't even home. Programmable thermostats allow you to program your central air conditioning system with up to four settings to consistently control your home's temperature on weekdays and weekends. While you are at work, you can save money and energy by turning your thermostat up to 85 degrees while you are out during the day. Then you can have it automatically readjust to your preferred level an hour before you return. The house will be cool when you arrive and you can save as much as $100 per year on heating and cooling costs.
Many ENERGY STAR qualified room air conditioners are equipped with a built-in timer to help you adjust your unit to use less energy. You can program your unit so that your room air conditioner automatically adjusts to keep your home cooler when you are home and less cool when you will be away at work.
Maintain Cooling Systems Regularly
Properly maintaining equipment prevents future problems and added expenses. Qualified contractors can do annual pre-season check-ups to ensure that your central air conditioning is running as efficiently as possible. They will check thermostat settings, tighten electrical connections, measure voltage and current on motors, lubricate all moving parts, inspect drainage to make sure water is not blocked, check system controls for safety, clean condenser coils, check refrigerant pressures and clean and adjust blower components for proper system air flow.
In addition, they will show you how to inspect, clean and change air filters once a month so that you can check it yourself on a monthly basis. A dirty filter causes higher energy costs and can damage equipment. It's also important to maintain room air conditioners by changing the filter once a month.
Size Your Air Conditioning Equipment Correctly
Bigger isn't always better. A cooling system that is too big for your home will operate in short run times, not allowing the unit to reach efficient operation, properly dehumidify the space, or deliver uneven temperatures throughout the home. You will experience higher costs and reduced comfort. Based on size alone, a room air conditioner generally needs 20 British Thermal Units (Btu) for each square foot of living space. For central air conditioning systems, it is highly recommended that you consult a contractor to perform a calculation to insure that the unit is properly sized for the space. To properly size an ENERGY STAR qualified room air conditioner, visit the ENERGY STAR web site for sizing instructions, http://www.energystar.gov/index.cfm?c=roomac.pr_properly_sized.
Know Your Air Conditioning Efficiency Ratings
For room air conditioners, look for the ENERGY STAR label and select the unit with the highest Energy Efficiency Ratio (EER) for greater savings. The EER shows the cooling capacity of the unit, compared to the power it uses. While the required cooling capacity depends on the size of the room being cooled, generally, the higher the EER rating, the more efficient the air conditioner. Look for units with an EER of 10.7 or above. Other important factors to consider when selecting an ENERGY STAR qualified air conditioner are room height, shading, and window size.
Central air conditioning units are rated on both their Seasonal Energy Efficiency Ratio (SEER) and EER. A minimum rating of SEER 13 and EER 11 or more indicates high energy efficiency and provides considerable energy savings over the life of the unit. Higher efficiency ratings may be cost-effective depending on climate and lifestyle.
Keep Air Conditioners in the Shade
Plant trees or shrubs to shade air conditioning units but not to block the airflow. A unit operating in the shade uses as much as 10% less electricity than the same one operating in the sun.
Keep the Heat Out
Sunlight shining in windows usually adds the largest amount of unwanted summer heat, which only creates more warm air to keep cool inside. Block daytime sun with blinds, shades or drapes.
Don't Make Your Air Conditioner Go It Alone
Using ENERGY STAR qualified ceiling fans can help cool your home without greatly increasing electricity use. Ceiling fans improve airflow and create pleasant breezes.
Set the fan speed on high, except on very humid days. When humidity is high, set the fan speed on low for more comfort. The low speed on humid days will cool your home better and will remove more moisture from the air because of slower air movement through the cooling equipment. You'll stay comfortable, without using as much energy.
The Northeast ENERGY STAR appliance and lighting initiative is coordinated through Northeast Energy Efficiency Partnerships, Inc., (NEEP) based in Lexington, MA. Participants include the following electric utilities and energy efficiency organizations throughout the Northeast: The United Illuminating Company in Connecticut; Narragansett Electric in Rhode Island; The Long Island Power Authority in New York; Efficiency Vermont in Vermont; and NSTAR Electric, Western Massachusetts Electric Company, Massachusetts Electric Company, Nantucket Electric, Unitil/Fitchburg Gas and Electric, and Cape Light Compact in Massachusetts. For more information, please visit www.myenergystar.com
The content & opinions in this article are the author's and do not necessarily represent the views of AltEnergyMag
---
Comments (0)
This post does not have any comments. Be the first to leave a comment below.
---
Post A Comment
You must be logged in before you can post a comment. Login now.
Featured Product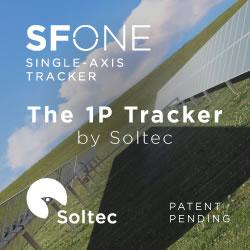 SFOne is the 1P single-axis tracker by Soltec. This tracker combines the mechanical simplicity with the extraordinary expertise of Soltec for more than 18 years. Specially designed for larger 72 an 78 cell modules, this tracker is self-powered thanks to its dedicated module, which results into a lower cost-operational power supply. The SFOne has a 5% less piles than standard competitor, what reduces a 75% the labor time.