All over the world, buildings energy consumption is increasing at a high rate due to the improvement in living standards in developing countries.
Energy Security Code of Conduct
Dr. Morgan Bazilian | Sustainable Energy Authority of Ireland
All over the world, buildings energy consumption is increasing at a high rate due to the improvement in living standards in developing countries.
by Dr. Morgan Bazilian
Department Head, Energy Policy Development
Sustainable Energy Authority of Ireland
---
The Gherkin building dominating the City of London skyline and headquarters of reinsurers Swiss Re attracted huge interest both negative and positive from all over the world when it was opened in 2004. It owes its nickname to its peculiar shape. The building's designers Foster and Partners describe it as "London's first ecological tall building…rooted in a radical approach, technically, architecturally, socially and spatially." The shape and design of the forty-one storey building, they say, reduce the tower's reliance on air conditioning. Due to this and other sustainable features, "the tower is expected to use less than half the energy consumed by air-conditioned office towers."
It is hoped that the tower will live up to the plans and expectations of its designers, but for the moment there is no evidence of this because the company's press office does not release energy consumption data. This situation may change in the future, when the European Union's Energy Performance in Buildings Directive introduces new public information requirements relating to the energy performance of larger buildings.
There are enormous gaps in buildings energy data both in Europe and in the rest of the world and correspondingly enormous gaps in effective energy-saving techniques and legislation. Performance measurement and improvement are, as a result, difficult to get a grip on. "There is nowhere for people to go to find the answer to which buildings work and which don't" explains Adrian Leaman of the UK's Usable Buildings Trust, a charitable organisation.
While many architects design buildings with environmentally-friendly characteristics, data proving the effectiveness of the design are usually absent once the building has been constructed. Hence, flaws that may occur during the construction phase of an environmentally-friendly building are missed. Also, calculations of prospective energy use are not standardized, so claims of percent savings cannot be compared rigorously. It is one reason why Leaman and his colleagues, as well as numerous other campaigners, have argued for the buildings' actual operational ratings to be used for the directive rather than the asset-based ratings available at the time of construction or planning.
Buildings regulations, which govern the material types, insulation requirements, window characteristics and other features of new buildings and major extensions, have the potential to cut deep into the heart of the carbon dioxide emissions problem because of the large contribution buildings make to emissions. If accompanied by buildings performance benchmarks, their power is extensive. [the New Buildings Institute's Advanced Buildings Benchmark™ requires both calculated and measured energy use to be reported, as does the Russian and Kazakhstani Passport] However, while regulations targeted at energy efficiency exist in many countries, they have been effectively implemented in only a few. The Usable Buildings Trust suggests that they are most advanced in Australia, the USA and the UK.
A recent global survey of building energy codes on the books around the world found that the majority were ineffective due to limited or non-existent enforcement. "The basic problem is that it is extremely difficult to garner high-level political support from the range of agencies needed to drive the monitoring and enforcement of building energy codes and standards," comments Peter duPont, Board Chair of the International Institute for Energy Conservation, a non-profit organisation with offices around the world.
Buildings consume about one third of energy worldwide for space heating and cooling, water heating, cooking, lighting and operating appliances and building services equipment, according to data from the Lawrence Berkeley National Laboratory in California. A study in 2005 for the insulation manufacturers association EURIMA, by the consultants Ecofys, found a global buildings energy consumption saving potential of 50%, so that nearly 17 % (1200 Mtoe) of total energy consumption can be avoided through effective energy efficient buildings strategies. This amounts to over two thirds of the gross energy consumption of the European Union in 2005.
All over the world, buildings energy consumption is increasing at a high rate due to the improvement in living standards in developing countries. For instance, energy consumption in Northern African, Middle Eastern and Chinese commercial buildings has grown by 9 % or more per year over the last thirty years, while private homes show similar trends. "Where there's quick growth in the number of buildings, it makes sense to have strict buildings codes and ensure that architects go beyond them," comments Sylvia Rezessy, an energy efficiency expert at the Renewable Energy and Energy Efficiency Partnership (REEEP). REEEP is an international public-private partnership that structures policy initiatives for clean energy markets and facilitates financing for sustainable energy projects.
New suburbs and other communities going up in developing countries offer the opportunity to act swiftly while buildings are new. In those countries, where the proportion of new developments is higher, the potential power of building regulations and voluntary codes is all the greater. Yet even in some of the most mature economies in the world, policies are not fully developed. The UK, for instance, introduced its first requirement relating to energy efficiency in new buildings in 1985. The regulation has been revised twice in the last four years, so that, if fully enforced, it should cut carbon dioxide emissions from new buildings by another 40%. Even so, this will not affect the vast majority of houses, offices and other commercial buildings because so much of the UK's building stock is 50 or more years old.
In Russia, politicians have intervened to sweep away the crusts of an outdated social system and reform the nation's entire economic system. This is particularly visible in Moscow, where many of the old Stalinist buildings have now been demolished and replaced with brighter modern buildings of coloured glass. The city's mayor, Yury Luzhkov, is one of the major driving forces behind this change, inviting construction firms to bid for city developments. All of them are benefiting from new wealth; the country's economic growth averages 6.4%, and although its population is shrinking, development in areas such as oil and gas have led to economic improvements. Consequently, Russia is forecast to build around 250 million square metres of new residential buildings within the next five years.
Table 1. Volumes of residential construction 2002-2005, thousand square meters - Russia.
| | | | | |
| --- | --- | --- | --- | --- |
| Type of building | 2002 | 2003 | 2004 | 2005 |
| Multifamily | 19,566 | 21,092 | 24,854 | 26,038 |
| Single-family | 14,210 | 15,174 | 16,145 | 17,571 |
| Total | 33,776 | 36,266 | 40,999 | 43,609 |
Perhaps surprisingly for a country that is so preoccupied with infrastructure development and growth of basic commodity export industries, innovative laws in this area had already been introduced when Moscow adopted a building code in 1994 to improve the energy efficiency of buildings. Forty-nine of Russia's 89 regions followed suit, while more legislation in this vein was passed three years ago by the Russian Federation.
Compliance, though, can sometimes be a problem in a nation changing so rapidly and where the rule of law is not as firm as in some of the older Western economies. It is a problem in Western Europe too though, partly as a result of the enormous numbers of stakeholders involved in any building project and the diverse nature of planning and construction responsibilities. Hence, REEEP experts and three US organisations, the Institute for Market Transformation (IMT) and the Natural Resources Defense Council (NRDC) and the US Environmental Protection Agency (USEPA) are working in partnership with local officials and planners to develop improved local enforcement skills, publish compliance manuals and use successful Muscovite financial incentives in other parts of the country. A new type of performance-based compliance method will be used to help ensure enforcement.
Using a model developed by the IMT team with support from the USEPA, 53 Russian regional governments have adopted mandatory energy codes as of mid-2006, covering more than three-quarters of new construction in the country. A passport will be required to list efficiency features, predicted energy consumption, and, after two years, metered energy use. If they comply with the codes, new buildings will consume 35-45% less energy and will have to verify this through the energy passport. This is a completely new direction for Russia, as the old Soviet codes did not include energy or heat efficiency requirements.
Further East, new towns showing off trendy new architecture are going up even faster to keep up with the population explosion. In Shanghai, China, the traditional pagoda style has been incorporated into new large office buildings. The whole country is undergoing a construction boom; China has the largest construction volume in the world, with almost 2 billion square metres of new buildings completed each year in urban and rural areas, of which more than 80% are categorized as high-energy buildings. At the moment, the energy consumption per floor space is at least two to three times higher in China than in developed countries, while building energy consumption accounts for 27.5% of overall energy consumption.
The motivations to cut energy usage are strong however, as the nation's overall demand for energy is so high. As in other parts of the world, energy security is on the government agenda. But energy savings performance requirements are excluded from many industrial and other buildings. [standards for "public buildings" cover most of what OECD calls commercial buildings and they include lighting standards for industry] In addition, "a general standards system for building energy savings, soil savings, water savings, material savings and environmental protection has not been established yet. Several cities are paying increasing attention to building energy savings, however. Beijing for example has compiled its first national public building energy savings standard, mainly for offices, hotels and restaurants," explains Jiao Yan of the China National Engineering Research Center for Human Settlements.
Although China is developing various energy efficiency codes for new buildings, the implementation has been problematic to date. There is a need to design and roll-out a new implementation strategy. "Energy efficiency should be made a key factor in the design, construction, inspection and marketing stages for new residential and commercial buildings. Necessary capacity should be developed for enhanced compliance monitoring," states Wanxing Wang, Program Officer at The Energy Foundation in Beijing.
In an echo to many European complaints, Jiao Yan adds that "The task for strengthening building energy saving standards implementation and supervision is hard and immediate." This may be where clever finance and creative thinking are delivering results. In Russia, project workers found they could create further compliance incentives through simple techniques. Dr David Goldstein, an energy expert from the NRDC, asserts that the efforts to cut energy use always pay off.
"Policies to promote energy efficiency not only save money for households and businesses, they also encourage economic growth in several ways. The most direct is that efficiency investments have higher returns than almost anything else….[and] lead to innovation and technological progress not only for the efficiency features themselves, but also for non-energy-related features of buildings, transportation systems, or industrial processes."
In an industry often with an eye only for rapid economic returns, financial arguments are persuasive and lead to a far greater likelihood of higher building code compliance. Project experts have found that upgrades in insulation came at no net cost. This is because as the Russian code was implemented, it became clear that the easy way for wall panel manufacturers to comply was to use more insulation and less concrete in the same forms. "No substantial capital costs were incurred because insulation is cheaper than concrete, so the materials costs are lower," states Goldstein.
Perhaps Chinese policy makers will adopt similar measures. At the moment, they estimate that only 20% of buildings opened since 1996 comply with energy standards already in place. As a result, they are benefiting from European expertise to improve low energy buildings standards and buildings legislation, in another project jointly funded by REEEP and the United Nations Foundation.
"There are profound barriers to energy efficiency take-up related to the very basic routes of public budgeting", comments Sylvia Rezessy. Even if the enforcement of standards will take some time to put in place, at least the data generated by new standards all over the world will reveal the scale of the problem and thereby generate further action.
Morgan Bazilian is currently serving as department head of energy policy development at Ireland's national energy agency, Sustainable Energy Authority of Ireland. Previously he headed the renewable energy and CHP department at the Authority. He also maintains an adjunct position at the Electricity Research Centre at UCD. Morgan holds a Ph.D. in the area of energy studies and has been a Fulbright fellow. Prior to joining SEI, Morgan worked as a research scientist at SINTEF (Norway). He has held a number of professional and academic positions all focused on the technical and economic aspects of sustainable energy and climate change. He is currently the Chair of the Programme Board of REEEP.
Renewable Energy and Energy Efficiency Partnership (REEEP)
The Renewable Energy and Energy Efficiency Partnership (REEEP) is an international public-private partnership launched at the Johannesburg World Summit on Sustainable Development.
REEEP is disbursing more than $4 million annually to projects across the developing world that address legislative, regulatory and financial barriers to renewable energy and energy efficiency. The bidding and selection procedures for REEEP funds are conducted by the International Secretariat in Vienna and their network of eight Regional Secretariats. More information about REEEP and how to apply for funding can be found on the REEEP website at www.reeep.org
The content & opinions in this article are the author's and do not necessarily represent the views of AltEnergyMag
---
Comments (0)
This post does not have any comments. Be the first to leave a comment below.
---
Post A Comment
You must be logged in before you can post a comment. Login now.
Featured Product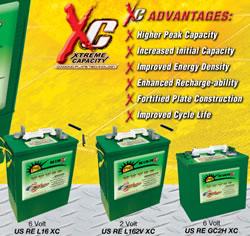 Our RE Series batteries are designed to provide the highest peak capacity, longest cycle life, and greatest reliability for use in industrial or residential renewable energy applications. Renewable Energy Series batteries utilize the company's exclusive XC2â"¢ formulation and Diamond Plate Technology® to create the industry's most efficient battery plates, delivering greater watt-hours per liter and watt-hours per kilogram than any other flooded lead-acid battery in the market. Our Deep Cycle batteries are engineered to work with solar panels as well as other renewable energy applications.