Douglas Caldwell's AC micro grid for his home, is a sleek combination of Sanyo HIT solar panels, Enphase micro-inverters and a Schneider Electric Xantrex XW Series battery backup system, which provides uninterrupted power for occasions when the grid is down.
Canadian-designed Battery Backup System Maximizes Solar Power
Christine Thompson and Douglas Caldwell for | Schneider Electric

Los Angeles: city of sun. A natural locale for solar powered homes, yes? Usually. Unless you live on a lot like Douglas Caldwell's, with mature trees surrounding and shading your home.
But take Doug's engineering background, his job with Boeing's Renewable Energy Solutions group and his long-standing commitment to conservation, as well as a love of challenge, and you end up with a self-designed, home-built solar power system… that works. Sun, or not. Grid, or not.
Doug's brainchild, an AC micro grid for his home, is a sleek combination of Sanyo HIT solar panels, Enphase micro-inverters and a Schneider Electric Xantrex XW Series battery backup system, which provides uninterrupted power for occasions when the grid is down, or if there is an earthquake or other natural disaster.
The architecture of his system came together fairly smoothly, but it wasn't until Doug began to search for a battery backup system to work in conjunction with his design, that he encountered problems. Notably, Doug found that, in an AC-centric system such as the one created by the micro-inverters, if the battery is full when operating in off-grid mode, and there is not enough load to absorb all the solar inverter's power output, typical approaches cannot manage the excess power. Some possible solutions would simply fail to operate while others might create potentially dangerous situations. Doug continued to search for workable alternatives.
Enter: Jeff Everett from Schneider Electric's Renewable Energies Business. Doug and Jeff met at a Solar Summit in the fall of 2009 and in the course of their conversation, Doug shared his solar project plans (and related battery backup challenges) with Jeff.
Jeff explained the capabilities of the Schneider Electric Xantrex XW Inverter/Charger, and in particular, that it could successfully shed excess solar power by adjusting its AC output. Problem solved. Doug explains, "With such a solution, not only could I get improved power quality and total backup capability, but the system created an AC microgrid. This provides me with a testbed, too, for exploring Smart Grid and Smart Home power management products, or for just 'geeking' out my house."
The Xantrex XW can operate while connected to a grid or off-grid. Adaptive and flexible, it can suit many potential power situations. For Doug, it means that depending on the availability of grid power or sunlight, he can maximize the use of his system at all times. And safely, too. While on-grid, the Xantrex XW will continuously monitor input voltage and frequency, so that during power surges or other potentially harmful inputs, the system will automatically disconnect from the AC source and transition from battery charging mode to invert mode.
When the Xantrex XW is off-grid, it acts as a voltage source, acting like the grid from the perspective of the solar inverters. After five minutes, if sunlight is available, the micro-inverters will begin to deliver power to the Xantrex XW. If more power is available from solar generation than the Xantrex XW can manage, it will adjust its AC output such that the micro-inverters are forced to disconnect.
Doug had another factor going for him: Schneider Electric's exceptional customer service. "Schneider Electric was instrumental in getting the system built on time," Doug said. The staff went to great lengths to locate and deliver a unit for him in a timely fashion, allowing him to complete the project before his end-of-year deadline.
Doug's first test of the system occurred amidst overcast skies. He recounts "Despite the lack of sun, I shut down enough load in the house to be able to export power to the grid: about 210 W of solar generation (from the 4.6 kW Sanyo array) yielded a net export of about 30 W." Success.
Reliability and flexibility are two factors that were key for Doug in choosing the system components. Although his current use of the Xantrex inverter is strictly tied to solar power use, his ongoing interest in renewable resources and energy conservation will allow him to pursue alternative applications with the Xantrex XW. In addition, these hybrid inverter/chargers are scalable to larger and 3-phase systems.
Doug discovered his endeavour was fairly unique. "It's only the fourth solar system in Glendale Water and Power service territory with battery backup. It might be the first system anywhere with Enphase micro-inverters and Xantrex equipment. And in off-grid use, it's probably one of the best performing systems in a heavily shaded location." he explains.
Doug freely admits this is not world-changing,. "One more solar system won't alter the world. This solar power system probably won't even significantly affect our individual household," says Doug. "But it will pay for itself over time. And perhaps we'll someday have our lights on when no one else in the neighbourhood does." Most of all, Doug hopes this small step will lead to real change, by all the people who have been involved, learning from direct conversations, and perhaps acting as catalysts for others to drive change.
Designing and implementing a home-based solar powered system with battery backup is by no means straightforward, and should not be attempted without professional designations. As an engineer, Doug was well aware of the electrocution hazards and fire dangers. Systems like this can deliver significant short-circuit current, resulting in arcs, equipment damage and personal injury or death. And lead acid batteries can release hydrogen that can accumulate and explode. In other words, undertaking this type of project is not for the inexperienced. Even with the built-in safety features and adaptability of the Xantrex XW Series, installations of this equipment should only be performed by skilled personnel. Whether on-grid or off-grid, residential or commercial, or even utility, Schneider Electric has a range of Xantrex inverters to support almost any configuration. As an integral component of any solar system, the Schneider Electric Xantrex inverter is designed to work flawlessly. For Doug, it's a product that's made in the shade.
For more information about Schneider Electric Renewable Energies products, visit www.schneider-electric.com/renewable-energies.
The content & opinions in this article are the author's and do not necessarily represent the views of AltEnergyMag
---
Comments (0)
This post does not have any comments. Be the first to leave a comment below.
---
Post A Comment
You must be logged in before you can post a comment. Login now.
Featured Product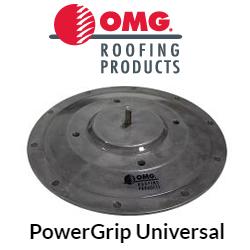 Eliminate Solar Rack Ballast and Reduce Rooftop Material Handling. PowerGrip™ Universal (PGU) is a commercial roof mount system designed to secure solar racks and other equipment to any type of commercial roofing system. PGU provides a secure connection directly to the roof deck or structural members and is designed to reduce or eliminate ballast in solar racking systems, so there's less weight on the roof and less material handling. Made of heavy-duty cast aluminum, PGU units include a base ring which is secured through the roofing cover and into the structural roof deck, and a waterproof top plate.