Here in the U.S., a comprehensive energy bill was just signed into law - we have included a great overview of what is included and how it affects the industry at the end of the article.
FUEL CELL TECHNOLOGY UPDATE
Here in the U.S., a comprehensive energy bill was just signed into law – we have included a great overview of what is included and how it affects the industry at the end of the article.
Fuel Cells 2000's Fuel Cell Technology Update – January 2008
---
TRANSPORTATION APPLICATIONS
Proton Motor Supplying Fuel Cell System to Passenger Ship.
Proton Motor, is supplying a hybrid drive for the world's first fuel cell-powered passenger vessel, Zemships (Zero Emission Ships), which will start operating in Hamburg, Germany in summer 2008. The ship can carry up to 100 passengers and is powered by two Proton Motor Basic A 50 50-kW fuel cell systems and batteries.
STATIONARY APPLICATIONS
DPUC Approves Three FuelCell Energy Projects in Draft Decision.
The Connecticut Department of Utility Control (DPUC) has issued its draft decision approving 16.2 megawatts (MW) of projects incorporating six of FuelCell Energy's DFC3000 fuel cells. The final decision by the DPUC is scheduled for January 9, 2008. Under Connecticut's 2003 energy act, utilities in the state are required to enter into long-term power purchase agreements with developers. Three projects incorporating six DFC3000 plants were approved in the draft decision, including two hospital installations and a 9-megawatt project planned for Milford, which would be the largest fuel cell installation by capacity in the world.
FuelCell Energy Sells 4.8 MW to POSCO.
FuelCell Energy, Inc. has sold 4.8 MW of its Direct FuelCell® (DFC®) to its alliance partner in South Korea, POSCO Power. Under the order, POSCO Power is purchasing two DFC3000 power plants to sell to two independent power purchasers. The units are slated for delivery and installation in 2009.
Ceramic Fuel Cells Sends Unit to Germany.
Ceramic Fuel Cells Limited has shipped a NetGenPlus™ unit to its utility partner EWE as part of its agreement to develop micro-combined heat and power (m-CHP) products for Germany. NetGenPlus™ is CFCL's next-generation m-CHP system designed to generate electricity and provide hot water and central heating for homes and small businesses. The fuel cell runs on natural gas and was awarded CE approval, enabling the units to be deployed both in field trials and on a commercial scale throughout Europe.
Fuel Cell Lights Up National Zoo.
A Microcell 1-kW fuel cell helped power the Smithsonian National Zoo in Washington, DC's annual holiday Zoo Lights exhibit. ZooLights, sponsored by Pepco, runs for 25 nights and consists of larger-than-life displays that feature many of the Zoo's most popular animals, all constructed of thousands of LED lights. The fuel cell was located at one of ZooLights entrances and generated not only power, but also a lot of public interest and excitement for the technology.
FuelCell Energy Unit Receives Three California Certifications.
FuelCell Energy's DFC1500MA™ has received three certifications that confirm the 1.2 MW power plant meets California's emission regulations and complies with both requirements for connecting to power grids and national product safety standards. The system met the stringent air quality rules set by the California Air Resources Board (CARB); was certified by the Rule 21 Working Group to technical requirements for interconnecting with California's power grid; and was approved by CSA International for its adherence to the American National Standard for Stationary Fuel Cell Power Systems operating and safety standards.
PORTABLE/BACKUP POWER
Trulite Receives Multiple Orders for KH4 Beta Units.
Trulite, Inc. has received multiple orders from customers to purchase beta units of the company's new KH4 portable clean power generator together with the Trulite fuel cartridges. These companies represent various industries including telecommunications and remote monitoring, portable power generation, emergency response, and off-grid shelters. Trulite has also received beta unit orders from two government agencies.
IdaTech Signs with b+w.
IdaTech plc has signed a contract with b+w Telecom Solutions (b+w) for the distribution and integration of IdaTech's family of backup power solutions throughout Germany and Eastern Europe. b+w has taken delivery of initial systems to launch their integration and OEM services.
ReliOn Ships More Than One Million Watts Since 2004.
ReliOn has crossed a major milestone in its commercial sales efforts by shipping more than one million Watts worth of fuel cell product to customers. The milestone equates to over four hundred commercial customer sites.
MICRO FUEL CELLS
MTI and Trident Team Up.
MTI MicroFuel Cells Inc. and Trident Systems, Inc are teaming to pursue opportunities to leverage MTI Micro´s consumer market platform into low-power military markets. This includes demonstrations of unattended ground sensor prototypes powered by MTI's Mobion® fuel cell system, and evaluations and potential submissions of proposals for military programs.
FUELS/REFORMERS/STORAGE
Hydrogenics to Provide Hydrogen Generator to Air Liquide, Ford.
Hydrogenics Corporation has been selected by Air Liquide Canada to provide a hydrogen generation system to support BC Transit's fleet of 20 fuel cell-powered buses. The system is anticipated to be delivered in 2008 and will be located at BC Transit's Langford Transit Center. Hydrogenics was also awarded a contract to supply an onsite HySTAT® Hydrogen Station to Ford Motor Company's Fuel Cell Center in Dearborn, Michigan. The hydrogen generator will have the capacity to produce 60 kilograms of hydrogen each day and has on-site storage as backup.
Acumentrics to Investigate Ammonia in SOFCs.
Acumentrics Corporation's Canadian subsidiary, Acumentrics Canada Ltd., is partnering with Natural Resources Canada's CANMET Energy Technology Center to investigate the use of ammonia as a fuel for Acumentrics' solid oxide fuel cells (SOFCs). The fuel cell will convert ammonia to hydrogen and nitrogen internally and release only water vapor and nitrogen.
MATERIALS/COMPONENTS/TESTING
VIASPACE and fuelcellmaterials.com Sign Distribution Agreement.
VIASPACE and fuelcellmaterials.com have signed an exclusive distribution agreement for North, Central and South America for VIASPACE Energy products, beginning with VIASPACE Energy's new HS-1000 VIASENSOR, a laser based humidity sensor for gas-based fuel cells. Fuelcellmaterials.com has placed an initial order for multiple units of the VIASENSOR worth over $200,000.
Pacific Fuel Cell Receives Bipolar Plate Orders.
Pacific Fuel Cell Corporation has received purchase orders valued at more than $200,000 for bipolar plates from six leading companies across different segments of the fuel cell industry.
REQUESTS FOR PROPOSALS
Hydrogen Vehicle Fuel System Safety Research.
The U.S. Department of Transportation, National Highway Traffic Safety Administration (NHTSA) has issued a solicitation for Hydrogen Vehicle Fuel System Safety Research to generate data to assess the safety performance of hydrogen fuel cell vehicle fuel systems under crash conditions similar to those prescribed in the existing Federal Motor Vehicle Safety Standards (FMVSS).
MISCELLANEOUS
Heliocentris and Schunk Join in Distribution.
Heliocentris Fuel Cells AG and Schunk Bahn- und Industrietechnik GmbH have signed a Cooperation and Distribution Agreement to market fuel cell stacks and systems worldwide. Schunk fuel cell stacks are water-cooled so Heliocentris can offer systems that capture and use the waste heat in addition to generating electricity.
DOE and GM to Sponsor EcoCAR Competition.
DOE and General Motors are sponsoring "EcoCAR: The NeXt Challenge," a college-level competition where teams of university students re-engineer a Chevrolet Equinox to reduce fuel consumption and emissions. The competition will require student teams to explore advanced propulsion technologies such as fuel cells or hybrids, as well as alternative fuels, lightweight materials, and improved aerodynamics. The teams selected will receive a GM production vehicle, $10,000 in seed money, advanced powertrain components, and technical and mentoring support. Interested teams must complete an online form in order to receive the official Request for Proposals (RFP) for the competition. Responses to the RFP are due by March 3, 2008. Teams will be selected in April 2008.
CONFERENCES
FC Expo 2008.
The 4th International Hydrogen & Fuel Cell Expo (FC Expo 2008) will be held February 27-29, 2008, at Tokyo Big Sight in Tokyo, Japan. For conference information, please visit http://www.fcexpo.jp/english/.
Fuel Cell 2008.
The 2008 Fuel Cell Conference will take place May 21-22, 2008, at the Hyatt Regency Long Beach in Long Beach, California. For more information, please go to http://www.fuelcell-magazine.com/FC_2008/2008.htm.
LEGISLATION/POLICY
Energy Bill and Appropriations Update.
Contributed by Bud DeFlaviis, Director of Government Affairs, U.S. Fuel Cell Council
The week, President Bush signed into law a comprehensive energy bill that boosts auto mileage standards, requires increased production of biofuels and establishes new appliance efficiency standards. While the final bill did not include the long term extension of the fuel cell tax credit, listed below are some of the programs authorized by the bill that benefit fuel cells and hydrogen.
Under the Improved Vehicle Technology section, fuel cells are included in the definition section. The title also authorizes various incentives for electric vehicles including manufacturing grant programs as well as amendments to the EPAct 05 regarding government vehicle fleet purchases.
Section 542, Energy Efficiency and Conservation Block Grant Program, allows for fuel cells to be used to reduce fossil fuel emissions and total energy use. This includes, and is not limited to, transportation and building sectors. Nearly seventy percent of the funding will go to local governments.
A solar air condition research and development program, found in Section 606, authorizes grant money to compare performance of solar-powered distributed air conditioning systems in different regions of the country that integrate propane fuel cells. The program is designed to develop site-specific energy production to ease fuel and peak utility loading.
Section 641, Energy Storage Systems Demonstrations, directs the Secretary of Energy to carry out new demonstrations of advanced energy storage systems. Fuel cells are included as a technology to be explored.
An authorization for the H-Prize, which creates competitively awarded cash prizes to advance hydrogen technologies, can be found in Section 651.
The Renewable Energy Innovation Manufacturing Partnership is an authorization for $25 million to carry out manufacturing R&D of renewable energy technologies, including fuel cells. The program can be found in Section 656.
Congress also moved FY 2008 appropriations legislation under an omnibus package. The bill funds all domestic federal agencies including the Department of Energy. Under the agreement, EERE will receive $213 million for the Hydrogen Technologies. That number is consistent with the President's request. The language also grants authority to EERE to conduct research on small and medium scale solid-oxide fuel cells.
Under the Office of Fossil Energy, Congress funded the SECA program at $56 million, which is a $6 million cut from the President's request. The Advanced Research budget was increased by $15 million over the budget request to the tune of $37.5 million. Lawmakers also inserted language into the spending package to permit up to 4% of National Energy Technology Laboratory (NETL) program funds to be used for DOE activities not in the Fossil Energy account.
With regard to earmarks, Congress inserted $16 million under EERE and $7.75 million under Fossil Energy. The earmarks in both accounts are in addition to the funds provided.
The content & opinions in this article are the author's and do not necessarily represent the views of AltEnergyMag
---
Comments (0)
This post does not have any comments. Be the first to leave a comment below.
---
Post A Comment
You must be logged in before you can post a comment. Login now.
Featured Product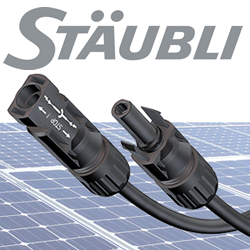 ​Stäubli Electrical Connectors are used on more than 300 GW, over 50% of the PV capacity worldwide. The MC4 family of UL and TUV listed products include connectors, in-line fuses, branch connectors, cable assembly and more.