Spinwave Systems develops and markets wireless EMS. This includes wireless sensors for temperature, relative humidity and motion (occupancy), wireless utility meter interfaces for electric, gas and water meters and wireless switches to control equipment and lighting loads.
RAINER WISCHINSKI - SPINWAVE SYSTEMS
Spinwave Systems develops and markets wireless EMS. This includes wireless sensors for temperature, relative humidity and motion (occupancy), wireless utility meter interfaces for electric, gas and water meters and wireless switches to control equipment and lighting loads.
EarthToys Interview – Energy Management Systems
Rainer Wischinski, Spinwave Systems Inc.
---
Q: How does automated energy management work to save energy in commercial buildings?
The term Energy Management System refers to a computer system which is designed specifically for the automated (energy efficient) control and monitoring of the heating, ventilation, air conditioning and lighting needs of a building or group of buildings such as university campuses, office buildings, retail stores, hotels or manufacturing sites. Energy efficiency is achieved by maintaining proper temperature set points, temperature setbacks during unoccupied periods and demand-based lighting control. Most of these energy management systems also provide facilities for the reading of electricity, gas and water meters. The data obtained from these can then be used to produce trend analysis (pointing out waste due to equipment malfunction or inefficient operation) and annual consumption forecasts.
Q: What energy management systems does Spinwave offer?
Spinwave Systems develops and markets wireless EMS. This includes wireless sensors for temperature, relative humidity and motion (occupancy), wireless utility meter interfaces for electric, gas and water meters and wireless switches to control equipment and lighting loads. At the center of the system is a gateway that communicates with before mentioned wireless devices and makes data available on an Intranet or the Internet. The gateway is also used to integrate the wireless network into existing Building Management systems.
Q: Why is wireless becoming such a popular option for energy management?
Let's examine a retrofit example – installing an EMS in an existing building. If you look at the installed cost of a conventional (hard wired) EMS you will notice that the majority of the expense is installation cost. This includes (obviously) running wires, drilling through concrete, installing conduit and digging trenches. A wireless system eliminates this cost almost completely. Additionally you gain flexibility: it is very easy to move a wireless device from one location to another; correcting "wiring mistakes" or re-configuring the system takes a few mouse clicks.
A wireless EMS reduces the installed cost significantly, making it attractive for even small buildings to save energy.
Q: How long does it typically take to earn back the investment in an EMS?
Installing an EMS historically yields energy savings of 10%-20% (and sometimes even more). Even for smaller buildings a return of investment of 12-18 months is achievable.
Q: Can you start small with energy management? If you can't afford to invest in an elaborate system, can you install a limited system as a trial?
A couple of years ago I surveyed a number of bank branches. What you typically find is a small number of roof top units controlled by programmable thermostats. If you take a close look at those thermostats you will find that the real time clock is off and that in some cases the low battery indicator is blinking; also set points have been changed. The result is that the HVAC equipment is running even if the building is not occupied and that roof top units are "fighting" each other (sometimes heating and cooling at the same time). By just installing wireless thermostats (often a drop-in replacement of existing programmable thermostats) and by remotely controlling temperature set points based on a common schedule and/or occupancy you will already save energy while maintaining good comfort levels. This basic system can be later expanded to include wireless meter readings and automated control of parking lot lights, signage, irrigation, etc.
Q: Is Spinwave a proprietary wireless system or does it conform with one of the standard protocols?
Our wireless mesh network conforms to the IEEE 802.15.4 standard. We have implemented dynamic interference avoidance technology on top of it. Think of it as pressing the channel button on a cordless phone when interference is encountered – only in our system that takes place automatically.
Q: Zigbee, Z-Wave, WiFi etc. etc. etc. are all wireless technologies along with several other proprietary wireless systems not to mention cell phones and telephones. How can all of these work in a commercial environment without interference?
I mentioned our dynamic interference avoidance in the answer to your previous question. Our products detect interference and just move away from it by switching channels. This is very important for long term reliability – you don't want your sensor network to go down because somebody installed a WiFi access point in the building.
Q: One the other hand ... will a Spinwave system interact with other technologies when we want it to? For example can we install devices from other manufacturers and operate them with the Spinwave system?
Interoperability takes place at the receiver level, not the wireless network level. Building automation systems use industry standard protocols like BACnet, LON and Modbus. The receiver (gateway) makes all wireless device information available as BACnet objects, LON snvts or Modbus registers. For the building automation system a wireless sensor looks like a wired sensor. In this manner you can exchange information between different wireless and wired devices within a building, even if they belong to different sub-systems like security, HVAC, lighting, etc.
Q: Is a Spinwave system practical for residential applications or multiple dwelling units?
The majority or our installations are in commercial, light commercial and industrial buildings but the interest level for using our products in apartment buildings has increased significantly. Applications include temperature sensing for boiler controlled apartment buildings and more and more wireless sub-metering of electricity, gas and water.
Q: Have a look in your crystal ball and give us an idea of how you see wireless energy management systems evolving in the future?
The evolution of energy management systems will be driven by the need to solve our increasing energy problems. We need to avoid brown-outs without relying on building new power plants. We need to further reduce our carbon footprint by reducing energy consumption in general.
The future home could look like this:
The home will have a smart utility meter that also functions as a communication gateway. Communication is bi-directional. The meter will receive real-time pricing information (energy is more expensive during peak demand times) and load shedding commands (e.g. to turn off the electric water heater at certain times during the day) from the utility company. The meter will send consumption information back to the utility. The meter will also be the gateway to the home's wireless energy management system. The energy management system will communicate with smart home appliances, the lighting system, security system, automated blinds/shades (to keep the sun out, reducing cooling demand; and for daylight harvesting, reducing electric lighting demand), installed solar systems (e.g. to feed generated power back into the grid) and standby generators (for use during peak demand periods) the HVAC system and audio/video equipment.
People will be able to access their home's energy management system from anywhere, using a PC web browser or mobile phone. They will be able to remotely change set points or command appliances and they will receive alarms when something unexpected happened.
Rainer Wischinski is VP of Marketing at Spinwave Systems, Inc., a leading developer of wireless sensing and control products for the building automation and energy management markets. He brings to the table over 25 years of experience in defining, managing and marketing of industry-leading industrial and building control products. Prior to joining Spinwave, Rainer served as Vice President of Marketing for Andover Controls. Following the acquisition of Andover by TAC (a subsidiary of Schneider Electric), Rainer assumed the positions of Vice President Global Marketing and Product Line Management for TAC and served in that capacity until October of 2006. Prior to Andover/TAC, Rainer served as the Senior Director of Product Marketing for Intellution, Inc. (later acquired by GE) and has held several senior marketing and engineering positions at Schneider Electric (Modicon Division) and AEG Automation. He holds a Diplom Ingenieur degree in Electrical Engineering from the Technical University of Hannover, Germany.
The content & opinions in this article are the author's and do not necessarily represent the views of AltEnergyMag
---
Comments (0)
This post does not have any comments. Be the first to leave a comment below.
---
Post A Comment
You must be logged in before you can post a comment. Login now.
Featured Product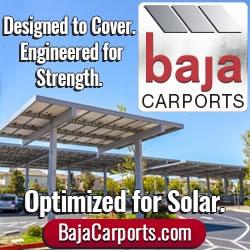 Baja Carports offers an extensive solar support system product line customized to customers' site specifications by in-house engineers, meeting their parking lot coverage, plus optimal PV production needs. Baja's Full Cantilever Tee is often paired with its Semi and Full Cantilever carports to meet live/loads up to 60psf and wind speeds to 160mph. All Baja products are pre-fabricated, bolted connections, pre-galvanized structural steel for fast on-site installation and project aesthetic requirements."