AWEA has created their first Small & Community Wind Conference & Exhibition to bring together industry leaders, new entrants, project developers, economic development groups, municipalities, land owners and other allied organizations to formulate and enact growth strategies for small and mid-sized wind applications. Focusing on important topics such as national renewable energy legislation, technology costs, zoning requirements, utility interconnection, tax revenues and investment opportunities, this conference offers valuable information on how best to capitalize on wind technology.
AltEnergyMag Interview - AWEA Small and Community Wind Conference & Exposition
Lori Rugh | AWEA
How was this event conceived – what is the driver?
The needs of our members and identifying opportunities to promote industry growth are often program drivers. AWEA is a member driven trade association and we were receiving a clear message from our Board of Directors and members that there was a need to develop a conference and exhibition that highlighted small and community wind. 2008 was a big year for the small wind community with 78% market growth in the US and additionally, a secure long-term federal incentive passed Congress. On the community wind front, as wind energy grows towards a 20% wind market share, local stakeholders want to play an even bigger role in the development and use of wind energy within their towns, cities or farms.
Why is it a separate event from Windpower 2010 scheduled for next May?
The wind energy industry has grown so large, and so quickly, that a separate event was needed to focus on different segments of the wind market and it's needs. Small Wind has different industry policies and drivers and as mentioned above, with it's unprecedented growth, needs a forum of it's own. Community Wind also has it's unique issues which will be articulated throughout the program.
What do you mean by Community Wind?
Community wind refers to the opportunity for local investment in wind projects. This may mean ownership or some level of control by a group of landowners, or a public institution such as a water district, municipality or coop.
Community Wind projects are defined by having some or all of the following characteristics:
The economic benefits that flow to the community are greater than those from typical land lease payments, construction and operations jobs, and increased local tax base in commercial projects;
The community has a significant amount of control over management of the project, possibly to include voting rights, especially regarding matters of greatest importance to the community;
There are opportunities for members of the community to have a direct financial stake in the project, with an appropriate share of both the risks and rewards of such investments;
Project sizes are most typically in the range of 100kW-20 MW, although they can range both higher and lower;
They may employ a variety of ownership and financing structures which have features designed to accommodate the goals of the community with respect to financial and managerial participation;
There is a genuine sense of community involvement.
Who should attend this show and conference?
The show and conference is designed to have wide appeal to any party interested in promoting or benefiting from wind energy. This includes the people who manufacture, finance, install, regulate, study, or even just curious about wind turbines. The biggest difference of this event is that it's geared for both the business to business but also business to consumer audiences. Buyers seeking turbines for home or ranch are welcomed!
Who should exhibit at this show?
Companies (Manufacturers, Installers, Supply Chain), Financial & Legal Corporations, Energy Consultants, Developers, organizations, or institutions interested in networking with other industry members should exhibit, particularly those interested in entering the industry.

What does the Educational Program content emphasize?
AWEA is genuinely excited to develop this first time program with program co-chairs, Charles Newcomb of NexGen Energy Partners, LLC and Jacob Susman of OwnEnergy, Inc.. The educational program will include three concurrent educational tracks, one of which will be dedicated to the co-located AWEA Supply Chain Workshop. Session topics will focus on state and federal policies, technology developments, financing and ownership models, as well as interconnection procedures. In addition to the main conference sessions, a Small Wind Installer Training and an Introduction to Wind Energy pre-conference seminars will offer attendees additional opportunities to learn about the wind industry.

Do you see this as an event that will assist this industry and energy thoughtful home owners alike?
Most definitely! Again, this is not just a Business to Business event but also a Business to Consumer event. All will have the opportunity to learn more about the state of the industry as well as updates on technology (via the technical center) and massive networking opportunities. What better way to learn then from a program that was developed for a particular market
What are the expectations and outcomes of the program?
The goal of the program is to chart a path for growth of these burgeoning market segments. The program will also educate newcomers and allow industry members to learn from other's experiences. In the past, AWEA has held small and community educational sessions at its annual WINDPOWER Conference & Exposition, however organizing a program that has the primary focus on these two topics will grant the opportunity to dive deeper into key topics, as well as create a unique opportunity for attendees to network and collaborate with each other. By creating this experience for attendees, AWEA's overall goal for this event that attendees will use the information they learned and the relationships they have developed to move the wind industry forward.
Additionally, the attendees will gain a better understanding of the policies around the country that are helpful for local investment in wind projects. They will also have an increased awareness of the opportunity around local investment and tools to help make projects a reality
The content & opinions in this article are the author's and do not necessarily represent the views of AltEnergyMag
---
Comments (0)
This post does not have any comments. Be the first to leave a comment below.
---
Post A Comment
You must be logged in before you can post a comment. Login now.
Featured Product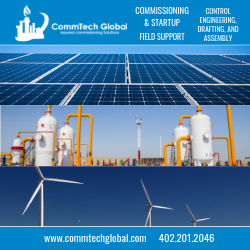 CommTech Global Solutions, LLC, provides professional and reliable commissioning services to customers in all realms of the energy industry. We blend our skills in engineering and technology with innovative business models, offering a complete range of services to assist you for a successful and in compliance operational startup. Consolidation of all our service domains gives our clients a comprehensive set of expertise and far-reaching experience on each project.