How can you invest the time and money necessary to make our planet greener while your company is struggling? It's no secret that many "green" initiatives require massive capital expenditures and changes in policies by government, but is there a green solution that actually saves you money.
Ask The Fuel Expert #10
Jack Lee | 4Refuel

Can You Afford a Clean Air Solution?
Times are tough and money is tight. So like most companies affected by the global economy, survival takes priority over being the next environmental hero. How can you invest the time and money necessary to make our planet greener while your company is struggling? It's no secret that many "green" initiatives require massive capital expenditures and changes in policies by government, but is there a green solution that actually saves you money.
On both sides of the border, the environment has become the number two issue behind getting the economy back on track. In the US, 4Refuel Fuel Analyst Bob van der Valk believes fossil fuels will continue to be the number one fuel despite President Obama's "Green Plan" to develop new sources of power including flex-fuel powered vehicles. He reports, "In January 2009, the Senate Finance Committee approved $31 billion in tax credits and financial incentives to boost alternative energy supplies and promote conservation. The movement has started but there are huge obstacles to overcome. President Obama, with Congressional approval, will have to increase taxes on gasoline and diesel fuel in order to create the necessary cash to pay for all the projects he is proposing in order to become energy independent."
Mr. van der Valk points out, "One of the ways to raise financing will be to increase the present Federal Road Excise Tax on gasoline and diesel. The National Surface Transportation Infrastructure Financing Commission has already recommended an increase of 10 cents per-gallon on gasoline and 14 cents per gallon on diesel, as well as indexing the federal excise tax to inflation. During their meeting on February 26, 2009, the panel also backed the adoption of a controversial system to begin charging motorists based on how many miles they drive by the year 2020. However, this plan may not be seen through to fruition because President Obama has already stated his opposition."
Seems complicated doesn't it? And with all this stuff hitting the fan in a bad economy, you get the feeling our environment will get pushed to the back burner. However, while governments figure out what the new policies will be and knowing that it will take years, possibly a decade, before we see results, you can make a difference today.
You can adopt a new Clean Air Strategy for FREE and in fact it can pay you CASH BACK.
Your business relies on fuel. In fact it is the number one cost for most companies behind labour. You can't do without it, but you can cut the amount of fuel you consume and when you do you will eliminate hundreds of thousands of kilograms of toxic air pollutants.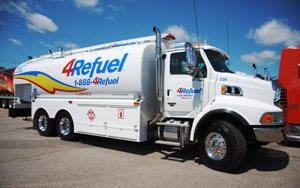 A new Clean Air Strategy starts with assessing your needs. Are you travelling to and from card-locks or a central refuelling station? The extra mileage wastes fuel and causes unnecessary emissions. Wheel to wheel refuelling will cut both. When tanker trucks refuel your equipment while idle it improves your productivity too, eliminating on average 20 minutes per fill.
Are you managing your fleet effectively? Until you know exactly where each drop of fuel is going you can't make any changes to cut consumption. Telematics and data capture technology is available to measure the key operating information. When you know how much fuel each piece of equipment consumes you have real data you can use to make decisions and changes in your day to day operations. Things like time spent idling are important to monitor because they cause pollution.
Another solution is considering the use of biodiesel as part of your fuel mix. Biodiesel is a mix of traditional diesel fuel with renewable vegetable oils and rendered fats. If you start by using a B20 blend, (20% biodiesel) you can expect approximately a 15% reduction in greenhouse gas emissions. And biodiesel does not require any expensive engine conversion either.
One more point. You can eliminate wasted fuel and pollutants quickly and without any cost by simply educating your drivers and equipment operators. Once they know the effect they are having on the environment changes can be made. You can also start a "Green Reward" program for the best operator each month. It builds morale, keeps everyone on track and it is free to do.
And did I say your new Clean Air Strategy pays you cash back too? Every time you cut wasted fuel it saves you money. If you do some simple math you can calculate how much you will save. You can easily enjoy a 10% reduction in fuel consumption and toxic emissions. Look at your fuel bill for the month. Could you use that 10% for other projects, or would you just use it to cut your bottom line operating expenses?
Now, get back to work. There is a new economy emerging and we will all be a part of it. And while governments and politicians wrestle with environmental issues, we can move forward building our businesses, saving money and helping improve the air we breathe.
The content & opinions in this article are the author's and do not necessarily represent the views of AltEnergyMag
---
Comments (0)
This post does not have any comments. Be the first to leave a comment below.
---
Post A Comment
You must be logged in before you can post a comment. Login now.
Featured Product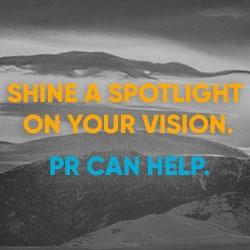 FischTank Marketing and Public Relations provides communications and marketing services to both start-up and established renewable energy companies. We provide media relations, content writing, digital/social media, and other marketing support to companies working in sectors spanning solar, LED lighting, energy storage, hydrogen, battery development and manufacturing, alternative fuels, and more. Our clients have been featured in top tier media including print, online and broadcast.