Condition Monitoring involves a set of activities wherein various components of the wind turbine are regularly inspected and monitored. The process gathers condition parameters of the machinery, such as lubricant condition, temperatures, vibration data and visual inspection results, on a regular or permanent basis. A minor failure in a key component of the wind turbine can cause down-time and severe losses
Condition Monitoring for Wind Turbines
Charlotta Norén | SGS Wind Energy Services

Introduction
Over the years, the global wind energy market has seen rapid growth, both in number and capacity of installed wind turbines as well as the number of newly developed turbine technologies. Due to an increasing demand from wind turbine manufacturers, owners and investors, wind turbines need to undergo various certification, verification, testing and inspection procedures during their life time. To meet internationally accepted requirements, it is thus essential that these procedures are conducted by an experienced and independent third party.

Considering investment and operational costs of wind turbines, it is absolutely necessary to ensure economical operation and minimise down-time of the equipment. Regular condition monitoring of wind turbines can help to reach these aims. Defects can be detected at an early stage and consequential damages can be avoided.
Condition Monitoring is even more important for offshore wind turbines as the accessibility of these turbines depends on the access system and the weather conditions.
What Is Condition Monitoring?

Condition Monitoring involves a set of activities wherein various components of the wind turbine are regularly inspected and monitored. The process gathers condition parameters of the machinery, such as lubricant condition, temperatures, vibration data and visual inspection results, on a regular or permanent basis. A minor failure in a key component of the wind turbine can cause down-time and severe losses. Considering that wind turbine maintenance is costly, regular condition monitoring throughout the turbine's operational life time is crucial and helps reducing costs and detecting failures as early as possible.
For the most effective Condition Monitoring a system of different inspection and analysing methods is used to verify that deviations from the normal conditions are detected in an early stage to avoid consequential damages.
The different types of inspections include but are not limited to:
Vibration measurement on the drive train

Gearbox analysis including oil and filter analysis

Inspection of rotor blades

Coating inspections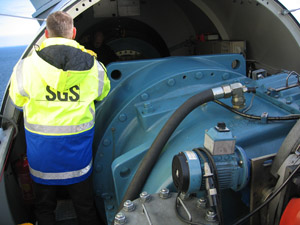 Vibration measurements:
During vibration measurements information about the condition of teethes and bearings, misalignment of drive train and rotor unbalance will be collected. Vibration sensors are placed on the rotor and the drive train and by monitoring the frequency and amplitude of the vibrations early warning of damage and misalignment can be reached.
Gearbox analyses: In addition to vibration measurements, oil analyses and analysing of lubricants can give an early warning of damages. Oil samples should be taken at least ones every six months and be analysed on items such as appearance, particle counting and metal identification. If a wear in the gear box is detected early enough there is time for repair and a full break down can be avoided.
Inspection of rotor blades: In addition to monitoring of the drive train, it is also necessary to pay attention to the rotor blades. For this purposes Non-Destructive Testing (NDT) methods are most suitable as they do not influence the operation of the equipment. Such a non-destructive testing method is visual inspection, based on the naked eye of experienced inspectors often using equipment like boroscopes, fiberscopes or camera systems.
This method is combined by other advanced inspection methods like Ultrasonic Testing (UT) or Thermography. The UT process involves transmission of sound waves of short wavelength at high frequencies in order to measure the thickness of materials as well as to detect corrosion. Thermography maps the temperature differences of any object in a range from -50ºC to 1500ºC across a complete surface giving an image of local temperature differences. The temperature of an object is often a sufficient indicator of the performance of the installation.
Each NDT method has its own set of advantages and disadvantages and therefore individual methods are better suited for a particular application than others.
Coating inspections: The consequences of concrete decay, corrosion and loosening adhesive coats on the outside finish are great and extremely inconvenient. Coatings should be controlled also periodically.
The combination of different inspection and monitoring techniques helps planning maintenance and setting up a time and budget frame for corrective measure.
Inspections on a regular interval are essential to assure public safety as well as the safety and reliability of the wind turbine. No doubt, it cannot replace the necessary maintenance of the wind turbine, but it is an additional measure for the safety operation of the turbine and evaluating its technical condition and helping extending the wind farms lifetime.
About SGS

The SGS Group is an international inspection, verification, testing and certification company. The company has committed itself to providing a comprehensive programme for the wind energy sector designed to meet the specific requirements of its clients. SGS not only offers inspection and certification but works as an independent project surveyor, carries out project monitoring and technical due diligence evaluation of wind farm projects.
The content & opinions in this article are the author's and do not necessarily represent the views of AltEnergyMag
---
Comments (0)
This post does not have any comments. Be the first to leave a comment below.
---
Post A Comment
You must be logged in before you can post a comment. Login now.
Featured Product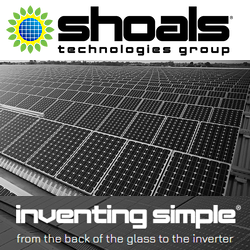 Inventing Simple® isn't just a slogan to us, it's a way of life. Using simple plug-and-play ideology, we revolutionized solar installations in 2003 with our Interconnect Systemâ"¢. Our harnessing system is now the gold standard EPC's use around the world. By using simple ideas, we are making solar energy a more affordable and clean power source for future generations.