Hannover Fairs USA, Inc. is helping American companies compete and succeed in the global marketplace. As the U.S. subsidiary of Deutsche Messe AG, one of the largest and most active tradeshow organizers in the world, Hannover Fairs USA develops and manages targeted marketing programs for U.S. SMEs at Deutsche Messe events worldwide.
Interview - U.S. Renewable Energy & Energy Efficiency Solutions Park at HANNOVER MESSE
Ulli Hammer, Director, Energy Events | Hannover Fairs USA
Ms. Hammer, how is Hannover Fairs USA active in the alternative energy sector?
Responding to the exponentially growing global demand for renewable energy, energy efficiency, and sustainable technology solutions, in 2010 Hannover Fairs will debut the U.S. Renewable Energy and Energy Efficiency Solutions Park at HANNOVER MESSE, the world's leading and largest industrial trade fair. Our turnkey group exhibits at this one-of-a-kind show will offer a convenient and cost-effective way to grow across the globe in green products and services. Each turnkey package includes a booth or workstation as well as furniture and a complete range of services.
I should mention that we frequently work with U.S. state and local government as well as major U.S. industry associations in pursuit of growing U.S. market share abroad. Most recently we accompanied the Commercial Service's Green Build Road Show as national sponsor. Many of our events, HANNOVER MESSE among them, are acknowledged under the U.S. Department of Commerce's Trade Fair Certification Program, which offers a range of additional market research and matchmaking services to U.S. participants.
Why should US vendors look to export when there is so much untapped market potential here at home?
The world over, governments are investing billions in ambitious and often energy-focused stimulus packages. With the favorable exchange rate, U.S. based companies have a unique competitive advantage, especially in the EURO zone. What's more, given the popularity of the current administration in Europe, there is a detectably greater interest in all things American again.
How confident are you that, given the current economic conditions, US companies will want to do business abroad?
I think that many businesses realize the importance of market diversificatiion to the bottom line and that continued investment will be rewarded in the long run. This is also true in an international context - early movers will be the first to establish partnerships with resellers abroad and foreign direct investors here at home. What better way to initiate and foster these relationships at an event like HANNOVER MESSE which conveniently gathers leading minds and decision-makers in one central place every year?
Granted, there are a few extra steps involved when getting ready to sell outside your own market. That's when our strategic partners, such as the U.S. Commercial Service and the U.S. Small Business Administration can offer valuable insight and help with market intelligence, matchmaking, standards compliance, etc. I think Bill Cline, Global Environmental Team Leader at the U.S. Commercial Service said it best: "If you can sell it here, you can likely sell it abroad."
By the way, according to research by the CEIR and others, tradeshows continue to compare most favorably with other marketing instruments in the cost of face-to-face interaction. They are the smart choice in tough economic times.
Can you give us a rundown of what to expect at HANNOVER MESSE 2010 related to the alternative energy sector?
Highlights in the alternative energy sector will be the World Energy Dialogue, the Renewable Energy Industry and Export Forum, the group exhibit Hydrogen and Fuel Cells, and, of course, the new U.S. Renewable Energy and Energy Efficiency Solutions Park. The Park will be the central meeting point for international trade delegations eager to foster business and investment relations with alternative energy industry leaders from the United States.
What else is there to see at the show?
HANNOVER MESSE 2010 boasts nine leading trade fairs –Energy, Power Plant Technology, MobiliTec, Industrial Automation, Digital Factory, Industrial Supply, CoilTechnica, MicroNanoTec, and Research & Technology. Each show has a multitude of conferences, forums and special events complementing the product displays. Sustainability and energy efficiency in all lines of industrial production are unifying the different showcases under the umbrella of HANNOVER MESSE. With this unique setup, HANNOVER MESSE bridges traditional industry divides, furthering innovation and interdisciplinary networking.
How many exhibitors and attendees do you expect?
Despite the economic downturn we have had very stable numbers in 2009: 206,000 attendees and 6,150 exhibitors. As the economy begins to trend upward so will exhibitor and attendee numbers. So for 2010, at a minimum, we expect the same great turnout as in 2009 and are confident that we'll actually see a marked increase.
What sets HANNOVER MESSE apart from other events?
The co-location of multiple industrial shows allows for unparalleled cross-sectoral synergies which are much appreciated by our customers. Both the scale of the show, the different sectors it covers and the truly international nature of HANNOVER MESSE gives them the opportunity to meet many of their goals at once with just one show investment. Even if Germany or Europe are not your primary markets, the international demographics of HANNOVER MESSE make it the one global event to be at. For some politically sensitive markets, HANNOVER MESSE also provides a welcome neutral ground and facilitates business that might otherwise be more difficult to come by.
Which other Renewable Energy events do you have?
HANNOVER MESSE's international sister events in the energy sector in India (Energy India), China (Energy Show), Vietnam (EPM Linkage), and Turkey (RENEX) offer similar convenient participation options for U.S. companies and serve as springboard into the booming Asian markets.
Where can interested companies learn more?
They can go to http://www.hfusa.com/hannovermesse_energy or contact me directly at +1-609-987-1202 ext. 205, uhammer@hfusa.com
The content & opinions in this article are the author's and do not necessarily represent the views of AltEnergyMag
---
Comments (0)
This post does not have any comments. Be the first to leave a comment below.
---
Post A Comment
You must be logged in before you can post a comment. Login now.
Featured Product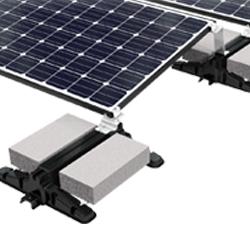 Preformed Line Products introduces the POWER MAX Ballasted Roof Mounting System. The POWER MAX solar mounting system is engineered to maximize energy output on commercial flat roofs. Developed with the professional installer in mind, this system offers adjustable inter-row spacing in the field of up to 11 inches. It features 50% fewer components and a simplified design resulting in faster assembly rates and labor savings on every project. Available in a flush mount, 5˚ or 10˚ tilt or higher density dual tilt design, the POWER MAX base arrives stacked on pallets providing easier transport to the roof. Engineered as a fully ballasted, non-penetrating system, it accepts standard concrete blocks and is qualified by wind tunnel testing.