Aaron Fowles is the Specialist of Corporate Communications for SANYO North America Corporation's Regional Offices, based in San Diego. In this position, Mr. Fowles oversees all public relations activities, including media relations, strategic planning and implementation for all North American regional companies.
AltEnergyMag Interview - Sanyo North America Now and in the Future
Aaron Fowles | SANYO North America

How has SANYO maintained / is maintaining its overall commitment to sustainability?
SANYO - a 'leading company for energy and environment': As a leader in 'energy and environment', SANYO North America's primary commitment is to deliver innovative technologies and lifestyle solutions designed to reduce impact on the environment while meeting the needs and demands of today's consumers. Through its diverse portfolio of environmental products and technologies, SANYO offers solutions for consumer and business needs aiming to reduce energy output, conserve precious resources, and minimize society's environmental footprint. This is demonstrated in its high-performance HIT® solar panels, full line of 'eneloop' rechargeable batteries and accessories, air purification systems, energy-efficient heating and cooling systems, and more. In fact, recently SANYO introduced a new "Biomedical & Environmental Solutions" division, specifically designed to unify SANYO's environmental-related business units and products to deliver customized, total environmental solutions packages for a variety of green building applications, ranging from residential and business, to municipal and colleges/universities
In addition to bringing innovative, environmentally-focused products to the marketplace, SANYO also demonstrates its commitment to sustainability by serving as an ambassador and educator of how to live more responsibly and reduce the impact on the environment. This is demonstrated through SANYO's participation each year in the Coastal Cleanup Day (a special event in California held each year to clean-up the state's beautiful beaches and coastline), participation in children's environmental education programs, and partnerships with organizations, such as the California Center for Sustainability (CCSE) to raise public awareness for critical environmental issues.
SANYO is the #1 world supplier of rechargeable battery products: SANYO is the leading world manufacturer and supplier of rechargeable battery products, supplying its rechargeable batteries to large automobile manufacturers, businesses and consumers. You can learn more about rechargeable battery products here: http://us.sanyo.com/
Advancements in solar energy:

SANYO produces the most technologically advanced solar cells in the world. In May 2009, SANYO announced that it broke its own record for the world's highest energy conversion efficiency in practical size (100 cm2 or more) crystalline silicon-type solar cells, achieving an efficiency of 23.0% (until now 22.3%) at a research level for its proprietary HIT® solar photovoltaic cells. SANYO will continue to advance its efforts in applying this research-level achievement into mass production, and promote further research into energy efficiency, as well as reductions in cost and materials. SANYO is also expanding its solar business in North America as demonstrated by the grand opening in November 2009 of two solar manufacturing sites, its solar plant in Salem, Oregon and its solar module assembly plant in Monterrey, Mexico.
SANYO's Biomedical solutions: For more than 30 years, SANYO has also established a reputation as a premier manufacturer of precision biomedical and laboratory equipment. The complete line of SANYO biomedical products includes various types of laboratory equipment with the most advanced technology, controls, construction, and performance attributes in the industry. Today SANYO applies the most sophisticated refrigeration compressor design and state-of-the-art electronics to ultra-low temperature and cryogenic freezers, refrigerators, incubators, and environmental chambers used within the life science, pharmaceutical, biotechnology, healthcare, and industrial laboratory sectors.

Describe the latest progress and innovations in solar power
HIT® solar panels and photovoltaic systems: As previously discussed, SANYO's HIT® Solar Cells (HIT® stands for Heterojunction with Intrinsic Thin-layer) are capable of the world's highest power generation per installed square area. In fact, in May 2009, SANYO broke the world record of any photovoltaic manufacturer able to exceed 23% in conversion efficiency at the research-level for practical-sized solar cells. Key features of SANYO's HIT® Solar Cells include high conversion efficiency, up to 19.7% from the production line, excellent temperature characteristics, and considerable output under diffuse and low light conditions. SANYO's HIT® solar products include the HIT® Power and HIT® Double (bifacial) solar panels.
SANYO also announced a unique partnership in December with AVACOS Solar Energy, a Canadian solar photovoltaic installation and project integration company, to unveil the first Canadian photovoltaic system combining SANYO's HIT® Double bifacial solar PV modules and DuROCK Tio-Coat reflective roof membrane at DuROCK Alfacing International Ltd.'s headquarters in Woodbridge. In managing the project, AVACOS matched the complimenting technologies, which result in additional cost-saving and environmental benefits. SANYO HIT® Double PV modules generate power from both sides, resulting in up to 30% higher energy output than standard single-sided PV modules, making them ideal for carports, canopies and porch coverings. DuROCK Tio-Coat is a high-strength white elastomeric urethane roof coating that provides 89% solar radiation reflectivity and weather resistance, reducing the energy usage required for the building compared to traditional roof coverings. You can read more about this partnership here.

What are the current key market drivers in alternative energy?
Energy independence
Limited natural resources that will be depleted over time, resulting in the need for renewable sources, such as solar
Consumers and businesses are increasingly concerned about the environment, driving expansion opportunities in the market and demand for solar energy
Added government incentives to advance the use of solar panels and PV systems among commercial and residential applicationsImproved technology and innovations in solar, making products more affordable, efficient and accessible to the greater public

How is SANYO helping to make solar power the primary energy source for today's businesses and consumers throughout the U.S. and North America?
By expanding its solar production in North America at its Monterrey, Mexico and Salem, Oregon plants
By constantly innovating and improving its solar cell and panel efficiency and proposing new installation concepts
With a continuous push to educate Americans about the vital need for renewable energy sources, such as solar power

What is happening right now in the whole area of rechargeable batteries? As the #1 world supplier of rechargeable batteries, where do you see the greatest demand for rechargeable batteries and what do you think the future is for rechargeable batteries as a viable energy alternative for the U.S.?
SANYO provides rechargeable batteries for just about every possible application. Currently, the greatest demand is still in portable devices such as cell phones, notebook computers, and portable media devices like iPods.
With its 'eneloop' brand of consumer batteries, SANYO aims to change the existing lifestyle where batteries are used and disposed to a lifestyle valuing reusing and recycling, qualities which 'eneloop' embodies. The 'eneloop' batteries come pre-charged (advantage of disposable batteries), are rechargeable up to 1,000 times, and once recharged, 'eneloop' batteries stay charged longer than other rechargeables.


Batteries for HEV, PHEV and EV applications are also on a path of growth. With its battery systems employed in automobiles from major manufacturers like Ford, Honda, Volkswagen, Peugeot and others, the SANYO group aims to quadruple sales of HEV batteries by 2015

The future of rechargeable batteries is filled with potential. SANYO is currently working with the Japanese government to create Smart Energy Grids where SANYO solar panels are used to generate electricity and high-capacity lithium-ion batteries are used to store the energy. The next day, when the electricity is at peak due to demand, the stored energy can be utilized to even out the usage, eliminating high peak charges and putting less demand on the overall grid. This is a concept that SANYO is looking at possibly bringing to the U.S. as well.

What are the main applications for SANYO's rechargeable batteries now and in the near future?

As mentioned previously, the main applications for SANYO rechargeable batteries are mobile devices, such as power tools, cell phones, and portable audio devices, automobiles, in HEVs, PHEVs, EVs and other transportation methods such as hybrid pedal-assist bicycles, and utility-scale storage for Smart Energy Grid systems.

We see a growing trend for other forms of sustainable transportation, such as SANYO's award-winning 'eneloop' Synergetic Hybrid Bicycle. The 'eneloop' bike is a 26-inch, three-speed regenerative, pedal-assist hybrid electric bicycle. Riders can choose to move under their own power or can engage the bike's motor and electrical system to pedal in one of three assist modes – standard, power-up or auto – where the front hub-based motor helps the bicycle and rider travel forward. This innovative product is part of the SANYO 'eneloop universe,' a series of products that are based on a lifestyle concept of reusing and recycling, such as "energy" by "looping" it in a sustainable cycle. The concept was first shown as SANYO announced the 'eneloop' rechargeable battery in 2005 and has grown to include a number of award-winning products. More information on the 'eneloop' bike can be found here: http://us.sanyo.com/Consumer-eneloop-bike

Are rechargeable batteries a feasible solution for energy storage on the utility scale?
Yes, we continue to see advancements in the technological capabilities of rechargeable batteries to make them more efficient and cost-effective on a mass scale. However, the widespread use of them as utility-scale energy storage probably won't fully develop until Smart Energy Grids are more of a focus.
What do you foresee as the main growth areas in alternative energy over the next 10 years and beyond?
Solar: Improved efficiency in solar panels and increased affordability to make solar power more accessible to the masses

Battery: Advancements in rechargeable battery technology

Technology: Advancements in energy usage, with more efficient appliances and mobile devices, not to mention the increase of actual power available as next-generation technology begins to take root

Please talk about SANYO North America's position as a "leading company for energy and environment" and how SANYO is continuing to solidify that position in both North America and the global marketplace.

See responses to question 1 and below.
SANYO continues to position its leadership position in 'energy and environment' by constantly bringing innovative products and solutions to the marketplace that not only reduce environmental impact and energy use, but also address the lifestyle needs and demands of today's consumers and businesses.

As a result of SANYO's acquisition by Panasonic, the company will be able to further invest in leading-edge technologies and solutions, designed for this core purpose.

Aaron Fowles
Corporate Communications Specialist
SANYO North America

Mr. Fowles first joined SANYO Electric Co., Ltd. in 2006 as a Public Relations Coordinator, where he worked at the company's global headquarters in Osaka, Japan, and then in 2009 was promoted to Specialist of Corporate Communications for SANYO North America.

Mr. Fowles holds a Bachelor of Arts degree from Brigham Young University (Provo, Utah). Fluent in both Japanese and English, from 1998 to 2000 he also served as a volunteer missionary in Sendai, Japan teaching advanced abstract concepts in Japanese to native speakers, as well as free conversational English classes. Additionally, Mr. Fowles spent his time Sendai, Japan as a volunteer at various nursing homes and day care facilities. He also currently serves as a member of the San Diego Chapter of the Public Relations Society of America (PRSA).

The content & opinions in this article are the author's and do not necessarily represent the views of AltEnergyMag
---
Comments (0)
This post does not have any comments. Be the first to leave a comment below.
---
Post A Comment
You must be logged in before you can post a comment. Login now.
Featured Product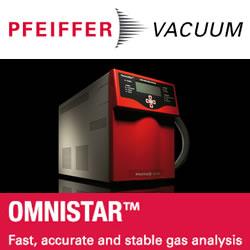 The Pfeiffer Vacuum OmniStar benchtop analysis system offers you a compact footprint, powerful software and Ethernet connectivity. It's the optimum solution for many real-time gas analysis applications. With the OmniStar, Pfeiffer Vacuum offers you a complete solution for gas analysis, in chemical processes, semiconductor industry, metallurgy, fermentation, catalysis, laser technology and environmental analysis. The turnkey OmniStar gas analysis system consists of heated, temperature-regulated gas inlet system, Quadrupole mass spectrometer, a dry diaphragm vacuum pump and HiPace turbopump. Unlike competing methods such as FTIR, OmniStar is suitable for qualitative and quantitative analysis of most gases.