Innovative technological ideas that originate from small American manufacturing companies often go unrewarded. Why? Because often those companies don't have the ability to take their innovations to the world through an aggressive exporting program.
Commitment to Clean Energy Technology Would Help U.S. Become Global Economic Leader and Job Creator
Jack Crawford, Jr. | Jadoo Power
Although the U.S. is the unequivocal leader in energy innovation, we are losing out to countries like China and Germany when it comes to clean energy manufacturing.
These countries are providing a host of incentives and other recruitment advantages to lure companies away from the U.S. Meanwhile, our small manufacturing facilities are often unable to secure traditional bank loans, due to the risky nature of those loans and the lack of hard assets for securitizing the loans.
Our energy security, environmental security, and our economic security are at risk … something has to change.
Right now the U.S. is in a fierce competition to develop companies that enable us to generate and utilize energy more efficiently and to do this cheaper and cleaner than our competitors. What's at stake? Nothing less than our global leadership. The country that succeeds in innovating and exporting clean technology products and services will be the global economic leader and job creator in the future.
There is a definite sense of urgency in moving forward. In 2009, China attracted $34.6 billion in clean energy investments, more than any other country, according to the Pew Environment Group Climate and Energy Program in Washington. That same year the U.S. totaled a mere $18.6 billion in clean energy investments. Given that the U.S. currently spends five times this amount on cigarettes, something has to change.
The clean technology segment is the fastest growing business segment in today's global economy and the U.S. can't afford to let other countries like China, Brazil, the United Kingdom, Germany, and Spain forge ahead. But right now the U. S. is clearly lagging behind.
Locally, Sacramento is making strides to bridge the clean energy gap. According to the Sacramento Area Commerce and Trade Organization, the Greater Sacramento Region has more than 100 clean technology companies, and is well-positioned to be a national leader in producing clean energy technology. With active support from Governor Schwarzenegger and Mayor Kevin Johnson, the business climate in the capital city will continue to attract clean tech entrepreneurs and investors.
Since 1995, the Sacramento area has seen tremendous job growth in "green jobs," increasing more than 87 percent, according to the Sacramento Regional Technology Alliance's Clean Start 2010 Progress Report. The entire state of California showed an increase in green jobs of 36 percent, or 42,000, in this same period, as compared to an overall job growth of 13 percent in California.
By simply making, installing and servicing fuel cells, the U.S. has the potential to capture 250,000 jobs in the next 10 years. U.S. Rep. Dan Lungren of Sacramento has supported fuel cell companies like Jadoo Power to create fuel cell-based clean portable power for the military and emergency response teams.
Clearly, the clean energy technology sector represents a promising employment growth opportunity in the future. With the proper support from local, state and federal governments as a customer and a capital source, this future growth potential can be fully realized. Without it, countries like China will continue to add 10 jobs for every one we add here in the US in important industries like solar, energy storage, and energy efficient lighting.
A bill introduced by U.S. Rep. Doris Matsui of Sacramento and others passed the House of Representatives on July 28. The Clean Energy Technology Manufacturing and Export Assistance Act of 2010 would set out a national strategy to assist U.S. clean energy technology companies find new markets to better compete in the international marketplace.
The bill also provides domestic manufacturing assistance to find new ways to reduce production costs, and promote innovation, investment, and greater productivity in the clean technology sector.
The market for clean energy products is growing in the U.S., but there are vast untapped markets abroad.
In order to benefit from this emerging technology and create jobs, Congress should move swiftly to create a coordinated and concerted effort to set the stage for the U.S. to export clean technology products throughout the world. Something has to change … now.
Jack Crawford Jr. is the CEO of Jadoo Power, an advance power and energy storage technology company based in Folsom, and is a General Partner at Velocity Venture Capital, an early stage venture capital firm based in the greater Sacramento region. He recently provided testimony before the U.S. House's Subcommittee on Commerce, Trade and Consumer Protection in Washington, urging their support of clean technology.
The content & opinions in this article are the author's and do not necessarily represent the views of AltEnergyMag
---
Comments (0)
This post does not have any comments. Be the first to leave a comment below.
---
Post A Comment
You must be logged in before you can post a comment. Login now.
Featured Product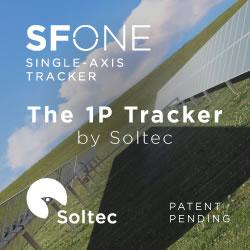 Soltec manufactures and supplies solar trackers designed and proven for extreme climate conditions, which is an ideal solution for any region's environment. Soltec's trackers are self-powered, requiring no additional PV module or grid-powered connection. Bifacial modules collect energy on both the front and rear sides, capturing reflected irradiance from the ground surface under and around the tracker and from other modules. Depending on site conditions, bifacial yield-gain can reach +30 percent.