AMSC Launches SolarTie™ Grid Interconnection Solution for Utility-Scale Solar Power Market.
Grid Interconnection Solutions for Solar and Wind Power Plants
Perry Schugart | American Superconductor

What is the current state of the global utility-scale wind and solar power markets today and how fast is this market projected to grow in the coming years?
The utility-scale wind and solar markets are growing rapidly. Looking specifically at solar, industry research firm IMS Research expects annual shipments of solar PV inverters to quadruple from approximately 8 gigawatts (GW) at the end of 2009 to 32 GW in 2014. During this period, the utility-scale solar inverter market is expected to grow at a much faster pace than the commercial and residential solar inverter markets. The addressable market for SolarTie solutions is expected by industry analysts to be approximately $2 billion by 2015.
What challenges exist in terms of safely interconnecting solar power plants to the greater power grid?
Renewable sources of energy, such as wind and solar power, are growing at a rapid pace. Electric utilities would like to see renewable energy sources act more like conventional power plants. For instance, they would like the voltage stemming from wind and solar plants to be constant.
Like wind farms, solar power plants require reactive compensation. Rigorous reactive compensation standards are likely to become a reality for solar power plants in North America, Europe, and Asia. An example is the recent "Interconnection Standards Initiative Draft Straw Proposal" set forth by CAISO (California Independent System Operator) in the Spring of 2010.
Specifically, solar power plants are being required to meet power factor requirements, provide voltage control, meet low and high voltage ride-through requirements. Additionally, they must be 'good utility citizens' as part of a growing renewable portfolio. This means they must be grid-friendly and not disconnect from the utility when most needed; such as during power system disturbances. Secondly, a grid-friendly solar power plant actively supports the grid such that when disturbances do occur, the plant is prepared to help the grid to recover. Solar power plants must also provide day to day voltage support to help keep the system voltages smooth and stable, even if the power output of the plant varies due to clouds or other factors during the course of the day. AMSC's SolarTie will be the first in the industry to have to fast enough response times to enable solar power plants to meet local grid interconnection requirements with a single device.
What is American Superconductor's experience in grid interconnection of renewable energy?
AMSC is a leader in grid interconnection of renewable energy. The company's D-VAR® reactive compensation solution in fact is the de facto standard for grid interconnection around the world. Classified as Static Compensators, or "STATCOMs," a member of the FACTS (Flexible AC-Transmission System) family of power electronic solutions for alternating current (AC) power grids, the solutions provide dynamic voltage control, power factor correction and post-contingency reactive compensation to stabilize the power grid and prevent undesirable events such as voltage collapse. D-VARs also augment the overall performance of wind farms. These Smart Grid solutions are able to detect and instantaneously compensate for voltage disturbances by dynamically injecting leading or lagging reactive power into the power grid. AMSC's D-VAR solution is currently being utilized by more than 70 wind farms around the world to meet local grid interconnection requirements. AMSC has sold more grid interconnection solutions for wind power plants than any other company.
Why is AMSC getting into the solar inverter market?
AMSC is now applying its expertise in grid interconnection to the utility-scale solar power market because solar power plant developers and Engineering, Procurement and Construction (EPC) companies have been asking us to due to the lack of an existing solution that's capable of meeting all of their needs. Based on this need, the company has constructed a core solar engineering team consisting of experts from the solar industry as well as electrical equipment manufacturers who have been suppliers to this industry. Utilizing input from customers and our solar engineering team, we believe the SolarTie will be the first fully optimized solution for this market.
AMSC's SolarTie Grid Interconnection Solution is the industry's first fully optimized solution for utility-scale solar photovoltaic (PV) power plant developers. What does this mean?

The majority of solar inverters on the market today were intended for residential or commercial use, and therefore not targeted for utility-scale or grid stability. By coupling power converter capabilities with AMSC's proven D-VAR reactive compensation technology, the SolarTie solution represents the industry's first fully optimized solution for utility-scale PV power plant developers. This solution is the only to incorporate sub-cycle detection and response times to grid disturbances of less than 16 milliseconds, enabling solar power plants to meet local grid interconnection requirements in this single solution. The SolarTie converts DC power to AC and is the most optimized solution available to enable dynamic reactive power compensation capability/ voltage stability directly within the solution. This capability eliminates the need for solar power plant developers to purchase additional costly equipment.
What differentiates the SolarTie from other solar inverters on the market?
In addition to the above, with a base rating of 1.4 MW and a turn-on voltage of up to 1,000 volts (VDC), the SolarTie solution is one of the most robust power inverter systems on the market. Our SolarTie customers will also benefit from:
The services of AMSC's highly skilled and experienced Network Planning and Applications Group;
Solar inverters based on the company's proven PowerModule™ platform;
The ability to dynamically control real and reactive power at the Point of Interconnection;
AMSC's proprietary Smart Grid Interface (SGI) Controller, which directs SolarTie inverters and reactive power elements to provide efficient energy production and precise regulation at the Point Of Interconnection (POI); and
Easy integration with STATCOMs and/or capacitor and reactor shunt banks for additional reactive support if installed as part of the system.
What services types of services does AMSC's Network Planning Applications Group provide?
Our Network Planning Applications Group is a highly skilled team in the areas of both wind and solar power grid interconnection with decades of utility planning experience. This team provides interconnection studies for our customers by analyzing the utility requirements and plant's specifications resulting in an optimized proposal of the correct equipment. These studies ensure that the plant can cost effectively meet even the most stringent grid interconnection requirements.
How does the SolarTie solve the problem with clouds for solar power plants?
Moving clouds can produce fast and short voltage fluctuations at the POI for solar power plants. To mitigate these voltage fluctuations, the SolarTie Grid Interconnection Solution can determine the exact amount of reactive power needed to precisely regulate the voltage at the POI and then coordinate the supply of that reactive power between the SolarTie inverters and the other ancillary reactive components that may be installed.
Which markets do you expect to be the biggest adopters of SolarTie?
The United States, China, India, Australia, Canada and Spain are the countries that are most active with utility-scale solar power projects, so these are logical first adopters of the SolarTie. AMSC however will market and sell this solution worldwide.
Do you anticipate the SolarTie to capture similar market share compared to your D-VAR solution for wind?
Yes. We believe the unique capabilities of the SolarTie will enable this solution to rapidly capture share in the utility-scale power market as the industry continues to develop. Like the D-VAR solution, we believe this technology will be the de facto standard for safe interconnection of utility-scale solar power plants around the world.
For more information about AMSC's SolarTie solution, please visit
www.amsc.com/products/solartie.html


For further information, contact: Perry Schugart, American Superconductor (
www.amsc.com
), 15775 W. Schaefer Ct., New Berlin, WI 53151 Tel: (262) 901-6036 Email:
pschugart@amsc.com
.
The content & opinions in this article are the author's and do not necessarily represent the views of AltEnergyMag
---
Comments (0)
This post does not have any comments. Be the first to leave a comment below.
---
Post A Comment
You must be logged in before you can post a comment. Login now.
Featured Product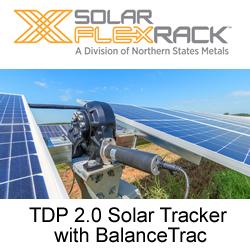 Solar FlexRack's latest solar tracker technology bundles an advanced tracker design with a full team of seasoned engineering and installation experts at your service. The next-generation solar tracker delivers a package of features that both enable increased energy yields for commercial and utility-scale solar installations, and significantly reduce project risks. That translates to smart installation cost-savings across your project budget.