The Ontario Government's decision to promote clean renewable energy is now proving to be a catalyst for creating thousands of new green collar jobs in the province.
Full Green Ahead In The Ontario Job Market

The controversial procurement program, launched last fall by the Ontario Power Authority, which is commonly referred to as the Feed In Tariff (FIT) program, offers to pay private energy producers generous rates for electricity generated by renewable sources (i.e. solar, wind, hydroelectric, etc.) for contracted periods of twenty years. In order for renewable energy power producers to qualify for these long term – high premiums, over half of the materials they use to build their clean energy power plants must be made in Ontario. This local content requirement rule has created a gold rush-like mentality for international manufactures who are now flocking to the province to qualify. One year after the program was initially introduced, the number of new green collar jobs being created in the region is substantial.
Canadian Solar, one of the world's largest solar panel manufacturers, with operations in China, Germany, Italy, Japan, Korea, and the United States, has started to build a solar module manufacturing plant in Guelph, Ontario. The multi-million dollar complex will supply 500 new jobs as early as next year.
The Town of Oakville has been chosen by Solar Semiconductor to host its first North American solar module manufacturing facility. The company has expanded into Ontario from India, with expectations of opening the doors to its new plant within the next two years. The facility will train and employ 200 new employees.
Italian-based solar panel manufacturer, Silfab, is making its move into the province. Its new facility will be operational as early as mid-2011 and is also expected to employ 200 new employees.
German appliance giant, Bosh, leading Canadian electronics manufacturer, Celestica, and several others are also in the process of opening new solar manufacturing facilities and creating many, many more jobs.
Before making a leap from the uninterrupted power supply (UPS) industry where it specialized in building back-up power main-frames for computer systems, Aim Global Energy of Richmond Hill developed a new inverter technology which increases the output of solar energy by up to 30%. After partnering with publicly traded Atlantic Wind & Solar, a Toronto-based renewable energy company with over 100 large-scale rooftop solar energy projects in the GTA, Aim has begun to expand its manufacturing operations into Toronto's Scarborough area. The region's unemployment rate was significantly impacted after a recycling plant in neighboring Whitby announced it would be closing its doors, affecting 151 employees. The timing of FIT could not have been better for many Ontario residents.
In addition to new jobs being created, the FIT program is creating many new opportunities for trained professionals who are now reapplying their job skills and work experience.
Solar Clean was originally formed by firefighters who recognized that solar maintenance presented a unique opportunity to reapply many of their skill sets. The attributes of being rigorously trained in electrical hazard awareness, how to work safely with water around high voltage systems, the use of safety equipment such as fall arrest systems, operating elevated devices, and ladder safety techniques, are proving to be beneficial in this new sector. The company predicts it will increase in size by four to six times in the next 12- 18 months.
A number of opportunistic real estate sales agents in the province who may have been feeling the effects of a softening real estate market are now supplementing their incomes by helping local clean power producers find suitable vacant farm lands and commercial rooftops to lease for the deployment of new wind and solar energy parks.
A Toronto-based company named CommSite Works Inc., who is best known for securing commercial rooftops used to host cellular phone antenna towers, has been actively closing rooftop lease agreements to facilitate utility-scale solar energy parks. The progressive company, which has an exclusive arrangement with a leading Toronto-based solar company, reported that it is also in the process of significantly increasing its staff in order to facilitate the new niche market.
Some lawyers who specialize in real estate law are adding renewable energy development to their practices. Ms. Cherie Brant of Willms & Shier Environmental Lawyers LLP specializes in the planning, structuring, and implementing of renewable energy projects and related transactions with special emphasis on First Nations related projects. Ms. Brant also works with rooftop solar developers, and through her established connections, she finds solutions to financing and other installation challenges that new industries such as this often face. She credits her background in telecommunications leasing and involvement in the legal and policy issues of this growing industry with giving her a competitive edge when delivering added value to her clients.
Roofers are now becoming solar panel installers. Commercial shelving manufacturers are now converting their steel fabricating shops over to building racking systems used for solar panels. Logistics companies specializing in the transporting of various freights are now focusing on gaining new contracts to ship solar panels and wind turbines. Construction crane operators are now booking rooftop solar construction projects and are also being asked to use their equipment to erect wind turbines. Even once abandoned automotive manufacturing plants are now being converted over to build wind turbines while hiring back many of the same personnel who once worked at these very factories on automotive assembly lines, before being laid off.
Thousands of green sector stakeholders are now officially beginning to feel the positive effects that the Ontario's Green Energy and Green Economy Act was designed to bestow. It is reassuring to know that as these new green collar jobs and the new opportunities the sector brings with it increase, so too will other new ways of doing business.

Ontario took a bold step in developing a private procurement program. Not only has it successfully begun to wean the province off of its dependency on electricity generated by harmful CO2 emitting sources, but Ontario has also successfully implemented a job creation program that is set to leave the rest of North America green with envy.
The content & opinions in this article are the author's and do not necessarily represent the views of AltEnergyMag
---
Comments (0)
This post does not have any comments. Be the first to leave a comment below.
---
Post A Comment
You must be logged in before you can post a comment. Login now.
Featured Product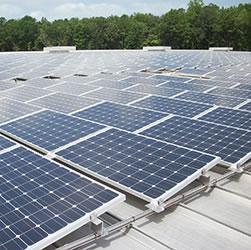 The Power Rail™ Commercial Mounting System is designed with the professional PV solar installer in mind. Both the XD/UD and LD/MD rails feature single tool assembly with the revolutionary patented RAD™ Lock-in-Place bolt for fast and secure module clamping. The high strength marine-grade aluminum rails include an integral wiring channel for securing cables and providing a professional finish.