The NY Times reports that the federal government is pouring $500 million into training for green jobs, and the sector devoted to energy efficiency is estimated to grow as much as fourfold in the next decade, to some 1.3 million people, according to the Lawrence Berkeley National Laboratory.
Careers in the Clean-Tech Industry
Contributed by | Ecotech Institute
What types of jobs are available in the clean-tech industry?

The clean-tech industry employs almost a million people across the country, ranging from CEO's running clean-tech companies to maintenance specialists. Examples of job titles in this space include: Director of Sustainability, Weatherization Technician, Field Service Engineer, Energy Conservation Specialist and Solar Advisor. At Ecotech, we provide an education that will start our students on a career path in this new and exciting industry. Our programs prepare people to fulfill vital roles in the clean-tech space, whether working on a solar manufacturing floor or operating a multi-MW wind farm.

Are there a lot of jobs available in the clean-tech industry?

When you board an airplane, you see the pilot and the plane, but it took hundreds of people to make sure that plane takes off and lands safely. It takes the folks that manufacture the parts for the jet engines, the people responsible for building the plane itself, the safety crew and the baggage handlers, the sales agents that sell the tickets, and numerous other roles and responsibilities. The same holds true for clean-tech, where each of the clean approaches to the sectors of energy, materials, transportation and water requires a large pool of highly skilled employees. This number will only increase as different industries adopt clean-tech approaches and new companies open their doors.
The NY Times reports that the federal government is pouring $500 million into training for green jobs, and the sector devoted to energy efficiency is estimated to grow as much as fourfold in the next decade, to some 1.3 million people, according to the Lawrence Berkeley National Laboratory.

What can companies do to help retrain their workforce for the growing clean-tech industry? Why are these skills so important?

In a globally competitive landscape, the individuals and companies that don't move ahead are going to be the ones that cannot quickly adapt to innovation. As fossil fuels become more expensive due to political instability and as we begin to deplete our remaining reserves, economies that have integrated systems that can run on the "free" supply of clean energy sources, like the sun and the wind, will have much greater stability. And we don't have to wait until we are almost out of fossilized energy; the Stone Age didn't end because we ran out of stones.
Companies that retrain their human capital now will advance and be leaders for the future. According to the International Energy Agency (IEA), a severe skill shortage could quickly become a major hurdle to low-carbon technologies deployment across all sectors and all regions: "There is an urgent need to properly assess the skills required, considering regional situations and human resource availability, and to develop recommendations on how to fulfill these needs."
What current industries will be impacted by the changing clean-tech landscape?
It's possible to say that almost all industries will be impacted in some way by the growth of clean-tech thinking and its application. Here is an article by Ecotech Institute that illustrates how agriculture, law, utility companies and other industries have a vested interest in the future of clean-tech:
https://www.altenergymag.com/emagazine.php?art_id=1683
. The clean-tech way of thinking spans all industries - and first movers will see an advantage.
How do entrepreneurism and the clean-tech sector intersect? And how does that affect job creation?
Clean-tech offers entrepreneurs an open door into new, creative ways to approach business. Whether looking to begin clean-tech-specific businesses or change current industries by offering improved business models through clean-tech approaches, the future is bright for new leaders who want to make a difference. According to
Clean Tech Job Trends 2010
, money invested in clean energy creates two to four jobs for every one job created if the money were spent on fossil fuel industries. Three clean tech categories in particular held their ground as the dominant innovative leaders throughout 2009, based upon number of patents granted: solar (at approximately 31 percent), wind (at approximately 19 percent) and hybrid vehicles (at approximately 15 percent).
What job skills play well into clean-tech careers?
For companies that are focused on clean-tech as the majority of their business model, some job skills include math and science skills, a desire to work with your hands, an interest in global health and (for some careers) engineering experience. But Ecotech Institute has a broad offering of programs and potential careers span industries with drastically different job demands.
Clean Tech Job Trends 2010 reports:
A four-year college degree is not a prerequisite for entry to the clean-tech playing field. Those with high school or associate degrees can pursue positions in many popular fields like green building, solar power, and wind energy. HVAC Service Technicians ($48,600), Insulation Workers ($33,600), Solar Energy System Installers ($37,700), and Wind Turbine Technicians ($48,300) are only a few of the industry posts offering living-wage median pay to entry-level workers without a bachelor's degree. For higher-ranking, more educated or experienced hands, positions like LEED Architect ($57,100), Wind Construction Superintendent ($76,700), Senior Electrical Engineer ($95,400), and Environmental Engineering Manager ($106,000) are all profitable career choices.

What should the current workforce be considering about the changing green landscape?

The Pew Center for Global Climate Change reports that China, Europe, and other nations are moving to cultivate their own clean energy industries and position them to gain large market shares in the decades ahead: "In 2009, China invested more money in clean energy technologies than the United States for the first time, and Europe continued to lead the world in clean energy investments, spending over $41 billion. Nearly 90 percent of today's market for clean energy technologies is outside of the United States, primarily in Asia and Europe." This represents both a tremendous opportunity and a real threat.
The current workforce should be excited about the changing landscape, but open-minded about what new skills will ensure job security. Company leadership, HR directors, managers and employees should all keep an eye on legislation that affects their industry; and people who are proactive in implementing clean-tech activities in their own workplace should reap rewards, including keeping the U.S. competitive in world clean-tech markets.
The content & opinions in this article are the author's and do not necessarily represent the views of AltEnergyMag
---
Comments (0)
This post does not have any comments. Be the first to leave a comment below.
---
Post A Comment
You must be logged in before you can post a comment. Login now.
Featured Product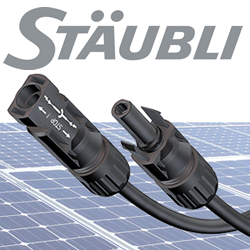 ​Stäubli Electrical Connectors are used on more than 300 GW, over 50% of the PV capacity worldwide. The MC4 family of UL and TUV listed products include connectors, in-line fuses, branch connectors, cable assembly and more.