GM invited members of the Engineering Society of Detroit out to the Proving Gounds in Milford for test drives. There were 11 Volts and they paired us up for a test drive out into Milford and down to Lake Kensington and out on to I 96 for a few miles and then circled back to the Proving grounds. Everyone was excited by their drive and we were told that virtually every one on the development team had their order in on the new vehicle. It is being built in the Hamtramck/Detroit Cadillac Plant that Coleman Young fought for and the lithium ion Battery Packs are being built in a new Brownstown plant nearby.

Bill Dickens

Absolutely, and unequivocally, the new Volt is the finest and most completely engineered automobile ever created on Planet Earth. In driving it you know that you have met the future and it is now, now. Clearly it is the most, functionally, socially, environmentally, ecologically, ergonomically responsible, ingenious automobile ever created, and it is slick, solid and as quiet as a church mouse.
As a scion to the Moon Rover and the ghastly-dull EV1 it far surpasses them and on a 4 star rating scale it gets a robust 5 in my book. No it's not as beautiful as the Cadillac Converj that Bob Lutz pressed for. If it were it'd rate 10 stars. But the politicians never understand genius and generally are the most tasteless group ever assembled. Does taste matter? Sure does when it comes to alternative choices for a sale.
If you have seen the Volt in black you will have seen a stunner. That way it brings out some of the nice body panel sculpted curves. In silver and the other colors it looks a bit awkward and from the past school of American product design despite the cuttlefish eyes front and rear, the chevron grill, and the trapezoidal central light below the nerf at the rear. The wide, black, side window sill trim with the chrome strip along it's bottom is a graphic design attempt to cover for a rather poor handling of the side windows. One wonders why they simply didn't handle the window shape and location from the get go as the new Merc CL has... clean and simple like the Cadillac version. The "rims" are a bit too small and more delightful on the Converj yet from an engineering perspective they are probably correct. Yes, you can easily love this car despite the minor defect foisted upon it by the design guys and foreclosed by the politicians. There seems to be an orthographic quality in the design so that it is best seen from low angles or by an adjacent ride and is very beautiful. Higher 1/4 views provide an inversion. Interesting.
Ever since the Japanese showed us that 4 passenger cars could sell in the US, (surprise, surprise) this is the American culmination of that long fought trip with the foreigners and the American Government and the Environmentalists. The resolution is near perfect. This is a 4 passenger sports car with lots of zip no matter what the speed. And it is speed limited to 100mph, the barrier that Henry sought over a century ago. Hitting the accelerator on the expressway will throw you back in the seat and you know that this is no nerdy, geeky, clunky dog. It's tough, solid, responsive and smooth... a great ride and one that you can love, as smooth as a CTS if not smoother, surely much quieter where you can readily carry on a conversation without a struggle, and actually a bit more comfortable with space and ergonomics taken well into consideration.
Driving the car is sheer pleasure and as simple as apple pie and Dorris Day. The buttons on the central panel are simply touch capacitive induced except for the large start/stop button conveniently located near the driver's right hand. Depressing it starts the engine but it is barely heard and depressing it again shuts it down with a faint sound of a turbine whir that has a quiet star-wars turbine decelerating sound effect. The central T-Bar shift lever has a position lock button on the backside that you can feel. Simply pulling the lever causes you to depress the lock and pulling it back places you into drive mode. There simply are the brake and the accelerator pedals on the floor. Yes, it quietly moves quickly away. Very quiet indeed. Slick and quiet.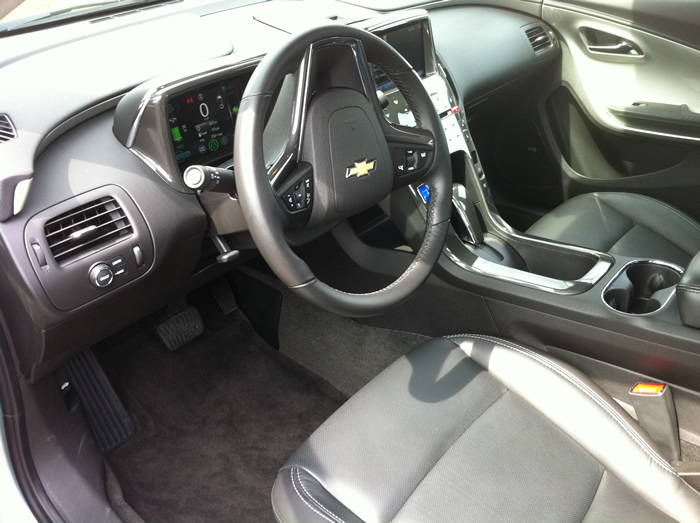 It is a bit reminiscent of the old VW bug in that you cannot see the hood from inside and have absolutely no idea of where the front of the car resides and the cabin is far forward yet you can ascertain where the butt end resides because it's a hatchback. Because of the rounded plan view of the front it should be a charm to parallel park and maneuver.
The car does draw attention on the road. And this is rightly so because of all the great technology and recent advances. It truly is the real smart car for this day and age. Yes there is a iOS app and a Droid app and one for the other smart phones coming soon. From any location you can find out how your car is doing, start it, start the seats warming up, shut it down and it will talk back to you. If you walk away without plugging it in it can e-mail you to remind you at a set time that it needs juice so "plug me in!" and presumably gasoline as well for it's tiny 9.5 gallon tank. When you are plugged in you can start the warming process drawing power from the grid so you do not steal from the on board power supplies. With On Star, GM's vehicle communication system, and the App talking, you have a pretty powerful conversation going on. Data Plenty being handled by the 30 meg hard drive computer on board. The speaker system is a special light weight Bose system. We all know that Bose is best. One supposes that if someone touches the car you could be informed and respond appropriately.
The rear trunk is large enough to store a set of golf clubs and your Alex Moulton Cycle to spare. With the rear seats folded forward you will have no problem visiting Ikea.
Let's go into some of the basics:
This is a 3700 pound 4 wheeled, 4 passenger, front wheel drive vehicle, with a 1.4L 4 cylinder internal combustion engine motor-generator set. It's conceptually similar to a WWII submarine, run electric during the day and regenerate at night. It's speed is limited to 100mph. When Henry pursued that barrier he never had it so good.
This is an electric vehicle with extended range and it is a hybrid. The range on electrical power is said to be from 25 to 50 miles, and with cabin heating and cooling loads drastically reducing the range on electric drive. It will go 379 miles with the 9.3 gallon gasoline engine driven generator, meaning that it will move at about 40mpg when the generator is running. You actually can drive across the country with the car using the gasoline engine power generation. But the MPG rating under battery power is much greater. While they say that it will travel at 80 MPGe they admit that it can go up to 140 MPGe in competition. If you read the results of the Progressive Insurance Automotive X-prize you will see that this vehicle would place high within their rankings and it has no slick belly pan Nor wheel skirts on the front wheels.The Monotracer enclosed electric motorcycle will hit 200MPGe but the limitations of battery power will cut it's travel distance.
This really is the world's first extended range electric vehicle and while it is the highest award winning automobile of all time, it is intended to serve the general automotive buying public.
The electric traction motor rates at 111 Kw h and the gasoline engine is rated at 62 Kw or 83 HP at 4800 rpm. This may seem small but remember that the vehicle is always pulled by the electric motor hence it has a very high torque rating and so it accelerates very quickly, especially at higher speeds.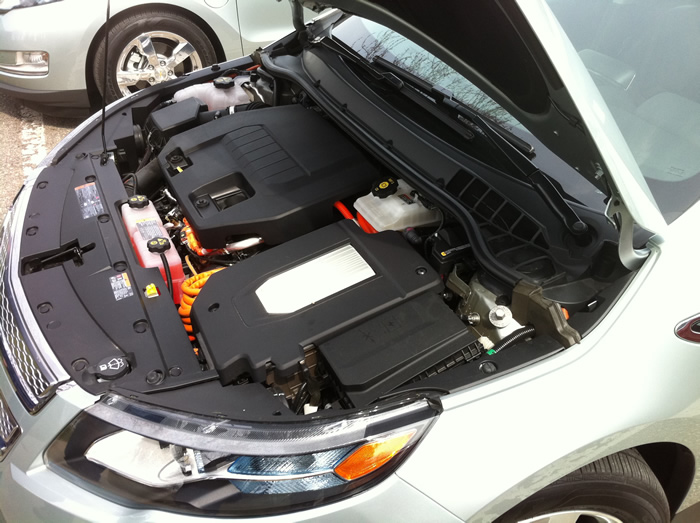 The vehicle operates in a number of modes. Engine maintenance mode, fuel maintenance mode, normal driving mode, sport mode (accelerating and tight response), mountain mode for going up long gradients, and Low breaking mode to generate constant power through regenerative breaking. Normally it will coast for a very long distance but in this mode it will slow down quickly and come to a halt using the regenerative breaking. This is very similar to downshifting with an Internal combustion engine except that you are producing electricity while stopping.
Because heat is the quickest way to destroy fully charged lithium ion batteries, the vehicle actually has 4 cooling systems: Battery cooling, Engine cooling, Cabin Cooling, and Transmission cooling. The fascinating thing about the battery is that between each set of plates is a cooling plate where the cooling liquid is circulated to extract heat or provide heat depending upon the need..
It has 8 standard airbags and may soon be declared one of the safest vehicles in the world. It does have an anti-lock breaking system and has a blended regenerative breaking system with all wheel disc brakes which helps recharge the battery.
It has a smart charging system for the battery that will operate off of a normal household 120v system or from a dedicated 240v system and it can detect which and accommodate it accordingly. It will recharge in 4 hours with the latter. Approximately 8 hours with the 120v system.
If anyone thinks that only the German Engineers can do great stuff, they are sorely mistaken. Clearly here and now the American genius for product development has asserted itself again. The environment that Sloan created with the Saarinens is now yielding it's finest fruit. The Volt leads the way and is not about to be zapped by the competition soon. Hearty Congratulations to Bob Lutz; Terry J. Woychowski, VP of Global Quality and Vehicle Launches for making this Ride and Drive possible; and Scott, Miller and the Development Team. You have made us here in Detroit very proud!

It should be pointed out that Bob Lutz made this possible. He has been such a magnificent Engineer and Architect of many fine vehicles, the very special thing about him is that although while he does know his descriptive geometry, kinematics, electronics, and many other crucial things he has an overriding and comprehensive sentience about what people need and want, This should still be put to use and not manipulated out by an ambitious and political men at the top. Besides, he looks fantastic in the Converj. ;D
Anyone who felt that GM and Chrysler should have been left to fail suffers from a failure of both intellect and moral fiber themselves. Just as the Minivan and other fine vehicles proved them wrong before, this time the saving of GM and Chrysler will prove that Saving the Auto Industry will save America and what we have come to know as the American way of life with transportation a right. Automotive companies transcend the limited notion of a Public Corporation for they effect the lives of millions of people and are the backbone of American manufacturing, and vital to our defense.
Kudos and Credits to the design team at GM
Andrew Farah, Volt Chief Enginee
Bob Boniface - Director of Volt Design
Pamela Fletcher - Chief Engineer, Voltec Propulsion System
Mike Katerberg - Assistant Powertrain Chief Engineer (1.4L Engine)
Nate Fitzpatrick - Program Engineering Manager (brakes, body structure, electrical and more)
Scott Miller, Vehicle Performance Manager
Author's Note:
When I was in college in Ann Arbor in the 60's a very beautiful older woman would drive into the South University Shopping area in her black Detroit Electric with large wooden spoke wheels, the high cabin and curved corner windows and she would climb down wearing a black satin dress and some very tall lace up black high heeled boots. She was slender and absolutely stunning and had a twinkle in her eye and a smile on her face. 'Twas riveting.
Now with a similar span in time we have the recycle of a notion. This time very well advanced. I first saw the volt at the DIAS in 2007 it seemed a bit flat headed and dull but I had a date with a beautiful Black Doctor and she was smitten by the notion of the electric vehicle. I was struck by her interest in GM's efforts and as it turns out She was right. This is the future.
The only thing constant in the latter time period is that the young engineers are still wearing Levis with their tweed sports jackets as we did in school, but the team was wearing black fleece jackets with volt discretely emblazoned on them. ;D

Bill Dickens


Born in Detroit Michigan 1938
Raised on Grosse Ile

Formal Education:

General Motors Institute, Co-op sponsored by GM Corporate Engineering Staff/Car Development.
Art School of the Society of Arts and Crafts

University of Michigan College of Design and College of Architecture, B Arch. 1964

Advanced studies in Urban Planning at Wayne State University.


Practice:

Worked on the Restoration of the Assembly Room of the Philadelphia State House (Independence Hall).
Worked on the Planning of the Detroit Medical Center, Atlanta Airport, H2Factory, Ave Maria University.

Worked in various Michigan Architectural firms, large and small. Boutique to Big Mainstream.

Chief Architect of the Michigan State Housing Development Authority.

Developed logic diagrams (CPM) for the entire AEC process. Identified the 21 Building Systems in Architecture.

Set up and Scheduled a 600,000sf Medical School for SUNY Stonybrook. Nine months from Program to doors open.

(That is 11 football fields of Building... record breaking. Not surpassed.)

Written up in the Harvard Business Review in Coming Trends in Construction.

Set up Michigan's first authentic Construction Management firm Kenny/Dickens. Built the CCS school 94,000 sf

In private practice, Island Architect, designed Houses, Office Buildings, Historic Restoration work.

Called the Wild Man for setting up a single click interface in Microstation. (CAD).

Worked on the Development of the i41CX+, the world's finest programmable calculator.


Not in Retirement, never will be.



The content & opinions in this article are the author's and do not necessarily represent the views of AltEnergyMag
---
Comments (0)
This post does not have any comments. Be the first to leave a comment below.
---
Post A Comment
You must be logged in before you can post a comment. Login now.
Featured Product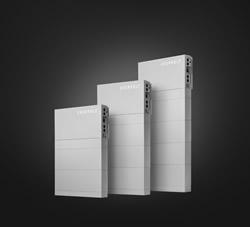 Panasonic's Total Home Energy System is built to deliver. The same battery technology we use to power the world's most advanced electric cars is now available to power your home. But it doesn't stop there. The all-in-one renewable energy system pairs Panasonic solar panels with Evervolt™ batteries to offer your customers a complete solar + storage solution, manufactured and warrantied by a company you know you can trust. In stock now.