Smart Solar is highly distributed, large scale solar coupled with Smart Grid technology installed in partnership with utility companies. Smart Solar builds solar in a reliable and cost-effective way that mitigates challenges faced by traditional solar. Smart Solar is the best insurance for long-term grid stability.
SunWave Technology
Mary Grikas | Petra Solar
Can you give us a short overview of what SunWaveTM technology is all about?

For decades, the approach to harnessing the power of the sun has been to install large solar arrays. Petra Solar's simple but truly innovative SunWave system is designed to be installed on existing assets such as utility and streetlight poles, rooftops, etc. and attached to existing lines, feeding distributed clean energy directly into the electric grid. This use of existing assets for solar power eliminates the need to consume vast acres of land and avoids many other costs and difficulties that often impede the deployment of renewable energy.
SunWave systems not only generate clean renewable energy, but also serve as intelligent units that build a smart grid infrastructure
and improve reliability and efficiency of the grid. The smart grid infrastructure provides two-way communication and control between the solar generators in the field and a utility's control center. The system monitors critical operating parameters of the grid, putting much needed data in the hands of utility companies, and provides grid reliability features such as distributed reactive power compensation and Volt-VAR optimization. These benefits help bring the performance of the grid into the 21st century.
What is cutting edge about the SunWave technology?


SunWave is the next generation of solar technology, that we call "Smart Solar." Smart Solar is highly distributed, large scale solar coupled with Smart Grid technology installed in partnership with utility companies. Smart Solar builds solar in a reliable and cost-effective way that mitigates challenges faced by traditional solar. Smart Solar is the best insurance for long-term grid stability.
Focusing its efforts on the electric supply industry, Petra Solar is creating a new category in the solar generation field. The ability for the SunWave Smart Solar systems to mount directly to utility and streetlight poles reduces environmental impacts, land use, infrastructure development costs, siting and permitting – allowing utilities to comply with renewable energy standards and profitably finance solar through direct ownership. Deploying solar systems on existing assets in a highly distributed manner also improves reliability and efficiency of the grid.

In addition, collectively delivering solar power plus a smart grid infrastructure creates a unique product offering for the utility market. With the advent of electric vehicles and other technology that places a demand on the electric grid, utilities will increasingly focus on enabling smart grid solutions that will facilitate grid reliability and stability.

How can utilities and consumers benefit from this technology?


This technology, including advanced automation, communications, analytics and controls, not only make the grid "smarter" in the way it disperses power but enables it to operate more reliably and safely.
Smart technology can also facilitate the smooth integration of more renewable energy production, primarily solar, closer to the source of consumption. Together, these capabilities make the grid more adaptable, nimble and self-healing in the event of a disaster.
Dynamic reactive power control automatically offsets abnormal voltage fluctuation from the power supply, making it much less likely that a small localized issue will cripple the entire grid. What's more, because many blackouts and brownouts are caused by the slow response times of grid operators, smart grid functions allow utilities to monitor when and where in the grid power outages occur. This empowers suppliers with the tools to respond quickly and fix problems directly at the source in times of emergency or intermittent power outages.
Each generation source can work together as a whole to deliver power into the grid and enhance the reliability of the overall energy supply mix. Additionally, each distributed generation source can act as its own power generation "plant" in the event of a complete system failure.
Combined with more renewable energy resources in the power supply mix, a smart grid becomes a robust, modernized network that can supply energy when power plant generation from traditional means becomes unavailable. A smart grid coupled with increasingly advanced energy storage technology, allows utilities to have power available for vital communications and services such as hospitals and police stations in the event of a massive outage.
What are the benefits of distributed versus centralized solar?


Each SunWave unit is a complete system comprised of a solar panel plus Smart Energy Module (SEM) that includes a panel level inverter, two-way wireless communication, VAR generation, and sensors. The distributed, standalone nature of this design reduces operational and maintenance expenditures, and does not require an upgrade to either the current transmission or distribution infrastructure, eliminating grid interconnection issues faced by traditional solar systems.

Unlike traditional string inverter installations where a single inverter failure can take an entire solar array out of service, failure of a single SunWave unit will not impact the rest of the system.

In addition, SunWave systems are ready for immediate installation and can be shipped upon commencement of a program. The systems are incrementally deployed and instantly commissioned, realizing a return on investment almost immediately.

SunWave distributed solar systems provide an increase in energy harvesting capability compared to traditional string type systems because the power output is optimized on a per panel basis, maximizing overall system power generation. With string inverters, partial shading of some panels will result in reduced power generation of the entire system and maximum power point tracking is less effective. Additional harvesting is realized by the highly distributed deployment covering a very large geographical area. This reduces the cloud cover generation reduction by preventing the entire power plant from going offline with passing clouds.

And distributed Smart Solar reduces transmission losses and eliminates costly infrastructure upgrades. Transmission losses are reduced and the construction of new grid infrastructure is avoided by increasing available electricity close to the households consuming it.

Is the cost of distributed solar better or worse than the status quo?


An independent industry expert performed an extensive study and lifetime economic analysis of Petra Solar's pole mounted SunWave system. A comprehensive economic model was developed that incorporates real world data from multiple utilities. This model proves SunWave delivers one of the lowest lifetime economic costs for solar energy.

Higher Internal Rate of Return (IRR) decreases the payback period of the system resulting in significant savings for both the utility and rate-base customers.

Contributing factors to the higher economic value of Petra Solar's solution are: lower startup costs; lower operation and maintenance costs; unique model for incremental deployment immediate commission; increased energy efficiency and harvesting; value-added smart grid infrastructure; ability to increase grid reliability and efficiency by deploying distributed reactive power; and, reduced transmission and distribution (T&D) line losses.

Please site some examples of where SunWave is currently being used and where future installations are planned?


Petra Solar is about halfway through deploying up to 200,000 of its SunWave systems for New Jersey utility PSE&G to collectively produce 40MW of power, resulting in the largest distributed solar electric project in the world. In addition Petra Solar's innovative approach has led utilities domestically and internationally to enter into field trial programs with the company. Petra Solar currently has engagements with over 50 utility companies worldwide. Some of our publically announced utility partnerships include Ergon Energy in Australia where we have installed our 230V international SunWave product on residential rooftops, Kaua`i Island Utility Cooperative (KIUC) in Hawaii, Tampa Electric (TECO), Orlando Utilities Commission (OUC), Atlantic City Electric (ACE), Northeast Utilities (NU), San Diego Gas and Electric (SDG&E) and Kingdom Electricity (KEC) in Jordan. Our Smart Solar solution has been well received by utility executives, engineers, and renewable/smart grid staff. It is valued not just for its inherent innovation to deploy utility scale solar, but also for its differentiated value add: Smart Grid, energy efficiency, and voltage conservation.

Projects in our development pipeline continue to increase in size as evidenced by our recent announcement of four Memorandums of Understanding (MOUs) recently signed in Jordan – a 50MW project with KEC and three separate 75MW projects with Governorates in Jordan.

What is accelerating the adoption of the smart grid and smart grid technologies?


With the advent of electric vehicles and other technology that places a demand on the electric grid, utilities will increasingly focus on enabling smart grid solutions that will facilitate grid reliability and stability. Petra Solar has pioneered a partnership approach with utilities to address, maintain and improve power quality and reliability.

And utilities would like to add solar to their energy portfolios, for many reasons including the environmental benefits, diversification, energy security, and job creation. However, solar must be deployed in a way that ensures reliability and cost-effectiveness.

From our research and collaboration with the U.S. Department of Energy, we have concluded that this means in order to ensure reliable deployment of large scale solar, it needs to be coupled with Smart Grid technology and deployed in conjunction with utility companies.

As the electric utility industry faces one of its most significant transitions of the century, Petra Solar is committed to serving the country's utilities with an innovative approach to grid reliability and smart grid communications through direct solar integration.

Where do we go from here with SunWave, Petra Solar and the future of distributed solar systems?


Electric vehicle penetration will cause a large increase in electricity demand which will necessitate distributed energy sources and electric grid infrastructure upgrades, in addition, there is continued pressure in the U.S. for the development of alternative energy resources.

Profitable, direct utility ownership of solar generation assets will be a growing trend. These solar assets add to the utility asset rate base, enabling utilities to earn a regulated return on their investment.
Innovations in solar technologies will facilitate the convergence of distributed solar and Smart Grid into a sustainable generation resource. Distributed solar plus Smart Grid technology provides key commercial benefits and addresses meaningful challenges for utilities as well as creates green jobs and promotes local economic development.

This convergence enables Petra Solar to deliver services beyond solar energy generation to utilities such as: Smart Grid; VAR reactive power; volt-VAR optimization; active and reactive power optimization; renewable production forecasting; advanced metering; street lighting controls; demand response; voltage and current regulation; distributed storage integration and management; and, dispatchable renewable generation.
Mary Grikas, Vice President Communications, Petra Solar
Mary Grikas serves as Petra Solar's Vice President Communications. She brought with her over 20 years of experience in the power, semiconductor and telecommunications industries and holds a degree in Electrical Engineering from the University of New Hampshire.

Mary is passionate about green energy, and joined Petra Solar because she believes in their vision and is confident that they will help create a more sustainable future with their innovative smart solar solutions.

Early in her career, Mary was a consultant in the area of electrical equipment qualification engineering for the nuclear power industry. Mary then went on to become Director of a global Technical Publications and Training department for Globespan, a semiconductor solution provider for broadband communications. In that capacity, Mary was responsible for customer communication, from both a technical and marketing perspective. She also established technical training programs for worldwide Customer Support and Sales Teams.

Following Globespan, Mary assumed the role of Executive Director of Engineering for Vonage, a leading provider of broadband telephone services. She facilitated design, development and deployment of innovative new VoIP products and services with unit shipments of over 800k per year. She managed the entire Voice Gateway lifecycle from requirements generation, RFP/RFQ process, vendor selection, contract negotiations, consumer and retail channel logistics, and refurbishment programs. Mary developed and managed vendor business relationships with manufacturers in the U.S., China, Korea and Japan.

Mary then became Vice President Product Management for Vonage, where she led the evolution of Vonage's Core Residential service, the largest product in the Vonage portfolio. She defined, developed, launched, and lifecycle managed Vonage's next generation consumer services including products, features and pricing delivered to Mobile, PC and other new internet connected devices. In addition, Mary had responsibility for competitive analysis, customer on-boarding strategy and International products. Vonage appointed Mary as a corporate spokesperson for media interviews, events and trade shows where she conducted interviews with respected publications such as The Wall Street Journal, Business Week, Good Housekeeping, and CNET.
The content & opinions in this article are the author's and do not necessarily represent the views of AltEnergyMag
---
Comments (0)
This post does not have any comments. Be the first to leave a comment below.
---
Post A Comment
You must be logged in before you can post a comment. Login now.
Featured Product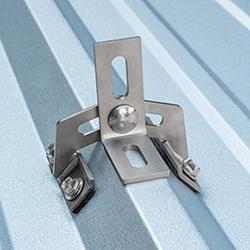 Explore new lines of income for your solar installation business with QuickBOLT's Stone Coated Steel roof mounts designed in partnership with metal roof manufacturers themselves. These SCS roof mounts work on all metal tile profiles and will help you bring in money you're missing out on. By not driving into the roofing material, QuickBOLT's Stone Coated Steel roof hooks maintain the integrity of the roof. Install with ease and confidence knowing your roof is protected against the harsh elements that these hooks are designed for.