Ballard Power Systems (TSX: BLD) (NASDAQ: BLDP) provides clean energy fuel cell products enabling optimized power systems for a range of applications. Products contain proprietary esencia™ technology, ensuring incomparable performance, durability and versatility.
Clean, Reliable Power for Remote Off-Grid Communities
Contributed by | Ballard Power Systems
The town of Bella Coola, B.C. is the site of a state-of-the-art energy system that demonstrates a clean power solution for remote communities. Bella Coola, located about 400 kilometres north of Vancouver, has a regional population of about 1,900 and due to its remote location, is not connected to the electricity grid. The community had been powered by greenhouse gas emitting diesel generators and by a run-of-river power facility which, while generating clean electricity, is not capable of storing it.
BC Hydro's Hydrogen Assisted Renewable Power (HARP) system works by converting electricity from a renewable source (run-of-river), in off-peak periods into hydrogen, utilizing an electrolyser. During peak demand periods or when hydro is unavailable, the stored hydrogen is fed into a fuel cell system with zinc-bromide flow batteries producing additional electricity. Together, these two power sources create environmentally-friendly solutions, reducing the town's reliance on diesel generators.
British Columbia Hydro and Power Authority, one of Canada's largest utilities, is the owner and operator of the HARP system. Management of the project, including engineering, construction, and testing, was carried out by Powertech Labs Inc., a wholly owned subsidiary of BC Hydro. General Electric developed a new micro-grid controller to optimize the usage of the renewable power sources. The electrolyser, sourced from Hydrogenics, and the 100kW fuel cell system, provided by Dantherm Power, are both commercially available. The system incorporates Ballard's market-leading proton exchange membrane fuel cell products, which enable high reliability and low maintenance costs. The project was jointly funded by BC Hydro, General Electric, Sustainable Development Technology Canada, and the BC Innovative Clean Energy Fund.
By providing storage capacity to the run-of-river facility, the new technology reduces the use of diesel generators and reduces Bella Coola's annual diesel consumption by 300,000 litres – lowering greenhouse gas emissions by 600 tonnes annually.
Beyond reducing diesel consumption, the overall goal of the HARP project is to demonstrate the viability of hybrid renewable and Smart Grid technologies for potential larger scale deployment in other remote communities.
Around the world there are many remote communities not connected to a large, stable electrical grid. Canada, for example, has approximately 300 of these remote communities and it is estimated there are up to 4,000 such communities globally. Typically, these small, isolated communities, having (at best) unstable grid connectivity, generate much or all of their electricity using diesel generators.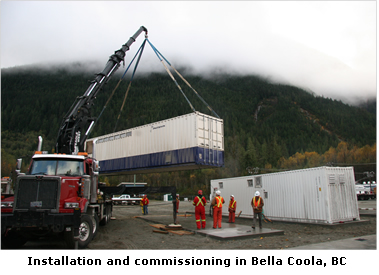 While diesel generators have a relatively favourable capital cost, they have exceptionally high operating costs due to their low efficiency combined with the high cost of transporting diesel fuel to these remote sites, often under very difficult circumstances. Furthermore, diesel fuel prices are expected to increase further in the coming years. In addition, diesel generators emit harmful greenhouse gas emissions.
Renewable sources of electricity, such as wind, hydropower and solar are particularly attractive for remote communities since they offer a clean source of power in locations that cannot be economically served by means of a grid extension. A significant issue in relation to renewable power systems, however, is their intermittency and unpredictability. Often they cannot be relied upon to meet 100% of power demand, particularly during peak usage periods, but also relative to base power requirements.
Implementation of "Energy Time Shifting" enables efficient and effective utilization of renewable energy sources, for a self-contained solution to remote community energy needs. Issues of intermittency and reliability can be effectively addressed by storing surplus off-peak power for use during peak power periods. Off-peak energy can be stored in the form of hydrogen (produced using renewable energy and electrolysers), which will produce power during peak times by means of a proton exchange membrane fuel cell system.
While renewable power systems typically have relatively high capital cost, their operating costs are very low in comparison to diesel generators. Therefore, they have lower life-cycle cost and associated levelized cost of energy. Short term payback periods for renewable power systems relative to diesel systems are achievable, when combined with fuel cells.
Energy storage in the form of hydrogen (using renewable sources and electrolyser technology) combined with power production using a fuel cell system can enable remote communities to meet all – or a significant proportion – of their power needs in a highly economical manner.
The content & opinions in this article are the author's and do not necessarily represent the views of AltEnergyMag
---
Comments (0)
This post does not have any comments. Be the first to leave a comment below.
---
Post A Comment
You must be logged in before you can post a comment. Login now.
Featured Product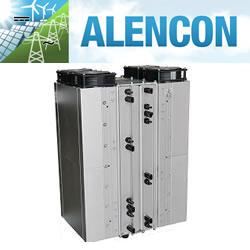 Alencon Systems is the premier manufacturer of high power, high voltage DC:DC optimizers for alternative energy applications including solar, battery energy storage, Microgrids, Fuel Cells and Electric Vehicle charging. Alencon's DC:DC converter offerings include the SPOT, BOSS and CUBE series DC:DC converters. The SPOT is a modular, uni-directional DC:DC solution ideal for solar applications. The BOSS is a modular, bi-directional unit for use with battery energy storage. The CUBE is a monolithic DC:DC converter which is available in both uni-directional and bi-directional modalities. Pictured above, is the Alencon SPOT.