This is the last group of entries into this years competition --- Next stop --- Washington DC

Bob Hetherington | AltEnergyMag
Be sure to read the outline of the Solar Decathlon along with the first 5 entries in Part 1 of this series. The rest of the entries are in Part 2 and Part 3
The Last Five Teams in the 2011 Lineup
Tidewater Virginia: Old Dominion University and Hampton University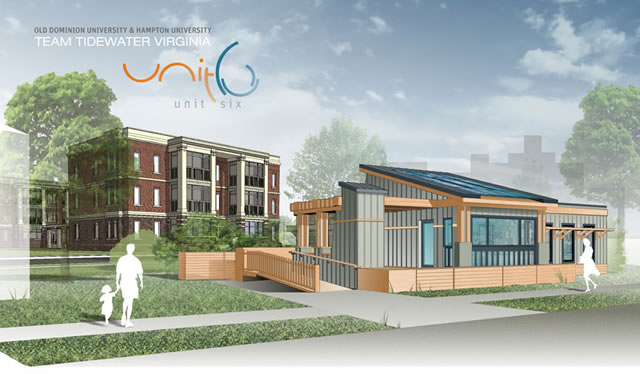 Unit 6 Unplugged
Tidewater Virginia's Unit 6 Unplugged, designed for the U.S. Department of Energy Solar Decathlon 2011, is a modular house that blends seamlessly into a historic center-city neighborhood. Unit 6 is conceived of as part of a larger, six-unit multifamily building. By sharing infrastructure costs between units of the building, this energy-efficient house is made more affordable.
Design Philosophy
The architecture of the house draws inspiration from the arts and crafts-style homes found throughout the center-city neighborhoods of Norfolk, Virginia. The house consists of three sections: a pergola integrated into the utility core, a main module with the solar panels and porch, and a living space that features nearly floor-to-ceiling windows.
Features
Although Unit 6 integrates easily into existing neighborhoods, the solar-powered house is special in many ways. Notable features include:
A small circulation corridor that divides the service and work section of the house from its relaxing and living areas

A transformable porch with motorized windows that allow it to be open to the outside or an enclosed sunspace

A rain screen cladding made of medium-density overlay plywood panels and vertical battens.
Technologies
The technical design of Unit 6 is focused on value engineering using technologies that achieve high performance at relatively low cost. The key technological components of Unit 6 include:
Highly efficient photovoltaic modules that convert more than 18% of sunlight into electrical energy

Window and door sensors that provide security system information and prevent the HVAC system from operating when either is open

A hot water storage tank that replaces the auxiliary heating coil with an inline heater to minimize losses

Light switches powered by remote transmitters that can be placed anywhere in the house and never require replacement batteries.
Market Strategy
The team selected Norfolk's young professionals, which include substantial numbers of recent graduates and military personnel, as its target market for Unit 6. However, the appeal of living in a walkable historic center-city neighborhood is large. The project's parallel development as a model for multifamily residential design appeals to a much larger market of older professionals and young families interested in moving to or staying within the partner neighborhood.
What's Next
After the competition, Unit 6 will return to Norfolk, where it will serve as a design studio shared by architecture and engineering students from both schools. This will continue the collaboration between disciplines fostered by Solar Decathlon 2011.
Video Walkthrough
The Team
---
University of Hawaii
Hale Pilihonua
Team website: www.solar.hawaii.edu
On June 1, 2011, the U.S. Department of Energy received formal notification from the University of Hawaii of its withdrawal from Solar Decathlon 2011. For more information, see the team website.
Designed to address residential needs in Hawaii's tropical climate, the University of Hawaii's semi-monocoque house, named Hale Pilihonua, is a sustainable and affordable solution for middle-income homebuyers.
The shell, or semi-monocoque, structure is:
Made of bio-based, fiber-reinforced polymer

Strong and lightweight

A tight, well-insulated thermal envelope

Resistant to damage from corrosion, termites, rot, and floods, which are common in tropical environments

Highly buoyant and able to float in the event of flooding

Insulated with Low-E glass to reduce heat loss at night.
The house's exterior structure consists of louvers that provide daytime shading, water-cooled photovoltaics that harvest energy, and solar thermal collectors for hot water. Additional sustainable innovations featured in Hale Pilihonua include phase-change material for thermal storage, intelligent occupancy sensing, and energy-conserving lighting controls and entertainment. The functional nature of Hale Pilihonua is demonstrated by an integrated aquaponics system that both enhances the atmosphere and supports sustainable food production.
Video Walkthrough
The Team
---
University of Illinois at Urbana-Champaign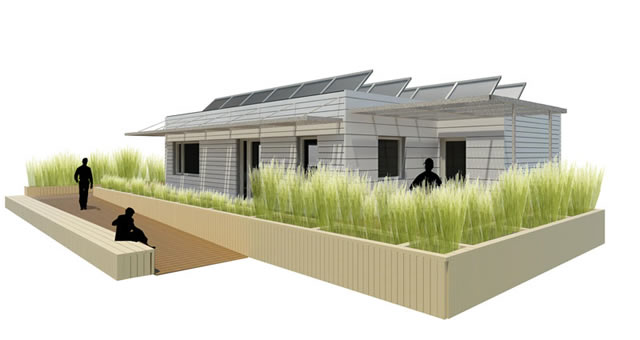 Re_home
Team website: www.solardecathlon.illinois.edu
For the U.S. Department of Energy Solar Decathlon 2011, the University of Illinois at Urbana-Champaign returns with Re_home, a rapid-response solution for a family affected by natural disaster. The solar-powered Re_ home uses a rapid deployment strategy to offer an immediate and sustainable solution for a family left without a home. By combining good design, smart planning, and low-cost solutions, the Re_ home responds to the physical and emotional needs of impacted families while bringing environmentally aware living to the forefront of a community-led recovery effort.
Design Philosophy
The Re_home is based on the principles of sustainability, flexibility, and ease of construction. The house consists of two modules that can be transported on one trailer for rapid response to disaster situations. The photovoltaic system can be installed flat on the roof prior to shipment. When the house reaches its destination, the panels can be lifted to the optimal angle for sun exposure and used immediately.
The Re_home includes a number of creatively planned interior spaces. A large central living area allows for community gatherings and offers natural lighting and innovative storage spaces. The living room leads to a small flexible space for an office that could transform into bedroom space.
Features
Re_home offers:
Photovoltaic panels that act as a shading canopy across the southern face of the house to protect it from overheating

Exterior paneling made from 60% rice husks, 22% common salt, and 18% mineral oil that can be personalized with different finishes.
Technologies
Re_home employs readily available technological solutions for increased efficiency and comfort. These include:
A centrally located air-source heat pump with a forced air distribution system to heat and cool the two zones of the living space

Conditioning system fans that exchange interior and exterior air while energy is recovered across the heat-pump refrigeration cycle.
Market Strategy
The Re_home is a relief house for a family as a community rebuilds after natural disaster. The team focused on a couple with an infant whose home has been struck by a tornado. Re_home suits a household of this size and offers the flexibility of converting the office space into a bedroom when the infant is older. In addition, the garden space surrounding the exterior allows the family to produce its own food.
What's Next
The team is working with the University of Illinois to determine the best use for the Re_home in the future. Ideally, the team would use the house for its intended purpose by offering it to a family in need.
Video Walkthrough
The Team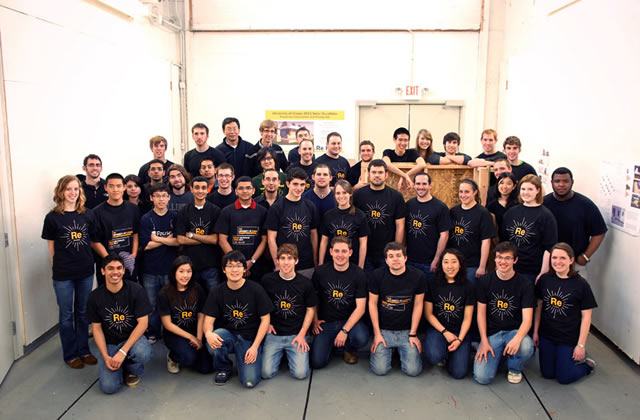 ---
University of Maryland
WaterShed
Team website: 2011.solarteam.org
Inspired by the Chesapeake Bay ecosystem, the University of Maryland returns to the U.S. Department of Energy Solar Decathlon 2011 with WaterShed—an entry that proposes solutions to water and energy shortages. The house is a model of how the built environment can help preserve watersheds everywhere by managing storm water onsite, filtering pollutants from greywater, and minimizing water use. The photovoltaic and solar thermal arrays, effectiveness of the building envelope, and efficiency of the mechanical systems make WaterShed less thirsty for fossil fuels than standard homes.
Design Philosophy
The forms of the house highlight the path of a water drop. WaterShed's split butterfly roofline highlights storm water runoff from each module, directing and collecting it into the water axis at the core of the house. Water used within the house intersects this axis through a consolidated mechanical core.
Spatially, the house is designed as two "shed" modules slid apart along the central water axis and connected by a third module: the hyphen. The two larger modules express the programmatic intent of a live/work environment by physically separating the public and private realms. The hyphen houses the bathroom and highlights the connection between interior water uses and the wetland axis outside.
Features
WaterShed's holistic approach to water conservation, recycling, and storm water management includes:
A modular constructed wetland that helps filter and recycle greywater from the shower, clothes washer, and dishwasher

A green roof that slows rainwater runoff to the landscape while improving the house's energy efficiency

A garden, an edible wall system, and a composting station to illustrate the potential for improved health, energy, and cost savings with a complete carbon cycle program.
Technologies
WaterShed features integrated systems that keep the house comfortable under a range of climatic conditions. These include:
The liquid desiccant waterfall, which serves as a design feature and provides humidity control

An engineering system that harnesses excess energy generated by the solar thermal array

A home automation system that monitors and adjusts temperature, humidity, lighting, and other parameters to provide maximum function with minimal impact on the environment.
Market Strategy
WaterShed is intended for a working couple that can use the house as home and office. This demographic is prevalent within the Baltimore, Maryland, and Washington, D.C ., markets, where there are many individual firms in the fields of consulting, law, and architecture. WaterShed is affordable because the upfront investment in energy‐ and water‐saving technologies eventually provides cost savings given the increasing cost of utilities. For people in the Washington, D.C., corridor, WaterShed provides the opportunity to telecommute, thus reducing travel expenses in one of the most congested areas of the country.
What's Next
At this time, the University of Maryland is seeking a buyer for WaterShed. Plans for the house after the Solar Decathlon are uncertain.
Video Walkthrough
The Team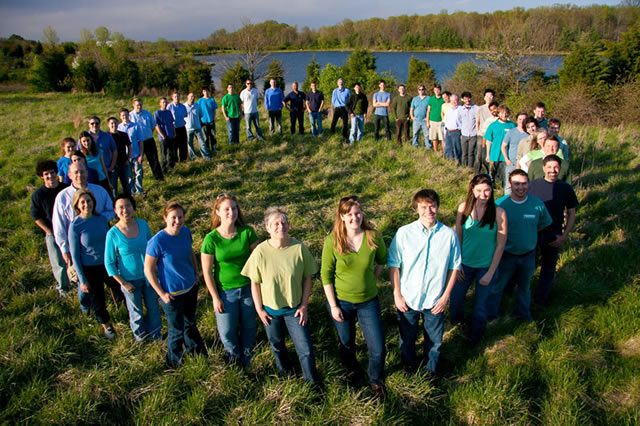 ---
The University of Tennessee
Living Light: UT Solar Decathlon House
Team website: www.livinglightutk.com
The University of Tennessee's Living Light, designed for the U.S. Department of Energy Solar Decathlon 2011, incorporates the knowledge of Tennesseans past and present. Although the forms and spaces of Living Light were inspired by the cantilever barns of southern Appalachia, the systems in the dynamic façade and integrated roof array are scalable and tunable to a range of climates and applications.
Design Philosophy
Tennessee seeks to apply global technologies to local contexts. To find the most refined aesthetic expression of these technologies, the team integrated multiple complex systems into relatively few architectural elements. The Living Light design uses passive systems where appropriate and active systems where necessary. The team also used off-the-shelf technologies in innovative ways to meet the needs of today's homeowner.
Features
Living Light's large, loft-like design includes features such as:
A dynamic double façade system made of alternating translucent and transparent panes and horizontal blinds

Sensors that automatically manage the electric lighting, which includes color-changing LED strip lights along the façade

A home automation system that can be programmed with preferred conditions for activities such as watching a movie or entertaining dinner guests.
Technologies
Several technologies distinguish Living Light. These include:
A blind system, sandwiched between two panes of glass, that is programmed to provide year-round lighting and shading

An energy recovery ventilator that harvests air through the double façade system to supply the house with passively warmed or cooled fresh air

Cylindrical modules in the 10.9-kW photovoltaic array that capture sunlight across a 360° surface.
Market Strategy
Living Light is designed to attract emerging young professionals with an average income of $100,000 working in the vibrant design, science, and technology industries of Nashville, Tennessee. For this clientele, technical systems are not hidden but embraced as aesthetic features in a contemporary design. A house that balances technology and modern design features with regional history and landscape will be of value to these residents.
What's Next
Living Light will tour Tennessee to demonstrate energy efficiency and other technologies to the public. Upon completion of the tour, the team and its collaborators will use the house as a laboratory for collecting data, analyzing energy efficiency, and testing new technologies. The knowledge gained from continued study of the house's performance will benefit the university, regional manufacturers, and research partners.
Video Walkthrough
The Team
The content & opinions in this article are the author's and do not necessarily represent the views of AltEnergyMag
---
Comments (0)
This post does not have any comments. Be the first to leave a comment below.
---
Post A Comment
You must be logged in before you can post a comment. Login now.
Featured Product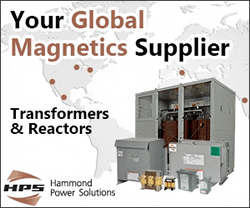 HPS is the largest manufacturer of dry-type transformers in North America. We engineer and manufacture a wide range of standard and custom transformers that are exported globally in electrical equipment and systems. We support solid industries such as oil and gas, mining, steel, waste and water treatment, and wind power generation. HPS leads the industry in these markets through its technical design strength, breadth of product, and manufacturing capabilities, making HPS a stronger company both fundamentally and financially.