Wind energy has increased almost ten-fold in the last six years in Canada as governments seek ways to meet rising energy demand, reduce environmental impacts of electricity generation, and stimulate rural and industrial economic development.
The Wind Industry in Canada
Interview with | CANWEA
Is the wind industry growing in Canada?
2011 is expected to be a record year for wind energy development with more then 1, 000MW likely to be installed – 2011 has already seen the addition of 606.3 MW to the grid. Canada is blessed with one of the world' best wind resources. Realizing our potential to have 20 per cent of Canada's electricity demand met by wind energy by 2025 would result in $79 billion of investments, 52, 000 high quality, full-time jobs and bring $165 million in annual revenues to municipalities.
Canada's wind energy industry took another step forward in 2010 with the addition of 690 MW of installed wind energy capacity, positioning Canada in 9th place globally in terms of new installed capacity and 9th for overall cumulative installed capacity. Currently 4,708 MW of electricity is generated by wind in Canada, which is enough to power more than 1.2 million homes with clean, emissions-free energy. Wind energy is also re-invigorating the country's manufacturing sector, creating jobs for skilled workers, and attracting investment to rural areas.
Which parts of the country are having the most success in selling wind as an alternative energy source?
Wind energy has increased almost ten-fold in the last six years in Canada as governments seek ways to meet rising energy demand, reduce environmental impacts of electricity generation, and stimulate rural and industrial economic development. Ontario is the current provincial leader in installed wind energy capacity accounting for 1,656.4 MW of wind energy development. Alberta and Quebec follow at 806.5 MW and 759.4 MW respectively and Canada's remaining seven provinces together account for the remaining one-third.
Which segments of the industry are most successful --- manufacturing, installing, monitoring etc.?
2011 will be a record year on another front as well. Investment in new wind turbine and component manufacturing facilities is at an all-time high, creating high quality jobs across the country. This year has seen Enercon and Repower start production at new facilities in Quebec, Siemens and CS Power building blades and towers in Ontario, and DSME opening a tower plant in Nova Scotia. Each one of these factories is a concrete demonstration of the wind sector's ability to help Canada's manufacturing sector diversify into high growth 21st century business opportunities.
We are fortunate to be at the start of the strongest and most sustained period of growth in our history, and as our installed base expands, we are learning valuable lessons that can help inform the development of even better projects in the future. The industry itself continues to evolve and mature as well. We now have turbines from many manufacturers operating in Canada, and while continuing consolidation has resulted in a smaller number of larger wind energy developers, new companies continue to enter the market. While the conventional Canadian energy industry continues to play a very significant role in Canada's wind energy sector, we are seeing more international players invest in Canada as well. Whether these companies come from the US, Europe or China, their presence is a very positive sign about the competitiveness, and the opportunities, of Canada's wind energy market. It demonstrates that the world increasingly understands, as we already do, that Canada is building the foundation of a major wind energy success story.
What portion of the total Canadian energy load can wind satisfy in the near future --- say 10 years out?
WindVision 2025: Powering Canada's Future: CanWEA believes wind energy can satisfy 20 percent of Canada's electricity demand by 2025.
Achieving this vision will generate investment, create jobs, produce revenue for municipalities, stabilize electricity prices and cut greenhouse gas emissions.
For further information take a look at our WindVision Document http://www.canwea.ca/windvision_e.php
What is BC doing to stimulate the wind industry in that province?
BCs new Clean Energy Act mandates that at least 93 per cent of the electricity in BC come from clean or renewable resources. In 2010, BC Hydro awarded contracts to six wind farm projects totaling 534 MW. With domestic demand forecast to increase up to 40 per cent by 2030, the utility sees wind as an important part of the province's future electricity supply.
What is WindVision for BC?
CanWEA will unveil its long-term strategic vision for wind energy development in BC on Oct 4th. The report will be presented at the opening of the 27th Annual Conference and Exhibition in Vancouver. BC wind is plentiful and cost-competitive, integrates easily into the existing hydro system, and brings capital, jobs and community development to the province's communities. Best of all, adding large amounts of wind power into BC 's existing hydroelectric infrastructure would result in a combined generation profile that is better suited to meeting BC demand than what currently exists.
Please tell us a bit about CanWEA 2011? / How many participants are you expecting and what disciplines do they represent?
CanWEA's 27th Annual Conference and Exhibition will be held October 3-6, 2011 in Vancouver, BC. This premier wind energy event will bring together over 2,500 experts from all over the world to discuss the opportunities and latest developments in the Canadian wind energy industry. The exhibition hall will feature over 250 exhibiting companies and will provide companies with an exclusive opportunity to network and generate new business leads. Program: http://canwea2011.ca/speakers/program/
The content & opinions in this article are the author's and do not necessarily represent the views of AltEnergyMag
---
Comments (0)
This post does not have any comments. Be the first to leave a comment below.
---
Post A Comment
You must be logged in before you can post a comment. Login now.
Featured Product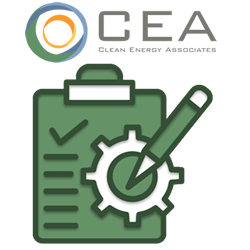 Clean Energy Associates provides a complete quality assurance solution that covers the entire product lifecycle of PV modules, storage systems, and every Balance of Sy stem (BOS) component. CEA's experienced on-the-ground and international team of quality control engineers and account managers offer an unparalleled quality assurance presence that can protect solar and storage investments and ensure future energy-producing viability for the life of the product.