Our Intelligent Solar Information System (ISIS) provides industry-leading monitoring, diagnostics, reporting, and control of solar power plants.
Mobile Solar System Monitoring
David Gudmundson | GreenVolts
Can you tell us a bit about GreenVolts? Who are you and what do you do?
GreenVolts has taken a new approach to the design, installation and management of solar systems that will fundamentally change the industry. We developed the only complete and fully-integrated solar system—including modules, trackers, inverters, ISIS™ energy management software, networking, AC and DC disconnects, and all DC wiring—all developed from the ground up to work together optimally.
Our integrated approach lowers the overall cost of solar energy. The high performance system requires less equipment and real estate for a given amount of energy output. With control over the entire design, we have been able to boost efficiency while simplifying everything, including procurement, shipping, installation, and operation.
In December of 2011, ABB, a global leader in power technology, became an investor and strategic partner. This is very exciting because ABB's capabilities are unmatched in the solar industry. They will sell and support the system worldwide, adding tremendous value with their expertise and, because they also have leading interconnect products as well, offering a true "sun to grid" solution.
What are the key features of the Intelligent Solar Information System (ISIS) and ISIS Mobile?
Our Intelligent Solar Information System (ISIS) provides industry-leading monitoring, diagnostics, reporting, and control of solar power plants. ISIS is powerful because of its deep integration with every component in the system, and because it is Internet-based it can be accessed from essentially anywhere. As a result, it provides sophisticated, in-depth and high resolution, remote interactive capabilities that cannot be matched by generic third party solutions.
Customers like the easy, graphical user interface. ISIS automatically sends alerts if the system is not operating within set performance parameters. Because of the hosted software model, customers do not have to be concerned with data-synching, software updates, or data server maintenance.
We recently introduced ISIS Mobile for even greater convenience and productivity in terms of plant monitoring and management. With ISIS Mobile, automated alerts, monitoring, diagnostics and control are available on easy-to-use and inexpensive mobile devices. Managers and operators now have access whether they are in the field, in the office, or on the road.
To learn more about ISIS, I invite your readers to join our free ISIS Overview and Demonstration webinar on May 23. To see worldwide times and register for the one-hour session go to http://www.greenvolts.com/news-and-events/isis-demonstration-webinar.
How is ISIS Mobile integrated with every component in a solar system?
ISIS is connected to every module, motor, tracker, and inverter in a network that includes GPS, Wi-Fi, a live video feed, and an on-site weather and solar monitoring station. ISIS Mobile is an extension of this network. So operators can monitor a portfolio of sites, and then quickly drill down to receive rich detail about a specific component of one system.
What are the advantages of ISIS software for managing solar power plants?
ISIS is easy to use and secure, which are both very important advantages. GreenVolts provides training, but the software is intuitive and because of the hosted solution is inherently maintenance-free for the customer.
Information access is rich and multi-level, so that an operator can scan a portfolio of many different sites, look at a particular system, or drill down to get readings from one specific component. Intelligence is gathered at the 4 kW substring level, which means that performance can be monitored very precisely for a small, targeted portion of an array—much more accurately than with other systems.
Reports and analysis are also important to plant operators. With ISIS, current and historical energy yield, weather and solar resource can be easily accessed and compared. Because of the complete integration of ISIS with the solar system, diagnostic capability is robust.
Finally, ISIS is scalable. Since it is a cloud-based application, a virtually unlimited number of sites and systems can be added to ISIS at no additional cost.
How secure is the system?
ISIS is hosted by a dedicated data warehouse so that it is safe and secure, including data back-up using redundant servers. There are different levels of authorization, so access can be restricted. And the customer's data is password protected and transmitted using secure protocols.
How does ISIS software differ from other current similar technologies?
I think our customers have said it best. Rusty Wood, vice president of West Hills Construction is familiar with, and uses, many other offerings. His comment is that "ISIS is head and shoulders above the other[s]…" and that "What ISIS offers, that the others do not, is a level of granularity that allows us to understand exactly what is happening in the system so that we can get to that next level of optimization and efficiency."
What other projects does GreenVolts have in the ground?
We have multiple sites installed and operating in the US Southwest. One you may have heard about is the award-winning project Arizona Western College in Yuma, Arizona. We have also recently announced a 288 kW project for Beneficial Insectary, partnered up with Independent Solar Developers to help further our reach in the agricultural space, and completed a 496 kW project with West Hills Construction for the McKinley Children's Center.
What else is GreenVolts working on for the future?

We believe that CPV will grow faster than the overall market over the next several years and are very excited about our potential. In addition to the southwestern region of the United States, we are working with ABB to expand our market into high DNI areas such as southern Italy, Australia, the Middle East, and South Africa. Meanwhile, we will continue to improve performance though design breakthroughs and optimizations across our entire system. As the only provider of a complete, fully integrated system, we have a unique approach that gives us more control to meet customer needs, and meeting the needs of more customers is our most important plan for the future.
The content & opinions in this article are the author's and do not necessarily represent the views of AltEnergyMag
---
Comments (0)
This post does not have any comments. Be the first to leave a comment below.
---
Post A Comment
You must be logged in before you can post a comment. Login now.
Featured Product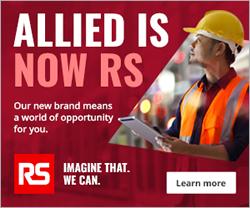 Imagine a global, end-to-end partner for industry - dedicated to solving your problems so you can drive your business forward. We can. On February 6, 2023, we officially changed our name to RS. It's just one way we're evolving to make our partnership and doing business with us even more rewarding. As RS, you have access to more support, more expertise, and more possibilities for your big and small projects - from concept and design to build and maintenance. Going forward, you'll see the RS logo on our website, social media, communications, and packaging. And rest assured, our current systems and procedures will remain intact to seamlessly process your order.