Over three days, an estimated 25,000 solar industry professionals promoted their products, made connections, and discussed the latest thinking and design. AltEnergyMag.com has partnered again with Solar Power International to bring all the news and highlights from this years show. In this report we have compiled a summary of some of the innovative new products displayed at Solar Power International 2012.

Brandon Hetherington | AltEnergyMag.com
Over three days, an estimated 25,000 solar industry professionals promoted their products, made connections, and discussed the latest thinking and design.
AltEnergyMag.com has partnered again with Solar Power International to bring all the news and highlights from this years show. Visit our Special SPI 2012 Newspage devoted strictly to news and PR coming out of Orlando.
Below we have compiled a summary of some of the innovative new products displayed at Solar Power International 2012.
"The 12-AGM, 12-volt battery is designed to support a wide range of renewable energy and backup power for industrial and residential applications, especially those found in remote areas where there is limited access to clean water which is required to maintain traditional flooded batteries," said Bryan Godber, Trojan's senior vice president of renewable energy. "This new addition to our AGM line shows Trojan's continued commitment to offer a broad range of sealed deep-cycle battery options for renewable energy applications. The 12-AGM is proudly made in the USA and expands Trojan's range of amp hour offerings in our AGM line."
---

Off-grid or on-grid, system designers and installers now have a comprehensive power conversion and storage solution from the name they trust: OutBack. Engineered from the ground up, OutBack's preassembled systems make balance-of-system components easier to specify and install in any residential or commercial installation. The Radian packs over 8,000 Watts of pure sine-wave continuous power and can be stacked into an 80 kW configuration for larger applications. The Integrated Battery Rack (IBR) is a 28.8 kWh one-box solution with all electrical connections made at the factory and shipped fully-assembled (without batteries) for quick connection on the jobsite.
---
Like the SMP series, the SHP1 pyrheliometer has an amplified analogue output and digital RS-485 interface with Modbus® protocol. All SHP1 pyrheliometers have the same calibrated output range, which makes it easy to exchange instruments. In addition to the irradiance value in W/m², temperature and power supply voltage are available over the serial bus. The analogue output can be either 0 to 1 Volt or 4 to 20 mA. The SHP1 requires very low power from a supply between 5 and 30 VDC and is protected against over voltage, reversed polarity and short circuiting.
---
Danfoss has expanded its product offerings to include the new SLX Series of central inverters for the utility scale market. Designed as an extremely robust and reliable inverter made to last for 20+ years, it will operate at peak efficiencies from -20° C to +50° C. Our patented ShowerPower® stack technology gets 30% better heat transfer for cooling IGBT's– resulting in a longer life expectancy. Finally, a hassle-free central inverter solution for outdoor application that's easy to design, install, operate and maintain.
---
T*SOL® basic offers accurate calculation and extremely convenient planning. The simulation program is especially designs for residential systems, supporting technicians and solar system installers with their project planning. The programs' structure gives you maximum flexibility in all respects. T*SOL ® basic offers 20 types of systems for hot water supply and space heating, plus 9 types of outdoor systems for the simulation of solar swimming pool heating.
---
The range at the heart of the company offer is Sunsiel, with the 250 kW model, a three-phase photovoltaic inverter, compliant with UL/CSA standards and suitable for external use thanks to the NEMA3R level of protection, on display at Stand 3169. Just like all SIEL products it is equipped with advanced technology and is supported by a whole range of maintenance and assistance services, the feather in the cap of the company carrying the Italian flag throughout the world and a leader in the production of UPS, solar, aeolian and fuel cell inverters thanks to thirty years experience.
---

LG Electronics new MonoXTM NeoN premium series solar module is the third-generation of its high-performance, high-efficiency solar energy solutions line-up. New for 2013, the MonoX NeoN Premium series features the same 60-cell panel design of the MonoX module launched in October 2011, however it boasts a higher maximum high-efficiency output of 300W with 18.3 percent module efficiency and offers consumers and installers greater choice for maximizing system output. The high-performance module uniquely combines LG's N-Type cell manufacturing technology into one cutting edge unit. Selective emitter and fine electrode technologies have been added along with LG's unique anti-reflection coating technology.
---

MAGE SOLAR has introduced special high-wattage versions of its signature premium-efficiency MAGE POWERTEC PLUS modules (235 W and 240 W polycrystalline, and 245 W and 250 W monocrystalline). Equipped with their industry-leading positive 5 watt tolerances and distinctive 30-year 80% power guarantee, the new module line will generate more power per square foot than ever. The 240 W polycrystalline module is also available as fully ARRA-compliant US module.
---

Stahlin's J Series has been delivering proven performance for nearly 50 years with more than 300 configurations and 13 sizes ranging from 6x4 to 20x16 providing reliable NEMA rated 4X, 12 and 6P. This simple but elegant concept offers unobstructed side-walls, built in mounting capabilities and the strength characteristics associated with a protective wrap around cover that is hinged, latched or screwed down meets the needs of a variety of solar applications.
---
The Quick Hook USA™ Curved and Flat Tile Mounts are the first flashed tile hooks on the market. Both curved and flat tile models use the same hook, which mates with the base. The Quick Hook USA™ Curved Tile Mount has an extra wide base so the installer can easily hit rafter and match the hook to the curve of the tile.
---
Rolls Battery announces the addition of three higher capacity models to the flooded, deep-cycle 5000 Series line-up. Employing the same dual-container construction and robotically welded cells, this series is backed by a 10-year warranty. The 2-Volt 2OS33P, 4-Volt 4KS27P, and 6-Volt 6CS27P offer higher Amp Hour capacities (1833 AH, 1460AH, and 893AH, respectively), with the same case dimensions as the popular 2-Volt 2KS33P (1766AH), 4-Volt 4KS25P (1350AH), and 6-Volt 6CS25P (820AH) models. Expanding the broadest offering of 2, 4, 6, 8, and 12-Volt high-capacity, flooded, deep-cycle models in the industry, Rolls Battery provides a wide range of reliable storage options for off-grid and grid-tied applications.
---
The new SMA Sunny Island 4548-US and 6048-US inverters are based on the proven off-grid technology in the Sunny Island 5048-US but now feature 20 percent more power output. A maximum efficiency of 96 percent ensures peak production, which results in reduced diesel usage in rural communities. More flexible sizing allows for simplified system planning. And, with multicluster technology, up to 12 Sunny Islands can be integrated into off-grid power systems up to 100 kW in size.
---
Blue Sky Energy announces the release of their feature-rich, entry-level Sun Charger 30 (SC30) solar charge controller that packs new benefits into a traditional solar charge controller at a more competitive price point. Made in America (the U.S. and Mexico), Blue Sky Energy's 12-volt, 30-amp SC30 features a three-stage charge control, fully user-adjustable digital set points, a manual or automatic equalize function, a solar charge amp-hour counter, and an automatic night time dimming display. In addition, the high-performing SC30 meets rigorous standards for durability and reliability and offers a five-year warranty compared with the standard one-year warranty offered by other manufacturers.
---
Patriot Solar Group's Off the Grid Monitoring System allows remote power to various monitoring and digital communication devices. The system performs as a central dispatch of all information without the need for a person or the requirement of hard-line power.
As a back up the Off-Grid Systems are equipped with an AC charge controller for emergency use, with a battery bank that allows for 5 day of autonomy depending on workload, sunlight and temperature. These systems can be designed to meet your specifications.
---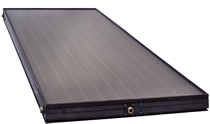 The patent pending design is shaped similar to a standard fouroutlet
collector, but features a fifth outlet located at the bottom center. Additionally the
internal upper and lower headers are sloped. When used in a drainback installation, this combination allows all fluid to drain without the need to pitch the collectors. Installers willappreciate the labor savings and owners will appreciate a collector array mounted plumband level on the roof. The temperature well is directly connected to absorber for veryaccurate sensing.'
---
Available for shipment in early 2012, the Schneider Electric XC Series is a new line of central inverters designed for high efficiency and flexibility for any PV panel type and installation. The XC series has peak efficiencies of 98.7%, and its flexibility allows the inverter to be configured with voltage and power outputs up to 680 kVA. In addition, the XC series is designed to allow for DC inputs up to 1000 Vdc for longer string lengths.
---
U.S. Battery's new RE series batteries are almost 100% recyclable, and have three main components to ensure longer battery life and faster re-chargeability: Outside Positive (OSP); DEFENDER Moss Shields; and Extended Electrolyte Reservoir. The OSP battery design increases the positive-to-negative active material ratio, providing increased protection of the positive plate from positive plate deterioration. The DEFENDER Moss Shields effectively prevent the formation of mossing shorts that limit the life of normal deep cycle batteries. Finally, increasing the volume of the electrolyte reservoir increases battery performance, particularly in long-term discharges (50 to 100 hours), which allows the battery to maintain lower operating temperatures in hot environments while extending the time between watering intervals.
The content & opinions in this article are the author's and do not necessarily represent the views of AltEnergyMag
---
Comments (0)
This post does not have any comments. Be the first to leave a comment below.
---
Post A Comment
You must be logged in before you can post a comment. Login now.
Featured Product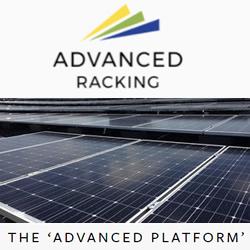 The 'Advanced Platform' simplifies the installation process by using universal mounting hardware that works perfectly across all roof types. Smart roof connection kits then connect to the specific roof's surface. The Advanced Platform is versatile: Our common design can be your single solution for all roof types.