One success story is Ecopower, a Belgian cooperative that funds renewable energy projects. Funds are collected from members (the cooperative currently has 40,000), and invested in self-developed projects, like power plants running on vegetable oil or wind turbines. Shareholders can buy shares for $325 each, and each shareholder receives a vote in the cooperative's general meeting with profits for individual shareholders limited to 6%, because of its cooperative standing.
Are Green Energy Co-ops in Our Future?
Len Calderone for | AltEnergyMag
Today, we have electric power co-op utilities, which are member owned. Each customer is a member and owner of the business with an equal say as every other member of the cooperative, unlike investor owned utilities where the control is presided over by the number of shares held.
Many such cooperatives exist in the rural areas of the country. They were created many decades ago to bring electric power to the countryside, where the nearest investor owned utility would not provide service. Many electric co-ops have banded together to form their own wholesale power cooperatives, to handle the generation and transmission of electricity to its members.
Electricity is produced for today's electric co-ops by the turning of turbines. In most power plants, these turbines are turned by pressurized steam. The steam is created by the burning of coal or other fossil fuels in massive boilers. In the case of hydroelectricity, the force of rushing water turns the turbines.
Nuclear power is the use of sustained nuclear fission to generate heat and electricity. Although nuclear power reduces carbon emissions, the power plants present a safety danger, and they produce radioactive waste.
To avoid the pollution problems associated with power generation from existing fuels, we must turn to "green" sources of energy. A green energy co-op offers 100% renewable electricity generated locally. When you join a green energy co-op for your electricity, your power will be generated from wind, solar or biomass. Green energy doesn't deplete our natural resources or pollute our environment.
Courtesy of Butler Rural Electric Cooperative, Inc.
A local renewable energy cooperative effort could join electric cooperative associations, municipal utilities, businesses and individual citizens to construct and own renewable energy production facilities. This type of effort illustrates how the power of cooperatives can be employed to contribute to a more secure, clean energy future and invigorate communities through a growing local tax base and reinvestments by energy co-op owners.
Energy cooperatives will aid in the transition from the centralized energy system based on fossil fuels to one supplied by distributed renewable energy.
Europe appears to be far ahead of the U.S. in green energy co-ops. One success story is Ecopower, a Belgian cooperative that funds renewable energy projects. Funds are collected from members (the cooperative currently has 40,000), and invested in self-developed projects, like power plants running on vegetable oil or wind turbines. Shareholders can buy shares for $325 each, and each shareholder receives a vote in the cooperative's general meeting with profits for individual shareholders limited to 6%, because of its cooperative standing.
When Ecopower received the right to build and operate wind turbines on sites around the city of Eeklo, as part of a city council project, it ran an information campaign together with the city. Because of the campaign, the citizens of Eeklo were educated about the project, and many purchased shares in Ecopower, giving them ownership of what they came to think of as "their" wind turbines.
In Germany, institutions and renewable energy advocates view renewable energy cooperatives as the key to achieving the ambitious goals of 80 percent renewable electricity by 2050. The German government's goal is to transition to an energy system based largely on distributed renewable resources. Wind turbines are being erected across the country, and solar panels are being installed on roofs. As the citizens own part of the resource through co-ops and share in the economic benefits of the development, resistance to the plan is minimal.
Individual citizens in the small town of Grossbardorf, Germany invested and obtained outside capital totaling approximately $19 million for the development of photovoltaic roof systems, solar power plants, and a biogas plant. As a result of these projects, the village generates four times the electricity needed to power individual businesses and homes.
The Renewable Energy Co-operative (U.K.) has become part of a ground breaking community project based in the heart of Cornwall.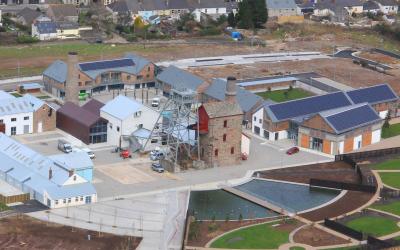 Heartlands project
The lottery funded project, named "Heartlands" regenerated a dilapidated mining area in Pool Cornwall into a cultural playground for the local community and visitors. The Heartlands boasts business units, performance and events spaces, community facilities, a museum, local produce café and restaurant and residential accommodation, and it is striving to create a carbon neutral environment through the contribution of Renewable Energy Co-op's solar photovoltaic array.
Brixton Energy's solar co-op
Not all co-ops are large community projects. London's first cooperatively owned solar power project was launched in March 2012. Brixton Energy Solar 1 houses several hundred square yards of solar panels on the roof of Elmore House in the Loughborough Estate in Brixton.
Photo Courtesy of Clean Control Corp.
Green Power EMC (Electric Membership Corporation), Tucker, Georgia, is actively pursuing efficient approaches to increasing the supply of renewable energy to Georgia's EMC members. A 150-kilowatt solar facility on the grounds of a cleaning product manufacturer expanded the renewable generation portfolio of Green Power EMC to almost 28 megawatts. It also means that co-ops choosing to participate in this project can offer more green energy to its members. Green Power EMC joined with Clean Control Corp. and First Century Energy, a developer seeking to build other solar facilities in the state.
The San Diego Energy District has announced that it is seeking to form a local energy cooperative, which will allow San Diegans to have a choice of where they purchase energy. The local energy cooperative will offer San Diegans the choice to continue to purchase power from SDG&E, or local green power from Community Choice Aggregation (CCA). Local control, competitive pricing, local green energy development and jobs are features of local energy cooperatives. CCAs have been successfully launched in Northern California.
For a community wishing to start a green energy co-op there are Federal grants funded by the American Recovery and Reinvestment Act (ARRA), as well as the U.S. Department of Agriculture. Eligible projects must be renewable energy projects such as solar water, solar thermal electric, wind, hydroelectric, geothermal electric and geothermal heat pumps.
For a co-op to succeed, it must develop strong goals and values. The by-laws and management should be built around those values. In addition, the co-op must decide who the shareholders will be, such as landowners, local residents, or non-local people.
The not -for--profit organization reflects the community value mission of co-ops that are focusing on more than financial gain, such as revitalizing the community, reducing pollution, and leaving a cleaner environment for the future.
The community will need to review what energy resources are available in the area, such as an abundance of wind, or bio-waste. The local electric company will need to assess the interconnection requirements and availability, along with the ability to add new power generation.
Of course financing is an important consideration. Will the local community pay for the installation through taxation or the selling of shares? Another alternative is the creation of an independent co-op that will work along with the local community to make the system work. The Commission for Environmental Cooperation paper listed below has extensive information on developing a green energy cooperative.
Since everyone needs energy and the wind, the sun and water are commonly available, renewable energy cooperatives are the most sensible way of organizing everyone's requirements. The co-op is a community organization that seeks to address the needs of all things green energy, and make the business of renewable power accessible, reliable and fruitful.
For Further information:
1. http://www.touchstoneenergy.com/about/Documents/RenewableEnergyBrochure.pdf
2. http://www.cec.org/Storage/88/8461_Guide_to_a_Developing_a_RE_Project_en.pdf
3. http://www.alaskapower.org/docs/REWhitepaperExecutiveSummary.pdf
4. http://www.greentechmedia.com/images/wysiwyg/reports/MintzLevin-FINAL.pdf
5. http://nwcommunityenergy.org/files/Pooling%20White%20Paper-092506.pdf
About Len

Len contributes articles to several technology eMagazines, and has written a DIY wedding photography book, which is being published in 2013. He also writes a Op-Ed column for a local newspaper.

This article contains statements of personal opinion and comments made in good faith in the interest of the public. You should confirm all statements with the manufacturer to verify the correctness of the statements.
The content & opinions in this article are the author's and do not necessarily represent the views of AltEnergyMag
---
Comments (0)
This post does not have any comments. Be the first to leave a comment below.
---
Post A Comment
You must be logged in before you can post a comment. Login now.
Featured Product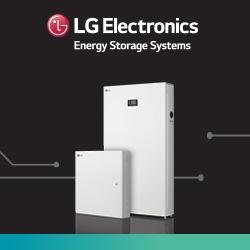 The NeON R module features "Back Contact" cell technology delivering an entirely black panel that is aesthetically pleasing and energy efficient. The cell's seamless, surface blends perfectly into nearly all rooftop designs while the module's electrodes are positioned on the rear of the cell. Using LG's N-type cell structure, the panels produce 365W of energy, up to 7.3kWp, compared to 5.8kWp of the p-type cell. The module's new design minimizes LID, thereby delivering a longer lifespan and increased energy output.