The CSP industry is going global in an unprecedented rate and there is no way to understand it by confining its development it to one market only. Make no mistake, despite the difficult times, the industry will persevere through the challenging times ahead… but the companies that do not adapt to its changing nature will not.
CSP Industry - Adapt or Else
Belén Gallego | CSP Today
If you want to have an accurate description of the CSP industry worldwide today, first you must forget everything that you might have read about it over the past few months.
I am not telling you anything you don´t already know: industries have globalized. They have evolved from the traditional industrial development we have witnessed over the past few decades and are now globalizing rapidly. It is relatively easy to observe this phenomenon in the solar industry, especially in the CSP sector.
The reason is simple – we are a young industry with to-be-expected growing pains, but we are also expected to compete at a global level. In fact,the strength of the industry comes from its globally diversified nature. For you, this means that taking the international business model approach is the only possibility if you want to increase market share. Adaptability to new markets and its idiosyncrasies is the key to your success. For that, you have to understand and learn the rules of the game to win.
Historical Perspective
CSP has been commercially deployed since the early 80´s in the SEGS plants in California. The plants are still there today, producing energy long after their financial payback time came to an end. They are producing free electricity 30 years on.
Still, the CSP industry has had a long break since the original SEGS were constructed (give date?). The hiatus lasted about 20 years and - other than governmental R+D developments happening during that time. In a relatively short period of time from 2006 we have seen an industry reborn and thriving with the feed in tariffs in Spain and loan guarantees in USA. It further took a huge scale turn with the governments of India, South Africa, Australia and the MENA region (to name but a few) taking the technology to a brand new level of adaptability to new markets. And this is only the beginning of a long road for a very adaptable industry.
From 2006 we have achieved very remarkable cornerstones, including the first plant in the world with the ability to operate 24 hours, a storage technology that can be scaled, the construction of CSP plants of an unprecedented scale (280MW) and the emergence of innovative technologies (namely towers and Fresnel) deployed into the hundreds of MW. That is a lot to achieve in just 5 years – but this is just the beginning. With so many markets working synchronously the real leapfrog developments will happen in the newer markets.
The CSP Market as it stands
CSP's current installed and operating capacity is just shy of 2 GW which will be achieved in the coming months as plants under construction are finalized and commissioned.
As the CSP sector changes rapidly it is required to adapt to the emergence of new markets whilst gaining prevalence over the so far dominant but currently challenged Spanish and U.S. markets, due to feed-in tariff discontinuation and to the abundant and cheap shale gas prices for example.
Today there are more than 60 utility-scale CSP operating plants worldwide and 1.8GW of installed capacity. Distributed over 9 different markets, it is Spain (1.2 GW) and the U.S. (500 MW) which still dominate the CSP landscape, accounting for 95% of the total installed capacity. This dominance is likely to change as the plants under construction get commissioned and new regulatory frameworks are revealed, and government support of some markets gets clarified.
Emerging markets such as India, South Africa, Morocco and Saudi Arabia will therefore play a vital role in the growth and sustenance of the CSP industry. Others countries have also shown interest towards CSP and may contribute to its market expansion. Last year alone, almost 500 MW of new capacity was deployed, a record year to date in the history of the CSP industry, and in the future capacity will increasingly be coming from emerging markets
In Spain, most of the yet to be commissioned projects will be connected in 2012, while the larger projects in the U.S. will require longer construction periods and will be online during 2013-2014. When the current plants under construction are completed, Spain will remain the largest CSP market with 2.2 GW closely followed by U.S. with 1.8 GW.
However a clear internationalization trend emerges when observing the charts of Operating CSP Capacity and CSP capacity under construction. From the operating chart a total of 89.6MW (Excluding Germany) are in operation outside of the main markets of Spain and the US. However this jumps up to 782.7MW that are in construction outside of the 2 main markets. That is more than 800% increase on installed capacity in the new markets. If you consider the planned capacity above and beyond the capacity in construction, the percentage will likely be higher but some of the projects in the pipeline may not be completed.
Operating CSP Capacity (Q1 2012)
CSP Capacity Under Construction (Q1 2012)
The future trends are increasingly pointing towards a much more internationalized industry with several projects under construction in other promising new markets. The table below details the extent of development of each geographical market including currently operational, in construction and proposed plants. The CSP Today Conservative Prediction of Global Installed CSP Capacity chart exemplifies how in a few short years emerging CSP markets will equal the amount that the main markets will contribute towards the global CSP market.
This trend also has interesting ramifications. For example, the industry is starting to indigenize very heavily in countries such as India. As own local technologies are been researched and deployed, the industry in emerging markets will become increasingly open and the hold of a limited number of experienced companies and suppliers will loosen. As many as 8 tube receiver manufacturers are springing up in China for example, and Fresnel technologies are going big scale in India and Australia. The game is changing.
The key to success in emerging markets is to understand what the need for CSP technology is and adapt to it. Here is where your company has to take a conscious decision to adapt to succeed. Think about CSP plants as if they were cars – I call it the Rolls-Royce theorem - they might be the best cars in the word from the engineering perspective but that doesn't mean that they are what you, as a user, need. You might need a cheaper car or a more efficient one. One size DOES NOT Fit all. Understanding this will make all the difference. And as our prediction shows, emerging markets will account for 50% and onwards of the global CSP market so there is a lot at play still.
CSP Today Conservative Prediction of Global Installed CSP Capacity
Some of the exciting international projects that are opening up new markets are also requiring adaptation to their particular conditions from the outset. For example, Fresnel technology is increasing heavily used due to lower costs of deployment (more on that in the technology analysis section). Also, there will be increasingly more integrated solar combined cycles in which CSP will be appended to existing coal and gas stations. A few examples from the some of the most promising CSP world markets:
In UAE the100 MW Shams 1 project developed by Abengoa in UAE is the largest of them and when completed in late 2012 will become the largest CSP plant in the world
In China has also started the construction of CSP plants, with more than 100 MW divided into six plants, two 50 MW parabolic trough projects and one ISCC having a capacity of 92.5 MW
In India five plants with an accumulated capacity of 500 MW are also under construction under the India's Jawaharlal Nehru National Solar Mission
In Thailand, Solarlite, a German company, is building a 9 MW direct steam generation plant similar to the 5 MW plant that they have already in operation
In Mexico, Abengoa is building a 14 MW solar field that will be appended to a 465 MW combined cycle, which will become the third ISCC project the company develops after the projects in Algeria and Morocco
In South Africa, Abengoa has already started the construction of the 150MW that was awarded in the first procurement round in December 2011.The CSP capacity under construction is broken down on a country basis
In Saudi Arabia, a plan has been announced to achieve by 2032, a total of 25 GW of CSP installed capacity. The Vice-President of Renewable Energy at King Abdullah City of Atomic and Renewable Energy (KACARE), Dr. Al-Sulaiman unveiled a roadmap which features, as an initial procurement target for round one and two, 900 MW and 1200 MW of CSP power generation, which could be launched as early as late 2012
In Tunisia, a 2 GW CSP project was announced in January 2012 as part of the DESERTEC Foundation initiative, which will export electricity to Italy via undersea cables. The project developer Nur Energie Ltd. (London, U.K.) and local Tunisian partners expect to begin the first phase of the project in 2014 and target a commissioning in 2016.
In Morroco The first of five projects, the 500 MW Ouarzazate solar complex, that the Moroccan Agency for Solar Energy (MASEN) has planned to commission has closed with ACWA Power consortium as its preferred bidder having offered the lowest tariff out of the four bidding companies that made it to the final round
In Chile, Abengoa started the construction of the first CSP plant in the Atacama desert, which will have a nominal thermal capacity of 7 MWt
Table 4: CSP Industry Project Pipeline Overview
| | | | | | |
| --- | --- | --- | --- | --- | --- |
| | Planning | Development | Construction | Operation | Government Renewable Goals |
| Algeria | 147 | 7 | 70 | 25 | 22 GW from renewables by 2030 |
| Australia | 197.5 | 250 | 47 | 13.3 | 41,000 GWh/year from renewables by 2020 |
| Brazil | 50 | 0 | 0 | 0 | 158,816 GWh of renewables by 2020 |
| Chile | 5 | 360 | 7 | 0 | 13 GW renewables by 2020 |
| China | 50 | 113.2 | 206 | 0 | 3 GW by 2020 |
| Egypt | 30 | 100 | 0 | 20 | 100 MW of CSP by 2020 |
| France | 0 | 12 | 1.3 | 1 | 0.5% of total energy consumption from CSP by 2020 |
| Germany | 0 | 0 | 0 | 1.5 | 35% of total energy consumption by 2020 |
| Greece | 0 | 38 | 0 | 0 | 50,485 GWh from renewables by 2020 |
| India | 408 | 50 | 489 | 6.56 | 20 GW of solar energy by 2022 |
| Israel | 0 | 446 | 0 | 6 | 10% of renewables by 2020 |
| Italy | 0 | 30 | 0 | 5 | 263,035.7 GWh of renewables in 2020 |
| Jordan | 225 | 0 | 0 | 0 | 10% renewables by 2020 |
| Mexico | 0 | 0 | 12 | 0 | 35% of total energy consumption in 2024 |
| Morocco | 20 | 285 | 0 | 20 | 2 GW of solar energy by 2020 |
| South Africa | 345 | 250 | 150 | 0 | 1200 MW of CSP by 2020 (may be subject to increase) |
| Spain | 0 | 110.4 | 583 | 1682.4 | TBC |
| Thailand | 0 | 0 | 10 | 5 | 20% of renewable energy by 2020 |
| Tunisia | 2200* | 0 | 0 | 0 | TBC |
| Turkey | 0 | 50 | 0 | 0 | 30% of renewables in 2023 |
| UAE | 0 | 800 | 0 | 100** | 7% renewables by 2020 |
| USA | 1990 | 1755 | 1319 | 571.16 | TBC |
Living proof of Internationalization: The case of Abengoa
If you needed further proof that internationalization is the way forward, you just have to look at the data for the leading company in the CSP sector. The Sevillan company had an early start with PS 10 in Sevilla and then went on to build PS 20. Most of its portfolio of plants are still in USA and Europe where they are currently constructing 710MW of PT. Under the capable hands of Micheal Geyer, head of internationalization, their portfolio is increasingly global with the latest additions been a total of 150MW (2 plants) in South Africa following the near finalization of construction of Shams in UAE.
Abengoa is the perfect company to illustrate internationalization because their business is clearly geared at taking advantage of all the emerging CSP markets opportunities, with small scale projects taking place in most of the up-and-coming geographies for market positioning.
You can expect – and certainly there are plenty of rumors going around – that Abengoa will be heavily involved in the newest markets in the CSP scene, particularly Chile and Saudi Arabia, where many companies are focusing their efforts.
This global focus gives Abengoa a resilience and strength within the industry that is unique and it is building a huge track record worldwide despite its origins as a relatively modest Spanish company , especially if you compare it in size to other industry players such as Acciona, ACS Cobra or Siemens.
| | | | | |
| --- | --- | --- | --- | --- |
| Plant Name | Technology | Gross Capacity (MW) | Current Status | Country |
| Ain-Beni-Mathar ISSC | Parabolic Trough (PT) | 470 | Operational | Morocco |
| Indian Institute of Technology CSP Project | Parabolic Trough (PT) | 3 | Operational | India |
| KaXu Solar One | Parabolic Trough (PT) | 100 | Planned | South Africa |
| Khi Solar One | Central Receiver/Tower (T) | 50 | Planned | South Africa |
| HelioEnergy 1 | Parabolic Trough (PT) | 50 | Operational | Spain |
| HelioEnergy 2 | Parabolic Trough (PT) | 50 | Operational | Spain |
| PS10 | Central Receiver/Tower (T) | 11.02 | Operational | Spain |
| PS20 | Central Receiver/Tower (T) | 20 | Operational | Spain |
| solaben 6 | Parabolic Trough (PT) | 50 | Planned | Spain |
| Solaben I | Parabolic Trough (PT) | 50 | Planned | Spain |
| Solaben II | Parabolic Trough (PT) | 50 | In Construction | Spain |
| Solaben III | Parabolic Trough (PT) | 50 | In Construction | Spain |
| Solacor 1 | Parabolic Trough (PT) | 50 | Operational | Spain |
| Solacor 2 | Parabolic Trough (PT) | 50 | Operational | Spain |
| Solnova 1 | Parabolic Trough (PT) | 50 | Operational | Spain |
| Solnova 3 | Parabolic Trough (PT) | 50 | Operational | Spain |
| Solnova 4 | Parabolic Trough (PT) | 50 | In Construction | Spain |
| Solana | Parabolic Trough (PT) | 280 | In Construction | USA |
| Baja California IV | Parabolic Trough (PT) | 12 | Planned | Mexico |
| Abengoa Mojave Solar Project | Parabolic Trough (PT) | 280 | In Construction | USA |
| Hassi-R'mel | Parabolic Trough (PT) | 25 | Operational | Algeria |
| Hassi-R'mel II | Parabolic Trough (PT) | 70 | Planned | Algeria |
| Cameo Coal-Fired Hybrid Demonstration Project | Parabolic Trough (PT) | 2 | Operational | USA |
| Shams | Parabolic Trough (PT) | 100 | In construction | UAE |
CSP Technology to match the markets needs
Technology is the key component to market adaptability. Today, parabolic trough collectors remain the most used technology, accounting for 96% of operating capacity worldwide. This is currently the most mature and proven technology and is thus the preferred solution chosen by developers, EPC companies and financial institutions. However, other technologies are gaining attention as more cost-effective solutions and will therefore have a greater share of the installed capacity in the near future.
The growth rate of tower technology can be clearly identified, increasing its share from the current 3.7% share in plants in operation (67.9 MW) to 18.6% share in plants under construction (567.7 MW) and 28.9% share in plants currently under development (800 MW) .
Fresnel technology is also gaining attention in the CSP market, encouraged by the remarkable cost reduction potential with respect to parabolic trough and tower. Although it is the least efficient of these technologies, the relative simplicity of the technology makes it very suitable for emerging markets.
Linear Fresnel is considered by several developers as a very promising technology and several companies are now supporting and investing in this technology. Indeed, ABB became a 35% shareholder of the German company Novatec in 2011, while AREVA bought the Australian company Ausra in February 2010. The third large company to get involved in Fresnel is GDF Suez, and is currently working with the Solar Power Group to develop a solar field booster for a coal power station in Chile.
CSP Market Technology Segmentation
Parabolic Trough

Tower

Fresnel

Operating

1774.0

95.6%

67.9

3.7%

10.4

0.6%

Under Construction

2282.5

74.8%

567.7

18.6%

201.5

6.6%

Under Development

1492

53.8%

800

28.9%

367

13.2%
CSP Market Technology Segmentation (Under Construction)
| | | | | |
| --- | --- | --- | --- | --- |
| | Parabolic Trough | Tower | Fresnel | Total |
| Spain | 922.5 | 0 | 30 | 952.5 |
| USA | 815 | 502 | 0 | 1317 |
| ROW (rest of the world) | 415 | 75.4 | 46.5 | 536.5 |
Hybridization, desalination and industrial applications
·Hybridization (Integrated Solar Combined Cycle, or ISCC) is another technical alternative of CSP that looks promising in the short term, particularly in the MENA region, Australia and India, it offers great cost reduction potential by sharing some equipment, mainly the power block, between the solar field plant and the conventional power plant
Currently, the production of desalinated seawater in the MENA countries is based mostly on fossil fuels, which are neither sustainable nor economical. CSP desalination is being studied as one potential solution to produce desalinated seawater gradually replacing the use of fossil fuel and taking advantage of the good solar resource available in the MENA region. There are some pilot projects in operation and it is expected that CSP desalination will become an important application for CSP technologies in MENA region with plans to build large CSP desalination facilities in the short and midterm
*The information and data has been extracted from the CSP Today Global Tracker launched last September
About CSP Today
CSP Today has been serving the concentrated solar power industry since 2007 with focused events, news briefs and reports. We now have a direct relationship with the industry in Europe, USA, MENA, India, South Africa and beyond.
In 2012, we are taking our focused CSP industry approach to Thought Leadership and analysis to the next level. CSP Today is evolving to provide impartial up-to-the-minute information that companies across the CSP spectrum can trust to inform their decisions.
Belén Gallego is Founder and Director at CSP Today. For more information please visit: www.csptoday.com
The content & opinions in this article are the author's and do not necessarily represent the views of AltEnergyMag
---
Comments (0)
This post does not have any comments. Be the first to leave a comment below.
---
Post A Comment
You must be logged in before you can post a comment. Login now.
Featured Product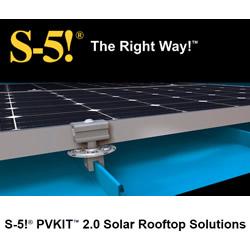 The concept of combining PV arrays with standing seam metal roofing is growing-for good reasons. Metal roofs have a life expectancy of more than 40 years. Shouldn't the mounting system last as long? With S-5! zero-penetration attachment technology and PVKIT 2.0, the solarized metal roof is the most sustainable system available -and without compromising roof warranties! PVKIT 2.0 is the also the best solution for attaching PV modules directly to any exposed fastener metal roof.