Fuel cells have an unmatched combination of benefits, leading the companies profiled to collectively save millions of dollars in electricity, labor and fuel costs while reducing carbon dioxide emissions by hundreds of thousands of metric tons per year.
Fuel Cells: The Perfect Power Partner
Jennifer Gangi | Fuel Cells 2000
Some of the biggest companies in the world are now some of the leading fuel cell customers, installing multi-megawatts of stationary fuel cell systems at data centers and other facilities and deploying thousands of fuel cell forklifts in warehouses around the United States. Several are combining fuel cells with other technologies and fuels such as wind, solar or biogas, in order to meet growing power needs while boosting reliability and efficiency. Many are also quickly becoming repeat customers, coming back to the table to purchase additional systems after experiencing firsthand benefits from initial installations.
Fuel cells are becoming business as usual for major companies such as Apple, Google, AT&T, Coca-Cola, Walmart and a host of others in virtually every market sector. Fuel Cells 2000, a non-profit organization based in Washington, DC, has been tracking the increase in private sector customers of fuel cell technology. The group most recently published "The Business Case for Fuel Cells: America's Partner in Power," which profiles companies either incorporating fuel cells with other technologies in order to better achieve their sustainability goals, and/or becoming repeat customers and installing large-scale systems at their facilities.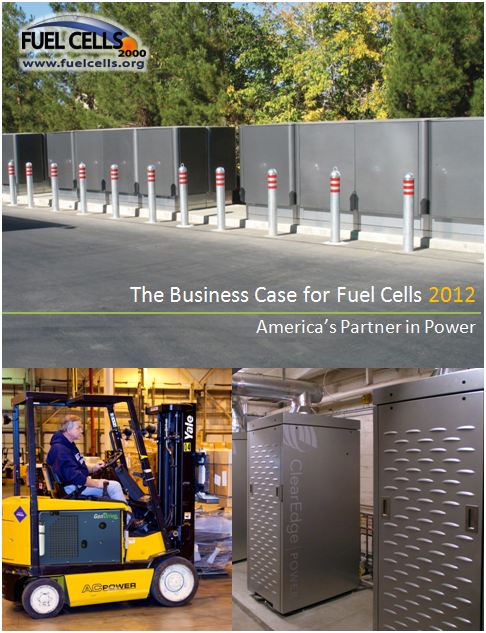 Fuel cells have an unmatched combination of benefits, leading the companies profiled to collectively save millions of dollars in electricity, labor and fuel costs while reducing carbon dioxide emissions by hundreds of thousands of metric tons per year.
For stationary or backup power, fuel cells provide reliable, efficient power with significantly lower emissions. Systems can run off natural gas or renewable biogas, either from organic waste generated via daily processing (wineries, breweries, industrial food/farming facilities) or piped in from local facilities. They are quiet and can be sited indoors or outdoors, in basements or on rooftops, which allows for flexible planning. In addition to power, byproduct heat from a fuel cell can be used at the end-user facility for space heating, water heating, and chilling, for air conditioning or freezers. Fuel cells are also scalable – many of the recent purchases are for multi-megawatt installations, 10 MW for an Apple data center in Maiden, North Carolina, 6 MW for eBay's Utah flagship data center, and many with 1 MW or more.
For materials handling, lift trucks and forklifts moving products around distribution centers, warehouses and freezer facilities, the benefits to businesses switching to fuel cell power are many. Fuel cells last longer than batteries, so lift truck operators have a lot more time on the warehouse floor before refueling, which, with fuel cells, they fuel it themselves as opposed to having a dedicated battery changer. Eliminating battery changing or storage rooms opens up more space for product. Sysco, the food distributor, has more than 700 fuel cell-powered forklifts operating at seven facilities, with more on order, making it the world leader in fuel cell forklift deployments. Walmart now has more than 500 fuel cell forklifts operating in three warehouses, including a freezer facility.
The report also highlights how fuel cells are compatible with other energy technologies – whether renewable such as solar, wind or biogas, or traditional, such as natural gas or batteries. A Safeway in Santa Cruz, California, for example, generates 100% of its power from its fuel cell system (200 kW providing 60-70% of the store's daily electric needs) and rooftop solar panels. Several others are following suit. Fuel cells complement and improve energy technology performance and, in turn, help companies meet their sustainability goals while also boosting their bottom line.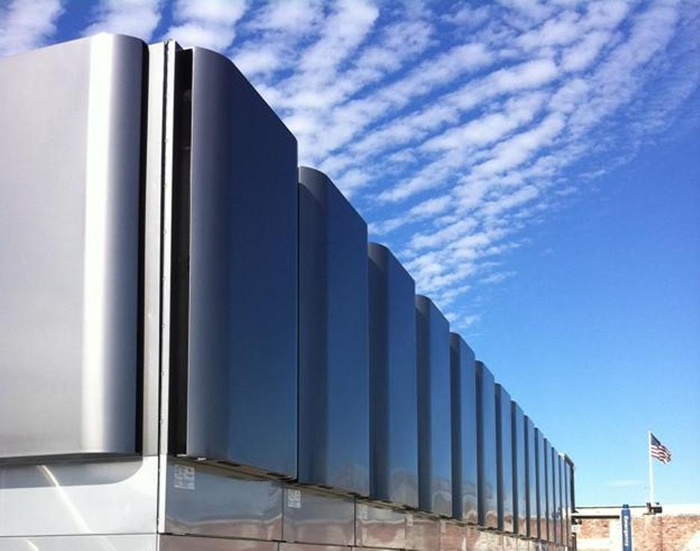 Download the free report at www.fuelcells.org.
The content & opinions in this article are the author's and do not necessarily represent the views of AltEnergyMag
---
Comments (0)
This post does not have any comments. Be the first to leave a comment below.
---
Post A Comment
You must be logged in before you can post a comment. Login now.
Featured Product
Sonnen's mission is to provide clean and affordable energy for all. As the first mainstream grid tied residential energy storage company in the world and with 24,000 sonnenBatterie systems installed worldwide, sonnen is a proven global leader in intelligent energy management solutions. The all-in-one sonnenBatterie smart energy storage solution easily integrates with new and existing solar installations to help homes manage their energy throughout the day-saving money, providing backup power, and maximizing the effective use of solar power day and night. Sonnen has won several awards for its energy innovations, including the 2017 Zayed Future Energy Prize, MIT's Technology Review's 50 Smartest Companies in 2016, Global Cleantech 100 for 2015-2017, Greentech Media's 2016 Grid Edge Award for Innovation, and Cleantech's 2015 Company of the Year Award in both Israel and Europe.