Iberdrola Ingenieria & Construcción Mexico S.A. de C.V. chose SPG Solar's All-Weather SunSeeker tracker for the largest PV solar installation in Mexico, slated to go into production by year end.
New 5-MW Solar Project is Mexico's Largest PV Installation
Bill Elwell | SPG Solar
What are the unique attributes of this particular installation?
The project is being used as a test facility, utilizing multiple module technologies and installation types. The system integrator and owner will analyze the production and costs of each of the different types and use that data to help make decisions on future projects in Mexico.
What was the selection process like and why do you think you were selected?
Iberdrola used a supplier validating process to determine that SPG was a viable supplier to their company. This process validated SPG's quality, bankability, supply chain capabilities and our pricing in the marketplace.
Iberdrola also used an RFP process for this specific project to determine that SPG was the best solution of their qualified suppliers. SPG was awarded this project based on our qualifications and our pricing of the system.
How much of a factor was bankability in the decision process?
Bankability was an important part of the process as this was a project for the Mexican government and it needed to meet their certain requirements.
What are the top 2-3 differentiators for the All-Weather SunSeeker Tracker?
Foundation quantities with the Sunseeker are much lower than with most other tracker products.
Installation timeframes are lower due to the 3 panels in landscape configuration that the Sunseeker uses.
The product is capable of being installed in most geographical areas because of the rigorous engineering and robust design that has been incorporated into it.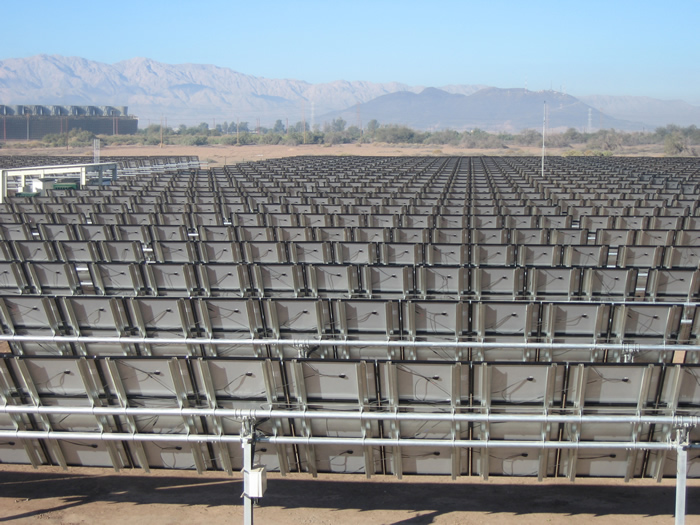 What kind of energy and/or cost savings do you anticipate?
In this area the use of SPG Solar's Sunseeker single axis tracker will result in an increase of roughly 25% more production than a standard fixed tilt design.
How does 2013 and beyond look for the Solar Industry?
As costs continue to decrease the solar industry will continue to become more mainstream and will benefit from this.
In what parts of the world do you see the most promising growth occurring?
The Southwestern part of the United States is seeing a great deal of growth with many large scale utility solar plants being implemented. There are also markets all around the world, such as South Africa, Japan, China, India, that will see very promising growth over the next few years due to the support of their local governments and rising conventional utility rates.
Are there any technology advances that will affect the industry in the near term?
The Solar Industry is still in its very infancy, advancements in technology will remain a vital part in the long term and short term success of this industry. Advancements in technologies such as single axis trackers over recent years have helped many projects become economically viable where they otherwise would not have been.
What other interesting projects are in SPG Solar's pipeline?
SPG Solar is working on numerous utility and commercial scale projects in the US and all around North America. We have projects in very northern latitudes that will be required to withstand high snow loads and projects in Puerto Rico that will need to handle hurricane force winds of 145MPH. These are all made possible with a product that has been engineering and tested to meet the needs of these geographical locations.
Bill Elwell, Vice President Product Sales
With over 10 years of industry experience, Bill Elwell leads the Products division at SPG Solar where he is responsible for product management and sales of SPG Solar's All Weather SunSeeker® tracker. Bill works with the design, engineering, operations and supply chain teams at SPG Solar to ensure products meet industry standards and client needs. With his over 4 years at SPG Solar where he made significant contributions to business development and design & engineering, and his previous experience in the civil engineering, land surveying and development fields, Bill is positioning SPG Solar as a solar product innovator. Bill holds his A.S. in Design from ITT Technical Institute.
The content & opinions in this article are the author's and do not necessarily represent the views of AltEnergyMag
---
Comments (0)
This post does not have any comments. Be the first to leave a comment below.
---
Post A Comment
You must be logged in before you can post a comment. Login now.
Featured Product
Sonnen's mission is to provide clean and affordable energy for all. As the first mainstream grid tied residential energy storage company in the world and with 24,000 sonnenBatterie systems installed worldwide, sonnen is a proven global leader in intelligent energy management solutions. The all-in-one sonnenBatterie smart energy storage solution easily integrates with new and existing solar installations to help homes manage their energy throughout the day-saving money, providing backup power, and maximizing the effective use of solar power day and night. Sonnen has won several awards for its energy innovations, including the 2017 Zayed Future Energy Prize, MIT's Technology Review's 50 Smartest Companies in 2016, Global Cleantech 100 for 2015-2017, Greentech Media's 2016 Grid Edge Award for Innovation, and Cleantech's 2015 Company of the Year Award in both Israel and Europe.