SIMONA AG is one of the first companies in the plastics industry to have introduced an energy management system in accordance with EN ISO 50001. Energy management systems (EnMS) offer a systematic approach to recording and assessing energy demand and improving energy efficiency. Third-party assessment and certification by TÜV SÜD offers further opportunities.
Energy Management System with Certificate and Certification Mark
Volker Wöhl, TÜV SÜD Management Service and Klaus Gerspacher and Eric Schönel, SIMONA AG
Companies wishing to stay competitive in the chemical industry need to permanently improve the efficiency of their production systems and processes, as the costs of energy carriers and electricity taxes directly affect their production costs. An energy management system certified by an independent third party unlocks hidden potential for energy savings and helps companies reduce their energy taxes. Energy-intensive companies, for example, may be eligible for a "tax cap" under German law to reduce their financial burden. Companies applying for such a tax cap must have a certified energy management system and improve their energy efficiency by an annual 1.3 per cent between 2013 and 2015 and by 1.35 per cent from 2016 onwards.
More than efficiency
SIMONA AG had set itself targets that went beyond the improvement of energy efficiency and the tax cap. The thermoplastics manufacturer is one of the first companies in the global plastics industry to have introduced an energy management system in accordance with the DIN EN ISO 50001 standard. Every year, the company produces over 100,000 tonnes of semi-finished thermoplastic products (sheets, profiles and rods), pipes and fittings and finished parts. The company, with headquarters in Kirn, Rhineland Palatinate, is one of the leading global suppliers of extruded semi-finished thermoplastics for safety-critical and eco-specific applications.
By establishing an EnMS in accordance with the above standard, the company hoped not only to ensure sustainable energy supply at competitive costs, but also to improve energy efficiency. Over the long term the energy management system is designed to curb production costs, foster innovations in the company and extend the service life of its installations and systems. It is these positive side effects of efficiency measures that companies particularly tend to underestimate time and again. By ensuring the transparency of production data and trends, an EnMS further helps companies to operationalise their targets, thereby enabling them to take a closer look at their installations and systems. The EnMS is part of an integrated quality, environmental and energy management system and is aimed at generating continuous improvement and keeping energy flows in balance while curbing emissions.
"Plan, Do, Check, Act"
The key elements of every EnMS are regulations and management methods, which SIMONA defined as strategic and operational objectives. Further elements include hardware and software components aligned with the respective production processes, such as sensors for the energy carriers used and distributed electronic data acquisition systems. SIMONA purchased or added sensors for electricity, gas, steam, compressed air and fuel, and systematically recorded and analysed all data collected by these instruments. Consumption control ensures early detection of system-related non-conformities, enabling immediate preventive action to be taken. Comparing consumption indicators against production indicators unveils hidden potential for savings. In addition, SIMONA installed a customised power management control system to prevent load peaks.
The basis of every successful energy management system is the PDCA (plan-do-check-act) cycle, and the energy management system at SIMONA is no exception. The PDCA cycle provides for the continuous planning, implementation and assessment of improvements. Good practices evolve into standard operating practices, and the process starts all over again, resulting in incremental savings. SIMONA AG set itself the target of reducing its energy consumption by an annual 1.5 per cent over the next three years. To this end, the company plans to improve its data recording and measurement systems in order to optimise allocation and analysis of its consumption figures in the future. The engineers have already introduced automatic data transfer to replace the manual process of documenting energy meter readings and entering them in the EnMS using spreadsheets. Experts qualified for this purpose further review and assess the EnMS in regular internal audits, ensuring its consistent and continuous further improvement.
Assessment of production and processes
In the runup to the TÜV SÜD audit, SIMONA's experts carried out comprehensive analyses, screening energy supply and use at the individual steps of their processes. Extrusion is the core process in Kirn and at the company's additional site in Ringsheim. Plastic granules are heated in sheet and profile extruders and pressed into the requested product form. The extruders, presses and injection moulding machines are among the company's biggest energy consumers.
However, the company also operates tempering furnaces, cooling machines and a boiler system. As the processes require not only electricity and gas but also steam and compressed air, the company falls into the category of very high energy complexity. In addition, the logistics processes in the connected high-bay warehouses must also be taken into account. There, starting-points for improving energy efficiency concern the fuel needed to operate the existing forklift trucks, the electricity used for packaging machines and material handling systems and the energy consumed for heating and lights. Wherever possible, SIMONA uses waste heat from machines to heat the buildings.
Audit process
In a first step, the auditors of TÜV SÜD Management Service performed a preliminary audit which included an on-site inspection to determine whether requirements of the standard have been implemented by the company and, if so, which. The next step comprised the "stage 1 audit" including a document review. In this stage, the audit team collected information about the energy management system's key processes, its scope and the site-related requirements. The audit team then started to prepare the certification audit and checked the extent to which the EnMS documentation was already in compliance with the standard. In "stage 2" of the process, the audit team then carried out the certification audit based on the company's processes, data and performance indicators. In this stage the auditors assessed the implementation of the EnMS in practice. In this case, for example, the auditors reviewed the past improvements and assessed the objectives for the next period.
The last day of the audit defines the due date for the subsequent surveillance and re-certification audits that are required to maintain certification. As the audit proved that SIMONA fulfilled all criteria, an EnMS certificate was issued. The certificate confirms the effectiveness of the EnMS and its conformity with the EN ISO 50001 standard. By carrying out annual surveillance audits, TÜV SÜD's auditors support continuous process improvement by assessing the achieved objectives. The certificate is valid for three years. After expiry of this period, a re-certification audit will be carried out to re-assess the effectiveness of the continuous improvement process (plan-do-check-act or PDCA).
Production and logistics certified
The certification body of TÜV SÜD Management Service GmbH has confirmed that SIMONA AG has established and applies an Energy Management System in accordance with the DIN EN ISO 50001 standard. The EnMS can also be applied by central offices to control sites at various locations that perform different activities, such as the production plants in Kirn and Ringsheim and the logistics centre in Kirn. After first establishing an energy management system in accordance with EN 16001, SIMONA grasped the opportunity to implement this international standard in its organisation immediately after publication of the EN ISO 50001 standard. The ISO 50001 standard describes many processes more clearly, emphasises the responsibility of top management and assigns higher priority to the employee suggestion system. Another essential building block was the PDCA cycle, which includes all employees.
Important aspects in the upgrade to EN ISO 50001 included providing SIMONA's energy managers with access authorisation for all levels at which relevant energy data are recorded. Another major aspect concerned "document control", i.e. ensuring traceability and transparency at every step of a document's history. Key issues in this context are standardised templates, the principle of dual control, approval and release processes, reliable retention and updating. Special emphasis must be placed on preventive maintenance, which must always include energy-efficiency aspects in considerations over choosing, dimensioning and integrating components that need to be replaced. The fact that energy costs account for over 95 per cent of the life cycle costs of electrical drive systems demonstrates the importance of this approach.
The authors:
Volker Wöhl, Customer Competence Centre, TÜV SÜD Management Service GmbH, Lead Auditor ISO/TS 16949, EN ISO 50001, EN ISO 9001, VDA 6.3
Klaus Gerspacher, Energy Management Representative, SIMONA AG
Eric Schönel, Head of Marketing & Communication, SIMONA AG
The content & opinions in this article are the author's and do not necessarily represent the views of AltEnergyMag
---
Comments (0)
This post does not have any comments. Be the first to leave a comment below.
---
Post A Comment
You must be logged in before you can post a comment. Login now.
Featured Product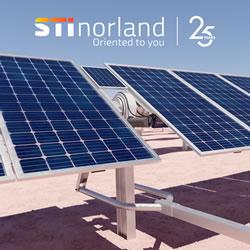 Developed in 2017, the STI-H250™ is consists of two linked torsion beams that rotate simultaneously following the sun's path. They are moved by just one motor, cutting supply and maintenance costs. STI-H250™ dual-row tracker includes backtracking mode to avoid shadowing between adjacent rows and stow function to protect the tracker in extreme wind conditions. For cleaning, vehicles can pass between trackers and each row can be placed in a different position.