AltEnergyMag.com has once again partnered with Intersolar to bring all the industry news and exciting new products to our eMagazine and help our readers make sense of this key tradeshow. Here we have compiled a list of some product releases from this years show.

Brandon Hetherington | AltEnergyMag.com
This years show took place July 8-11, 2013, at the Moscone Center in San Francisco, California. 19,000 visitors attented to learn about the latest technology innovations, financing models, business best practices and policy and incentive programs that are contributing to the growth of the U.S. solar industry. Products from nearly 600 exhibitors from 22 countries were on display on all three levels of Moscone West, representing the entire system of solar technology and showcasing advances in solar cell and module technology, balance of system components, solar heating and cooling and energy storage.
Additionally, two special exhibits in Moscone West highlighted the practical applications of new technologies that will further solar market growth. Companies showed the latest in electric vehicles, charging technology and solar-powered carports in the E-Mobility Special Exhibit on Level 3 of Moscone West. E-Mobility couples two rapidly developing market sectors—electric vehicles and energy storage—and can play a role in stabilizing the grid as more renewable energy comes online.
Building off of strong industry demand for commercialized storage technologies, the expanded PV
Energy World special exhibit on Level 2 of Moscone West featuree the latest technologies from 40 energy storage companies. Throughout the three days of the exhibition, the PV ENERGY WORLD stage hosted 15 state-of-the-art presentations from exhibitors and panel discussions about energy storage market developments that are impacting the solar industry.
As a media partner AltEnergyMag.com will be covering Intersolar and bringing all the industry news and exciting new products to our eMagazine to help our readers make sense of the massive event. Make sure to check out our special Intersolar 2013 Newspage for Exhibitor news.
Here we have compiled a list of some product releases from this years show.
---
Trojan Battery Company - Single-Point Watering Kit for Trojan Deep-Cycle Batteries
Proper maintenance and periodic watering are important factors in maximizing the performance and life of Trojan deep-cycle, flooded batteries. Battery maintenance can be a costly, time-consuming and messy job. With the Single-Point Watering Kit, precise battery watering is made easy, saving valuable time and money. The Single-Point Watering Kit is designed to work with flooded deep-cycle batteries and takes the guess work out of properly watering flooded batteries. The flexible tube routing allows the watering system to work with various battery bank sizes and configurations. The Single-Point Watering Kit comes in three configurations: 12V, 24V and 48V. The kits are designed for single string installations with Trojan Premium, Industrial and Signature Line flooded batteries*. For systems with multiple strings in parallel, simply order multiple kits at the required system voltage.
---
EcoFasten Solar® - GreenFasten™ solar panel roof mount hardware

GreenFasten™ solar panel roof mount hardware by EcoFasten Solar® is designed and manufactured in the USA from recycled materials, features a patented watertight bushing, utilizes lag bolts to secure to the roof, has IAPMO certification, is one of the fastest attachment points to install in the industry, can be used for retrofit applications without removing shingles, available in a variety of configurations, can be customized to fit any proprietary hardware on the market and meets ARRA standards.
---
Panasonic - Solar finance and asset management
Panasonic provides a full range of renewable energy and energy efficiency solutions and is aware that there's a funding and implementation gap for solar PV projects up to 20 MW. And that's why Panasonic has established a strategic relationship with Coronal Management, a prominent solar finance and asset management firm. Together, they are delivering the first truly comprehensive end-to-end solution to facilitate the development and commercialization of solar PV projects in the commercial, industrial, municipal and small utility markets. From inception to commercial operation and beyond, capabilities include construction and permanent financing, project implementation and long term service and maintenance.
---
Outback Power - FLEXcoupled complete AC-Coupling system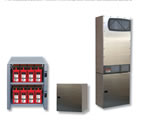 The OutBack FLEXcoupled system is unique from other ACcoupling types in that its foundation is a superior split-phase inverter/charger with dual AC inputs, transfer switching, power management flexibility and multiple operational modes for a wide range of energy scenarios, and greater dynamic stability. This allows using a more elegant, advanced electromechanical coupling center (the GSLC 175-AC-120/240) to achieve AC-coupling instead of relying on the costly, complexity-adding extra frequency circuitry, transformers, and diversion loads used in some conventional systems.
---
The new Sunny Boy 3000TL-US/4000TL-US/5000TL-US represents the next step in performance for residential inverters. It is so smart, it can do what no other inverter in the world can do: deliver power when the grid goes down without costly batteries. That's right, the Sunny Boy TL-US series is the only inverter on the planet with Secure Power Supply (SPS). Other innovative features include shade management with OptiTrac™ Global Peak, dual MPP trackers, a broad input voltage range and free Sunny Portal monitoring with global access.
---
AlsoEnergy - PowerOperations & PowerRes Portfolio Management Software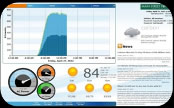 PowerOperations, when integrated with PowerTrack – the company's advanced cloud-based software platform for monitoring renewable energy system performance – increases efficiencies and helps automate key functions and processes associated with operating and maintaining a portfolio of solar photovoltaic fields. For example, if a site shows that there is low production; the PowerTrack system sends this alert to the appropriate people and creates an associated task, thus enabling timely performance management that minimizes system downtime and lost production.
PowerRes is a low-cost, portfolio management and monitoring system for solar developers that is ideal for the residential marketplace. It incorporates an easy to install, cellular-based Itron Sentinel socket meter. Additionally, when integrated with PowerTrack and PowerOperations, it allows developers to deploy and manage thousands of residential sites. PowerRes includes operations and maintenance of distributed energy assets and can also track performance guarantees.
---
Quick Mount PV - Quick Hook USA®
Installing solar panels on tile has never been easier, stronger, and more waterproof! Quick Hook USA® is the industry's first flashed tile hook mount, bringing fast, cost-effective waterproofing to curved and flat tile roof installations. Engineered to Quick Mount PV's industry-leading standards for code-compliant, waterproof mounting systems, both the curved and flat tile models of Quick Hook USA use the same tile hook, which mates with the base. An extra-wide base allows the installer to choose from multiple clearance holes for attachment of two lag screws to the rafter, and then a slot in the base enables the hook to slide to fit the curve of the tile.
---
Schneider Electric - Conext Core XC-NA inverter
The Conext Core XC-NA Series is a new line of central inverters designed for high-efficiency and flexibility for any photovoltaic (PV) panel type and installation. The solution, designed to address the large commercial and centralized PV plants segments, has been enhanced to align with US required UL® certifications, listed to 1000 Vdc and comes with integral AC and DC switchgear which meets the requirements of National Electrical Code (NEC) 690.17.
Conext Core XC-NA Inverter is available for pre order now, and will be available for shipments in early 2014.
---
The PvMini is a ballasted ground mount system which offers an attractive design with long-lasting and durable system components. The system offers mounting solutions in areas where other foundation types are not possible, as is the case in areas with rocky terrain or on landfill sites.
The core strength of the PvMini lies in the efficiency and spans achieved by its low-profile design, lightweight components, and smaller ballast blocks. The ProfiPlus XT rails help enable longer spans and allow for more efficient use of other system components, thereby reducing the number of concrete foundations needed. Made of aluminum, the PvMini is easily installed requiring no heavy machinery.
---
Advanced Energy Industries, Inc. - Three-Phase String AE 3TL Inverter
The AE 3TL is a reliable three-phase string inverter that can be installed in a distributed architecture throughout a solar array to save space and increase project yield for solar installers, site designers, and project developers. The AE 3TL can be applied to projects of wide ranging sizes, from small commercial rooftop to large multi-MW ground-mount systems. By offering the AE 3TL, along with its robust line of central inverters, AE Solar Energy is demonstrating its commitment to offering customers unparalleled design flexibility for the solution that best addresses their solar project needs.
---
Mersen - USGCC & USGM series fuseholders
Mersen's new USGCC & USGM series fuseholders deliver the ultimate ease-of-use, time (labor) saving and reliable solution available in the marketplace. Mersen is the first manufacturer to offer screw-less, spring pressure, wire termination technology into a power fuseholder, delivering the best of both technologies to its customers. Now you can experience the combined benefits of safety, ease-of-use, labor savings and reliability of UltraSafe fuseholders and spring pressure technology.
---
Shaner Industries - MASTFOUNDATION & Rapid Installation System
Shaner Industries' MastFoundation & Rapid Installation System is designed as a one-piece foundation solution that costs less than other types of foundations and requires less time, less materials, less manpower, less equipment and less fabrication. The one-piece MastFoundation includes our patented finned foundation at one end of a steel pipe, and a top plate – designed to easily integrate with the solar structure – at the other end. The MastFoundation's efficient one-piece design completely eliminates the foundation to mast connection, allowing for a faster installation process.
---
Unirac - The Ground Mount Tracker (GMT)
Reliability is a key feature of Unirac's GMT. Maintenance-free split bearings allow for fluid rotation of the torque tube and are engineered to withstand 30 times the dynamic load, 70 times the static load. The GMTs actuator is a proven technology used for more than 100 years in the automotive industry. Tested for harsh environments, installers will also benefit from reduced copper, power requirements, wiring and trenching from traditional drive systems.
In addition, the tracker comes standard with a "plug-n-play" controller, intuitively designed to drive pairs of actuators on shared foundations. All of these features reduce the total cost of ownership (TCO) for solar installation, removing unnecessary material, substantially reducing labor requirements and increases the overall strength and reliability of solar racking over the long term.
---
KACO new energy - 50kW three-phase, transformerless smart module mode inverter

This synchronized solution provides significant advantages to developers and system integrators:
The Tigo and KACO technology integration optimizes performance throughout the entire PV system. Tigo Smart CurveTM enables PV modules operating with a KACO inverter to provide previously unattainable levels of design flexibility while monitoring PV system health at the module level. It actively controls the PV module current / voltage relationship and allows for 25% more PV modules in series which reduces the number of parallel source circuits. For installers that means fewer home runs, fuses, and combiner boxes; achieving significant balance of system cost reductions. The Tigo Smart Curve™ technology allows multiple levels of data monitoring to enhance performance analysis and system diagnostics. This reduces operations and maintenance costs by utilizing a web based monitor to remotely diagnose issues at both the module and inverter level.
---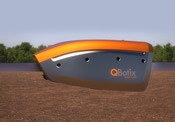 QBotix, which harnesses the power of robotics for the solar industry, today at Intersolar North America unveiled the SolBot R-225 and other enhancements for its Robotic Tracking System (RTS), a next generation system for optimizing the productivity of solar power plants.
The SolBot R-225 can manage 340 kilowatts of solar panels, a 13 percent improvement over the SolBot R-200. The SolBot R-225 is also smaller, lighter and requires fewer components than its predecessor. Additionally, the tracking rail for the SolBot R-225 consists of two preassembled pieces rather than multiple parts so it can be quickly snapped together on site.
The content & opinions in this article are the author's and do not necessarily represent the views of AltEnergyMag
---
Comments (0)
This post does not have any comments. Be the first to leave a comment below.
---
Post A Comment
You must be logged in before you can post a comment. Login now.
Featured Product
Sonnen's mission is to provide clean and affordable energy for all. As the first mainstream grid tied residential energy storage company in the world and with 24,000 sonnenBatterie systems installed worldwide, sonnen is a proven global leader in intelligent energy management solutions. The all-in-one sonnenBatterie smart energy storage solution easily integrates with new and existing solar installations to help homes manage their energy throughout the day-saving money, providing backup power, and maximizing the effective use of solar power day and night. Sonnen has won several awards for its energy innovations, including the 2017 Zayed Future Energy Prize, MIT's Technology Review's 50 Smartest Companies in 2016, Global Cleantech 100 for 2015-2017, Greentech Media's 2016 Grid Edge Award for Innovation, and Cleantech's 2015 Company of the Year Award in both Israel and Europe.