Here are the results of the competition for 2013.

Bob Hetherington | AltEnergyMag
Well, it's all over but the shouting and as you can see, the competition was stiff and the resulting projects show a terrific variety of new and exciting ideas to spark the imagination and hopefully spawn some new directions for the green architectural community of the future.
The U.S. Department of Energy Solar Decathlon challenges collegiate teams to design, build, and operate solar-powered houses that are cost-effective, energy-efficient, and attractive. The winner of the competition is the team that best blends affordability, consumer appeal, and design excellence with optimal energy production and maximum efficiency.
Here are the final results in order of points earned:
| | | |
| --- | --- | --- |
| 1 | Team Austria (Overall Winner) | 951.922 |
| 2 | Las Vegas (Market Appeal Award) | 947.572 |
| 3 | Czech Republic | 945.142 |
| 4 | Stevens | 939.176 |
| 5 | Stanford (Affordability Award - 3 winners) | 933.125 |
| 6 | Team Ontario (Engineering Award) | 926.478 |
| 7 | Team Capitol DC | 920.267 |
| 8 | Middlebury College | 920.262 |
| 9 | Team Alberta | 913.574 |
| 10 | U of So Cal | 906.203 |
| 11 | Santa Clara | 888.929 |
| 12 | Norwich (Affordability Award - 3 winners) | 876.928 |
| 13 | North Carolina (Peoples Choice Award) | 870.21 |
| 14 | SCI-Arc/Caltech | 868.666 |
| 15 | Kentucky/Indiana (Affordability Award - 3 winners) | 850.079 |
| 16 | Missouri S&T | 840.455 |
| 17 | AZ State/New Mexico | 823.165 |
| 18 | Team Texas | 776.454 |
| 19 | West Virginia | 774.742 |
The website with all the entries and info is at http://www.solardecathlon.gov/index.html
Congratulations to all of the teams and we look forward to the next Solar Decathlon.
Here are some of the top finishers:
Team Austria: Vienna University of Technology
Team website: www.solardecathlon.at
Team Austria's U.S. Department of Energy Solar Decathlon 2013 entry is a simple, smart, and sustainable house. Powered by a rooftop solar photovoltaic system, Living Inspired by Sustainable Innovation (LISI) generates more power than it uses over the course of a year. The house adapts to a range of climate zones and flexes to meet a variety of lifestyles.
Design Philosophy
In developing LISI, Team Austria was guided by a vision for a healthy, sustainable future and a concept that could adapt to many lifestyles and climates. Viewing the house as a "social creature" eager to find its place in a richly diverse community, Team Austria honors a sense of stewardship in the use of our planet's most precious resources.
Features
Renewable and eco-friendly construction and insulation materials made of timber are easily transported and provide indoor climate comfort and carbon-neutrality.
Changeable architectural elements create a variety of sensory conditions—closing to form a protective cocoon for occupants and opening to allow them to expand their space.
Two patios create a balance between interior and exterior and public and semi-public spaces.
The passive solar design, combined with an automated screen and awning system, provides shade to keep the living spaces cool and comfortable.
A patio herb garden draws water from a rainwater reservoir.
Generous storage, completely integrated into the walls, frees the primary indoor space from clutter.
Technologies
Photovoltaic modules provide an annual surplus, which can be used to power electric bikes or vehicles.
A centralized utility room contains all the automated mechanical systems the house needs, including a photovoltaics monitor, ventilation, plumbing, and hot water supply.
Two high-efficiency, air-water heat pumps supply cold and hot water for space heating and cooling as well as for domestic hot water.
An energy-recovery ventilation unit acts as a heat and humidity exchanger between exhaust air and fresh intake air to keep the living spaces comfortable and healthy.
A multifunctional subfloor system regulates the indoor climate using water, air, and active cubic capacity.
A heat-recovering shower tray reduces the energy demand for hot water by almost one-third.
Through a tablet application, the automated house control hub, energy performance history, and live data can be accessed in an intuitive way.
University of Nevada Las Vegas
Team website: solardecathlon.unlv.edu
The University of Nevada Las Vegas designed its DesertSol house to reflect the spirit of the Mojave Desert. With reverence to the sun as both a source of harsh conditions and a solution for sustainable living, DesertSol harnesses abundant sunlight for solar electricity while capturing rain to provide evaporative cooling and irrigation. The ultra-efficient house is envisioned as a vacation home for a seasonal retreat—a basecamp for desert adventures that responds to its unique environment.
Design Philosophy
DesertSol makes careful use of the desert's solar and water resources. Its design fuses modern architecture with a weathered aesthetic, the comfort of carefully selected materials, and the excitement of intriguing spaces to foster a spirit of openness and adventure.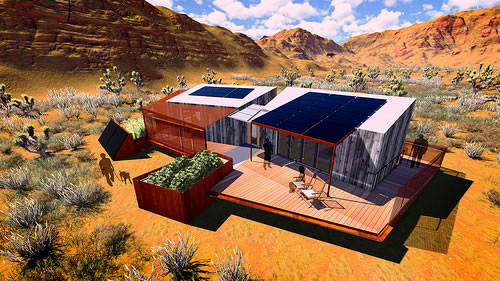 Features
A weathered wood rain screen shades the building's structure.
Digitally fabricated retractable solar shade screens shield the hottest sides of the house in the summer and provide direct sun for warmth in the winter.
A water feature captures water from the occasional desert downpour and uses it for irrigation and spot cooling on the outside deck with a cool tower, which uses less water than conventional misters.
Folding doors open completely, allowing indoor activities to spill onto the outdoor deck space and doubling the square footage for entertaining.
A home automation system ensures the house operates at peak efficiency and allows the lights, appliances, and thermostats to be controlled from an easy-to-use interface on a mobile device.
Technologies
Photovoltaic panels provide electricity and shade the outdoor living space.
Solar thermal collectors provide radiant floor and water heating.
Advanced structural design framing clad in reclaimed pre-weathered materials saves lumber and provides more insulation to the living spaces.
A fire-protection sprinkler system combined with a potable water plumbing system ensures that fresh water is available each time a cold-water fixture is used and results in a non-stagnant sprinkler system.
Layers of closed-cell, open-cell, and continuous rigid insulation ensure that the house is air-tight and highly heat-resistant and prevents thermal bridging.
Czech Republic: Czech Technical University
Team website: www.airhouse.cz
Czech Technical University designed the AIR House for the U.S. Department of Energy Solar Decathlon 2013 and for the generation of 50+-year-olds who are empty-nesters and nearing retirement. Many of the team members' parents fall into this demographic, which inspires a compelling conversation about senior housing. The AIR House, a prototype for an affordable (A), innovative (I), and recyclable (R) house, is designed for the Czech tradition of spending weekends in the countryside. Czech seniors can use the AIR House as a weekend getaway during their pre-retirement years and as a permanent residence after retirement.
Design Philosophy
The AIR House offers an energy-efficient, environmentally responsible house that considers its inhabitants' comfort and health. The house design features a "house within a house" principle, in which a minimum interior living area combines with a generous outdoor area. The AIR House—including the load-bearing structure as well as the thermal insulation, façade, finishing, and furniture—is made almost entirely of wood. Materials were selected according to their effects on the five human senses. Visual comfort respects the human circadian rhythm; the house's artificial lighting is programmed to correspond to natural lighting conditions.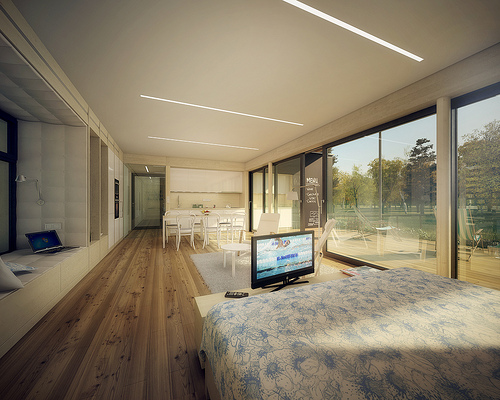 Features
Natural wood fiber thermal insulation envelops a living area that features a wood façade, finishing, and furniture.
A solar wooden canopy protects the enveloped area from sun and wind while generating electricity.
A painted do-it-yourself wall façade enables occupants to write and erase messages.
A charging station powers a pedelec (electric bicycle).
A generous outside terrace expands the interior space for cooking, gardening, relaxation, and storage.
An integrated edible natural garden mediates between the house and its surroundings.
Technologies
PV panels generate all the electricity needed to operate the house.
Wood fiber insulating material regulates moisture levels and provides acoustic and thermal insulation.
A solar water heating system ensures the preparation of hot water.
A radiant chilled ceiling system provides comfort and stability to the interior environment.
When needed, an air-conditioning unit with a direct evaporator conditions the relative interior air humidity and supplies fresh air.
A greywater system collects water from the shower and wash basins, filters it, and reuses it to irrigate plants, thus reducing water consumption.
Peoples Choice Award
Kentucky/Indiana: University of Louisville, Ball State University, and University of Kentucky
Team website: sd2013.teamkentuckiana.org
For the U.S. Department of Energy Solar Decathlon 2013, University of Louisville, Ball State University, and University of Kentucky designed the Phoenix House, which helps families rebuild resilient communities in the wake of a natural disaster. The house can be assembled rapidly using a prefabricated main living core and a secondary bedroom module. The house uses durable, low-maintenance, reclaimed materials and an open floor plan with a vaulted ceiling to maximize space. Designed to be self-sustaining, the Phoenix House produces all its energy from photovoltaic panels and recycles much of its own water.
Design Philosophy
The Phoenix House is a permanent solution for disaster relief housing and is designed to be quickly deployed and assembled while preserving a high standard of living. Using reclaimed materials throughout, the Phoenix House incorporates elements of an old house into a new one. It combines traditional and contemporary aesthetics in the interior and exterior and supports green living by enabling families to be less reliant on nonrenewable sources of energy.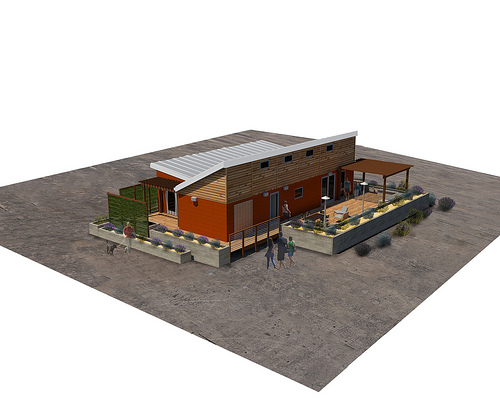 Features
Exterior cladding made of a fiber cement panel rain screen and reclaimed wood siding is built for high durability and low maintenance.
The multipurpose living room transforms into an entertainment space, home office, or extra bedroom and extends to a large deck.
An open floor plan with vaulted ceilings and a loft maximizes space and storage.
The bathroom doubles as a weather shelter with a steel door, multiple layers of envelope materials, and a non-shattering window.
The master bedroom features French doors that open to a private patio enclosed by a grapevine-covered green wall.
A natural kitchen garden provides fresh herbs and vegetables.
Technologies
Structural insulated panels in the walls and roof systems enable increased efficiency, ease of construction, and improved structural resistance.
The sloped roof houses 7.6 kW of solar panels to power the house.
An energy-recovery ventilator constantly exchanges air to provide high air quality.
A solar water heating system integrated with the HVAC system increases the overall energy efficiency by sharing energy between the house systems through hot and cold air recovery.
A motion-controlled, light-emitting diode lighting system maximizes energy efficiency.
A unique wall system enables electrical and data cabling to be quickly installed with connections made behind a removable baseboard.
More Coverage of Solar Decathlons
The last decathlon was in Washington DC and we did visit it as well as write an extensive series of articles --- https://www.altenergymag.com/emagazine/2011/08/the-solar-decathlon/1756
The content & opinions in this article are the author's and do not necessarily represent the views of AltEnergyMag
---
Comments (0)
This post does not have any comments. Be the first to leave a comment below.
---
Post A Comment
You must be logged in before you can post a comment. Login now.
Featured Product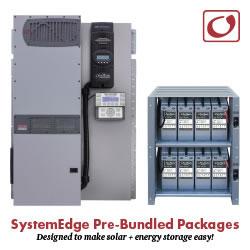 Each pre-bundled package is designed to make solar plus energy storage easy. By combining OutBack's most popular FLEXpower pre-wired systems with matched OutBack energy storage, SystemEdge takes the guesswork out of installing solar plus storage. Every SystemEdge package includes a FLEXpower factory pre-wired system, application-specific EnergyCell batteries and racking, FLEXware ICS Plus combiner and all the necessary connection hardware.