More than 88 megawatts (MW) of stationary fuel cells have been installed or ordered by U.S. businesses and utilities.
The Business Case for Fuel Cells - Power Reliability and Savings
Sandra Curtin | Fuel Cells 2000
Corporate customers are finding that fuel cells pays off - by saving money on fuel and labor costs, reducing emissions, and yielding substantial savings through increased efficiency and reliability. Fuel Cells 2000's new report, The Business Case for Fuel Cells: Reliability, Resiliency & Savings, examines the companies taking advantage of clean, reliable fuel cell power generation and a range of reported benefits, which include lower energy costs, decreased emissions, water savings, a smaller footprint, and lower noise. Many companies have become repeat customers, purchasing additional, and in many cases, larger, fuel cell systems for their facilities.
Fuel cells are now operating in stationary and motive power applications to provide:
primary power to materials handling equipment, resulting in improved efficiency and cost savings at warehouses and distribution centers;
reliable, resilient primary power for high-volume data centers;
high-efficiency, low-emission power for corporate headquarters;
backup power to crucial computer and communications networks;
clean, reliable power that keeps retail stores open even when grid power goes down; and
megawatt-scale power feeding directly into the power grid.
The number of fuel cell applications continues to grow, with promising demonstrations involving zero-emission trucks at ports, stationary and motive applications at airports, and power for refrigerated trailers used to transport food to grocery stores and restaurants.
This report is the fourth in a series. In the 2012, 2011, and 2010 Business Case reports, we profiled more than 70 companies incorporating fuel cells with other technologies in order to better achieve their sustainability goals and improve resiliency. In our latest edition, we report that:
More than 88 megawatts (MW) of stationary fuel cells have been installed or ordered by U.S. businesses and utilities.
700+ fuel cell-powered material handling vehicles have been ordered or deployed in warehouses and distribution centers around the country.
Several key markets have developed for fuel cells in the last few years, especially in industries where power reliability is critical. When a data center goes offline it can cost a company millions. Backup power and uninterruptible power supply (UPS) systems are crucial to attaining this goal, but diesel gensets used today are inefficient and costly to operate. Fuel cells are an ideal power source for data centers because they generate high quality, computer-grade power, have few moving parts and are extremely reliable. Several notable data center fuel cell installations were made in 2013, including First National Bank of Omaha in Nebraska (their second fuel cell backup system…they bought their first way back in 1999!); Microsoft, which will test a fuel cell powered data center powered by biogas from a wastewater treatment plant; and Equinix in Frankfurt, Germany, which installed a fuel cell system to generate energy for its FR4 data center and to serve as a fire suppression system, which is the company's area of expertise. In the past few years, several other major corporations have purchased or deployed fuel cells for power generation at newly-developed data centers, including Microsoft, Apple, eBay, Google, Verizon, JPMorgan Chase, Williams-Sonoma, and several others.
Major telecommunications companies in the U.S. – AT&T, Sprint, MetroPCS and T-Mobile (which recently acquired MetroPCS) – collectively have located hundreds of fuel cells installed at telecommunications towers and sites around the country. Fuel cells are capable of providing either short duration runtime or extended duration runtime for telecom switch nodes, cell towers, and other electronic systems that require a highly reliable, on-site, direct DC power supply. Fuel cells last a lot longer than their battery counterparts - 10 years versus 3-5 years - and require less maintenance, saving both money and time. They are virtually silent compared to the loud and smoky diesel gensets frequently used at these sites, and are scalable, so they can be constructed to meet any power requirement. In addition, fuel cell products are rugged and durable, so they can provide power to remote sites that may be subject to inclement weather. Internationally, this market is growing rapidly in Latin America, the Caribbean, Indonesia, India, and South Africa, and as well as expanding into China and Japan.
U.S. electric utility companies have begun to deploy megawatt (MW)-scale fuel cells at electric power stations to generate and deliver electricity to the power grid. Adding fuel cell power generation helps energy companies meet clean energy requirements imposed by Renewable Portfolio Standards – a regulation in place in many states (and countries) requiring energy companies to acquire a certain percentage of their electricity from renewable sources. Delmarva Power now operates 30 MW of natural gas-powered Bloom Energy Servers at two substations, enough to power about 22,000 homes, for its Delaware customers - the largest utility-scale deployment of fuel cell technology in the U.S.! The Bloom Energy fuel cell units performed without trouble during Superstorm Sandy, delivering continuous and reliable power to the grid. In 2013, several other energy companies announced plans for fuel cell power generation. NRG Energy will convert a unit at its 500-MW Montville, Connecticut power station to a wood-burning biomass generator, and will add a 5.6-MW FuelCell Energy natural-gas powered fuel cell system and a 2.3-MW solar power system to create a renewable energy park. Dominion has broken ground on a 14.9-MW fuel cell power generation facility in Bridgeport, Connecticut - enough electricity to power approximately 15,000 homes - and will sell the output to Connecticut Light & Power (CL&P). In addition, United Illuminating (UI) and the city of Bridgeport have proposed a 5-MW Fuel Cell Energy renewable energy park at the city's former landfill site that would include a 2.8-MW fuel cell and a 2.2-MW of solar array.
The material handling sector has provided the fuel cell industry with an early and growing market in the U.S., with deployments and orders for forklifts and lift trucks inching closer to 5,000. Companies are finding benefits to converting an existing fleet to operate on fuel cells, or purchasing new fuel cell material handling vehicles, above and beyond the great reduction in polluting emissions. These include economic benefits, saving a company time with increased productivity as well as money from fuel and labor costs. Fuel cells last longer than batteries, and take only a few minutes to refuel, allowing workers to spend more time on the warehouse floor moving product than they do swapping out batteries or chugging along as battery power decreases. Many facilities are also recouping space that was previously allotted to house and change batteries and are now storing more goods. According to fuel cell manufacturer Ballard Power Systems, a typical high throughput warehouse can expect up to 24 percent savings in total lifetime ownership costs, resulting in a payback of less than one year, with over 50,000 hours of productivity recovered per year. Many big name companies now utilize fuel cell forklifts, and several have place repeat orders to add fuel cells to other sites, such as BMW, Coca-Cola, Procter & Gamble, Kroger and Lowe's. Fuel cells can also operate in freezing temperatures, which led Walmart, a company that had already tested and deployed several hundred fuel cell forklifts at facilities in Ohio and Ontario, Canada, to choose fuel cell lift trucks for its sustainable refrigerated distribution center in Alberta, Canada.
Corporations are also taking advantage of the cost, efficiency and emissions savings, using fuel cells to power buildings, corporate campuses, production facilities, and retail sites. In 2013, installations included Intuit, Kellogg's, Macy's Target, and URBN (formerly Urban Outfitters), among other sites. Walmart, which is already using fuel cells to power 35 California stores and operates fuel cell-powered forklifts at several North American sites, is now planning to add fuel cells to several of its retail stores in Connecticut. These corporations not only benefit from fuel cells' reliability and emissions savings - stationary fuel cells can generate power at 8-11 cents/kWh, making it competitive with grid energy in many states.
All this, and much more, can be found in our new report: The Business Case for Fuel Cells: Reliability, Resiliency & Savings.
The content & opinions in this article are the author's and do not necessarily represent the views of AltEnergyMag
---
Comments (1)
Thank you for your newsletter, I learn so much here. I just built a solar horse waterer on some remote property in Northern Idaho. Fell free to copy my design. See it at www.SimpleEarthEnergy.com
Post A Comment
You must be logged in before you can post a comment. Login now.
Featured Product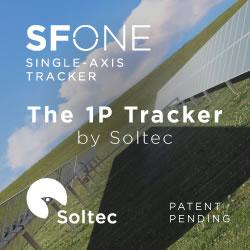 SFOne is the 1P single-axis tracker by Soltec. This tracker combines the mechanical simplicity with the extraordinary expertise of Soltec for more than 18 years. Specially designed for larger 72 an 78 cell modules, this tracker is self-powered thanks to its dedicated module, which results into a lower cost-operational power supply. The SFOne has a 5% less piles than standard competitor, what reduces a 75% the labor time.