The global energy future is not about a single technology, it's about a mix of core and enabling technologies that provide a portfolio of options to meet different consumer needs in different settings.
NextEnergy Drives Investment in Advanced Energy Technologies in Michigan
Jean Redfield | NextEnergy
How did NextEnergy get its start?
NextEnergy was founded through a grant from the state of Michigan and some legislation designating the physical neighborhood as a tax-free renaissance zone. Below is a press release from the original announcement of the new NextEnergy zone from November 14, 2002:
NextEnergy Renaissance Zone approved - Designation continues Michigan's Alternative Energy Drive - The Michigan Economic Development Corporation (MEDC) announced today that a significant portion of the Woodward Technology Smart Zone Corridor has been designated a tax-free Renaissance Zone. This new NextEnergy zone, located at Wayne State University Research and Technology Park in the city of Detroit, will be the home to the NextEnergy Center.
What does NextEnergy do?
Our primary mission is to drive investment and support job creation and retention in advanced energy technologies, businesses and industries in Michigan. We accomplish this mission in three ways.
We provide industry and venture support services to individual companies (start-ups, early stage and established firms), researchers, and clusters of companies and researchers. Examples of the services we provide are: technology vetting, business consulting, market analysis, matchmaking and partnerships, and access to funding.
We host testing and demonstration programs to accelerate technology commercialization. We do this in several ways.
We partner with companies incubating in our labs.
We have eight labs that offer wet lab chemistry and/ or electric infrastructure capabilities to support development of advanced energy technologies. Three of our lab partners have already "graduated" to manufacturing spaces in Michigan.
We utilize our center's testing and demonstration platforms to bring multiple technologies together, form funded partnerships and test the technologies as a system.
Our platforms include a micro-grid pavilion capable of mimicking any electric system in the world, Photovoltaic (PV) distributed generation, Direct Current (DC) power networks, alternative fuels platform, electric vehicle and vehicle to grid infrastructure, advanced lighting solutions, and a unique residential test bed we call NextHome where advanced energy efficiency materials and DC appliances and consumer electronics can be tested with local PV generation, energy storage and advanced energy management systems and consumer apps.
We host technology challenges at locations other than our center where we build public-private partnerships to demonstrate new technologies in real world settings.
We provide input to policy as it relates to energy by informing policy makers through public forums, convening events, and industry working groups. We help inform leaders about program design, research investment priorities and ways to remove market barriers.
Energy and transportation markets are highly regulated and have long investment timelines with heavy capital investment requirements. Consequently, for new energy technologies to be adopted, whether they are targeted to buildings and the grid, or transportation markets, policy considerations need to be addressed.
Click here for more information and a full list and description of our services: http://www.nextenergy.org/whatwedo/
I understand that NextEnergy has played a significant role in many early initiatives such as wind, energy storage and biofuels. Tell me about them.
NextEnergy's role is to drive investment and job creation/ job retention in advanced energy in Michigan. We do this by analyzing markets and innovation pipelines to identify white spaces for technology to meet unmet market needs, mapping these against Michigan-based assets, then working to create partnerships to accelerate investment.
In wind and solar, we recognized that the increasing use of renewable portfolio standards across the US would stimulate demand for wind and solar development. The Michigan market for new renewable project development was limited because we were a low/slow growth state when it came to the need for new electric generation. NextEnergy realized that our state had 'good wind' and solar natural resources, so we focused on helping Michigan-based companies diversify into the wind and solar supply chain. And as result, Michigan is now is one of the top ten states when it comes to wind energy jobs and number four when it comes to solar industry jobs in the US.
In biofuels, we recognized that one of the key market enablers for increased use of biofuels was going to be biofuels standards. Manufacturers could not spec and warranty their products for biofuels until manufacturers could be sure that consumers could get them of consistent specification, so some of our earliest work at NextEnergy was partnering with various industry and university groups to develop the National Biofuels Energy Lab (NBEL) at our facility. NBEL's mission is to translate the research findings into new applications and technologies to increase the overall use of biofuels. In addition, we have worked with companies around the state on biofuels – from catalyst company start-ups, to established businesses that recognized biofuels as a cash flow solution to an agricultural or forest waste problem.
In energy storage, we were part of the team that recognized the importance of innovation in energy storage technologies for next generation vehicles. We helped form an energy storage cluster in Michigan and continue to work with partners like the Center for Automotive Research, Automation Alley, Corporation for a Skilled Workforce and the Michigan Manufacturing Technology Center to support this cluster. We also serve on the advisory board of the University of Michigan Energy Institute which just opened their battery testing facility, and the investment advisory committee of the Joint Center for Energy Storage Research (JCESR) led by Argonne National Lab. But most importantly, we connect various technology companies in the energy storage cluster with market opportunities. Just this year, we put together two product demonstrations in the energy storage space: one involves two Michigan-based companies who are collaborating on a high-energy battery cell development, and the other is a Michigan-based company working with a vehicle OEM on a micro-hybrid solution that will be integrated into vehicles.
I understand NextEnergy has a pretty unique facility. Tell me about it.
NextEnergy Center is 2.8 acre campus with 45,000 square feet of space that provides business incubator and co-working space for companies; living labs for technology demonstrations; corporate offices; and conference space that includes a showroom, auditorium, and break out spaces for convening industry, research, government and community members. We are located in the heart of Detroit's innovation corridor and are just north of the software hub where more than 10,000 software professionals and 40 companies reside. Our campus is adjacent to Wayne State University, TechTown and a short walk from Henry Ford Health System and their innovation center. Details about our living lab demonstration space are in Q2.
What are some of your current programs or demonstrations?
Below is are samples of demonstrations at our center:
Vehicle electrification infrastructure: NextEnergy is the host to vehicle to grid/ vehicle to X demonstrations that are exploring the technology challenges and business model possibilities that arise from electric vehicles plugged into the grid. Electric vehicle batteries are essentially distributed energy storage devices that draw from the grid to recharge, but can also serve as distributed resources to the grid if charging is controlled and/ or bi-directional charging is enabled. NextEnergy has completed several HEV (hybrid electric vehicle), PHEV (plug-in hybrid electric vehicle) and EV (electric vehicle) programs, and is currently actively involved in bi-directional charging, direct current (DC) charging and smart grid/ connected vehicles programs to continue to explore these opportunities.
DC power networks: Power is typically generated and used as DC, but is converted from DC to AC for distribution, then re-converted to DC at the device. NextEnergy is currently demonstrating DC power systems for data center and lighting applications in a commercial building setting (our main building), as well as residential applications (e.g., appliances, consumer goods, lighting, heating, ceiling fans, etc.) in a residential building, NextHome. Benefits of DC power networks are energy efficiency (lower losses from conversion and reduced heat loads), ability to use distributed generation power locally (we use PV installed on our roof), and the ability to re-configure internal spaces without hard conduit/ electricians due to the inherent safety of low voltage DC power, thus providing additional cost savings.
NextHome: NextEnergy is the home of a connected, smart, DC demonstration project that serves as a living lab to demonstrate and test a host of advanced energy technologies including: DC power networks and associated devices, distributed PV, energy storage, sensors and controls, and connected building management and consumer apps.
Advanced lighting solutions: NextEnergy is the host to a number of lighting solutions incorporating latest LED technologies as well as sensors and controls to provide optimal lighting levels at least cost/ energy use.
In the near future, NextEnergy will have additional connected vehicle demonstrations including wireless charging, pedestrian avoidance and connected home-work-travel apps development.
Other programs include the I-Corps training for energy and transportation researchers, our MATch (Michigan Accelerating Technologies) grant program, Department Of Energy-funded Clean Energy Roadmap to support energy efficiency technologies cluster development in Michigan and Ohio, and Department of Commerce Economic Development Administration-funded Advanced Energy Storage Systems Initiative (AESSI) supporting energy storage cluster development.
Which specific alternative energy do you feel is growing the fastest at the current time and which others are in the hunt?
On a global basis, wind power energy is growing the fastest in terms of installed MW capacity, but the question is a bit of a red herring. The global energy future is not about a single technology, it's about a mix of core and enabling technologies that provide a portfolio of options to meet different consumer needs in different settings.
There are literally dozens of core energy technologies for generating electricity or moving people and goods around, as well as the enabling technologies that will need to be built into our buildings, roads, and ICT (information communications technology) infrastructure to enable those core technologies to be effective.
Overall trends favor:
lower emissions
greater emphasis on renewables (vs. depleteable)
growing recognition of the value of effective software controls to optimize energy use and physical movement
increasing attention to improving energy intensity of our devices
reducing energy intensity of our lifestyle
In the US, corporate average fuel economy (CAFÉ) standards are driving energy trends in vehicle design also. We are seeing innovation through micro-hybrid battery technologies, electrification of power train and non-powertrain loads, light weighting of vehicles for greater energy efficiency, and improved internal combustion engine performance through engine design, fuels, and transmission technologies. We are also seeing a surgence of driver-assisted and autonomous driving technologies that will ultimately improve safety, reduce costs, and save energy.
In the built environment, the "internet of things" (a network of physical objects accessed through the Internet) is starting to take hold. Global demands for energy and materials is driving demand for increased energy productivity built through the:
"right" mix of fuels for energy production
balance of central generation/ distribution vs. distributed generation/ local micro-grid use
software controls and consumer apps that have the potential to link our buildings with transportation networks with smart phones to save time, energy, and money.
Is government support in the form of subsidies still essential for the growth of alternative energy industries in the USA?
We must first answer the question, "What is a subsidy?" Is our construction and maintenance of roads and highways a "subsidy" for auto-based transportation? Were the original investments in building dams and electric infrastructure in the 1930's and the first version of the electrical grid a "subsidy"? We often forget that much of our existing infrastructure for energy and transportation was built through public investment and/or regulated monopoly, so expecting to build out our next generation infrastructure without considering the public good/public investment models may be unrealistic.
What makes the current environment so tough is that, in the US, we are having a hard time discussing and setting priorities for "public good/ public investment" decisions, while we are competing with regions of the world where there are fast, focused public investment strategies in place for energy, transportation, and ICT infrastructure. It would be great if we could shift the conversation from "subsidy/ no subsidy" to what are the forms of public private partnerships and/ or incentives to private players that encourage the investment in next generation energy, transportation and ICT technologies? Without these investments, the US could end up behind on the innovation frontier.
"What's next" at NextEnergy?
What we see is the convergence of the built environment and transportation/mobility with a common set of enabling technologies – energy storage, power electronics, smart grid/microgrid energy management, and ICT-based software controls and consumer apps – that serve both. We also see that Michigan is well positioned to compete as a global center for energy and mobility because of our legacy assets – automotive supply chain, engineering, materials, advanced manufacturing, process controls, and distributed logistics – and current growing talent pipeline to build these technology-based markets, and we are looking forward to being a part of it.
Jean Redfield
Jean Redfield is President & CEO at NextEnergy, a Detroit non-profit organization founded in 2002 whose mission is to accelerate advanced energy technologies, businesses, and industries.
Redfield previously served as the company's Vice President, Public Policy Programs, leading public-sector initiatives, a position she held since 2010, following a fifteen-month consulting assignment for NextEnergy.
Redfield's experience includes multiple leadership roles at DTE Energy, where she served from 1994 to 2001, as well as consulting roles at McKinsey and Company from 1988 to 1994. Her work has primarily been setting strategy, leading major change initiatives and supporting companies as they transform through major dislocations in their respective industries. She has worked in various industries (investment banking, chemicals, aerospace/defense, pharmaceutical and biotech start-ups, and energy) in the United States, Europe, Brazil, India, and China. She has also served as co-owner and CFO of Fordsell Machine Products, a precision machine products company, from 1994 to the present.
Redfield holds a B.A. in biology from Washington University, St. Louis, a B.S. in civil engineering from the University of Memphis, and an M.B.A. from the Wharton School, University of Pennsylvania.
The content & opinions in this article are the author's and do not necessarily represent the views of AltEnergyMag
---
Comments (0)
This post does not have any comments. Be the first to leave a comment below.
---
Post A Comment
You must be logged in before you can post a comment. Login now.
Featured Product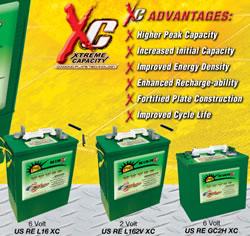 Our RE Series batteries are designed to provide the highest peak capacity, longest cycle life, and greatest reliability for use in industrial or residential renewable energy applications. Renewable Energy Series batteries utilize the company's exclusive XC2™ formulation and Diamond Plate Technology® to create the industry's most efficient battery plates, delivering greater watt-hours per liter and watt-hours per kilogram than any other flooded lead-acid battery in the market. Our Deep Cycle batteries are engineered to work with solar panels as well as other renewable energy applications.