Here are some of the more popular articles so far this year --- a wide range of alternative energy topics.
Most Popular Alternative Energy Articles: Jan - July 2014
Bob Hetherington for | AltEnergyMag
We though we would give you a list of some of the more popular articles we've published so far this year. Many thanks to our sponsors and contributors. ...Enjoy!
Custodians Can Help Energy Companies Market Alternative Investments To Self-Directed IRA Investors
05/15/14, John Johnson, GoldStar Trust Company
Not all custodians will accept IRAs that invest in alternatives but there are many that have specifically developed the expertise to serve this market.
Developing Renewable Energy Projects on Brownfields: Mitigating Environmental Risks & Liabilities
04/14/14, Jon Benjamin and Mathew Swain , Farella Braun + Martel's Environmental Law Department
Although the environmental risks and liabilities associated with brownfields generally diminishes their viability as locations for such facilities, these risks and liabilities can often be sufficiently controlled and minimized through governmental and private party tools to make certain projects worth pursuing.
2013 Nanotechnology Patent Literature Review
02/27/14, Contributed by, McDermott Will & Emery Nanotechnology Affinity Group
For nanotechnology patent literature as a whole, Energy Storage, Photovoltaics and Petroleum Exploration emerged as the top three areas of focus in the Energy sector, each with similar growth since the early 2000s.
Residential And Commercial Refuse-Derived Fuel Waste To Energy
01/31/14, Dr S. Roy and Mr Richard H. Stone, Environmental Energy & Finance Corporation Ltd
This report serves as an overview of gasification technologies processing municipal solid waste (MSW) that includes non-recycled plastic.
02/27/14, Contributed by, The Electric Power Research Institute, Inc. (EPRI)
Excerpts from the EPRI Study on the Integrated Electric Grid
Unorthodox Forms of Alternative Energy
05/30/14, Len Calderone for, AltEnergyMag
Not all of these technologies will make it out of the concept stage, and many are decades away from becoming practical. What may seem weird today might just be a reality in the future.
Intersolar North America 2014 - Special News Report
05/30/14, Prepared by, AltEnergyMag
News announcements from show. Open for exhibitors - publish your news here.
Using Algae to Produce Four Key Fuels
03/27/14, Paul Woods, Algenol Biofuels
At Algenol, algae is combined with carbon dioxide, salt water and sunlight in Algenol's proprietary photobioreactor system to produce thousands of gallons of fuel per acre.
Solar Power and the Future Energy Mix
03/27/14, Vlatko Vlatkovic, GE Power Conversion
In the near future, as solar becomes even more efficient and cost effective, it will play a larger role in industry and energy production. Plants that primarily burn natural gas for fuel, for example, will increasingly use solar to supplement the process to increase the efficiency of power generation.
Vocational Training for the Renewable Energy Industry
05/15/14, Martin Smith, CleanEdison
We are preparing our students for the careers of today and tomorrow. It may seem controversial to say but the truth is not everyone needs a college degree.
Unbiased, Comprehensive Solar Module Rating System
03/27/14, Matthew A. Thompson, Ph.D., Principal Solar
Although we have over 12, 000 PV modules in the database today, we are always searching for new modules. Manufacturers and consumers can contact us if they have modules that are not listed.
Renewable attractiveness indices and institutional investors
01/31/14, Gil Foster, EY
Renewables are on a clear path to commercial viability without subsidies. That is why renewables are projected to be the fastest-growing energy source over the next twenty years.
The Key To Residential Solar Power Is Now Marketing
03/27/14, Brian F. Keane , SmartPower
The potential for solar power is now enormous. The economics are attractive; the appeal is proven; the code has been cracked. With proper marketing, the future of solar power is very bright indeed.
NY Working Hard to Catch Up with CA's Energy Storage Requirements
01/31/14, Bill Radvak, American Vanadium Corp
Next up at the plate as a hot, receptive market for energy storage in North America is New York.
Google Launches World's Largest Solar Power Project
03/14/14, Ryan McNeill, Renewable Energy Corporation
Ivanpah is thought to be the world's largest solar power project, or at least the largest of its type. The plant uses 347,000 mirrors, which utilize software controls to turn to face the sun throughout the day.
Grid Parity: A Foggy Signal for Solar Maturity
01/31/14, Katherine Portilla, Circular Energy
What we can expect to see is a gradual transition of solar from an alternative energy to a truly cost competitive source of energy that helps counteract rising electricity rates and fuel costs.
India Sustainable Communities Proposal
02/13/14, Dr. S. Roy and Dr H. Guevara for, NuEnergy Technologies
This presentation focuses on systematically highlighting the ways to optimize waste-to-energy plants in terms of their energy efficiency as an indicator of the positive effect with regard to climate control. Potentials for increasing energy efficiency are identified and grouped into categories.
The content & opinions in this article are the author's and do not necessarily represent the views of AltEnergyMag
---
Comments (0)
This post does not have any comments. Be the first to leave a comment below.
---
Post A Comment
You must be logged in before you can post a comment. Login now.
Featured Product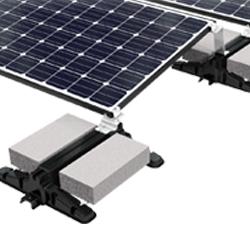 Preformed Line Products introduces the POWER MAX Ballasted Roof Mounting System. The POWER MAX solar mounting system is engineered to maximize energy output on commercial flat roofs. Developed with the professional installer in mind, this system offers adjustable inter-row spacing in the field of up to 11 inches. It features 50% fewer components and a simplified design resulting in faster assembly rates and labor savings on every project. Available in a flush mount, 5˚ or 10˚ tilt or higher density dual tilt design, the POWER MAX base arrives stacked on pallets providing easier transport to the roof. Engineered as a fully ballasted, non-penetrating system, it accepts standard concrete blocks and is qualified by wind tunnel testing.