Over the years we've seen and experienced many challenges and barriers in the constantly evolving renewable energy industry. There are regulatory hurdles, technical challenges, and consumer acceptance, to name a few. But one of the biggest impediments to widespread change has always been finance. Now, the emerging finance method of "crowd funding" has provided a new way to leave out third parties, provide energy and monetary benefits to investors and democratize energy in the true sense. The five platforms listed below are the top leaders in renewable energy crowd funding, based on the money they have raised so far.
LAUNCH: 2010
COUNTRY: THE NETHERLANDS
MONEY RAISED: ~14.3 MILLION EUROS
AVERAGE ROI: 7%
MODEL: INVESTORS RAISE CAPITAL TO ACQUIRE WINDMILLS AND USE ENERGY GENERATED TO POWER THEIR HOUSEHOLDS.
Launched in 2010, Windcentrale has raised up to 14.3 Million Euro up untill today, making it the world's biggest renewable energy crowdfunding platform. The record breaking project that raised 1.3 million euro in 13 hours (!) was just one of its many endeavours. The model it operates under is fairly simple: money is raised by private individuals on the platform to acquire windmills; each investor becomes an owner; and, thus, reaps the (financial) benefits. On average, every investor receives about 500 kWh per year, enough to take care of their energy bills for the next 12-15 years. With financial returns of 7% (if energy prices continue to increase at 3% annually), investing with Windcentrale is highly appealing. The platform aims 'to accelerate the switch to sustainable energy in The Netherlands' and surely they have - within their short four year span - made themselves a household name in the world of crowdfunding.
Want to read more about Windcentrale?
Website: www.windcentrale.nl
Dutch Wind Turbine Purchase Sets World Crowdfunding Record (Renewable Energy World)
How crowdfunding could revolutionize solar (GigaOM)
The Dutch Set a New World Record for Crowdfunding Clean Energy (Mosaic)
PS: Meet Harm Reitsma, founder of Windcentrale, at the Renewable Energy Crowdfunding Conference

LAUNCH: 2009
COUNTRY: UNITED KINGDOM
MONEY RAISED: ~8 MILLION EUROS
AVERAGE ROI: 7.25%
MODEL: INVESTORS RECEIVE PERCENTAGE OF THE REVENUE OR PROFIT GENERATED FROM THE SALE OF THE ELECTRICITY PRODUCED BY THE PROJECT.
Though launched in 2009, Abundance Generation's platform actually began operations in 2012, after a long process to become the first crowd funding platform to be authorized by the Financial Conduct Authority. Abundance Generation allows investors to put their money in many different types of alternative energy projects in the UK. The platform enables investors to start putting in money from the age of 18 and up. Well known for its investing model - allowing people to lend as little as 5 Pounds - the platform has raised approximately 8 Million Euro today. Investors can expect up to 8.6% of financial returns with debentures that last for 20 years. Taking a different approach than Windcentrale, investors don't receive energy benefits, but money straight into their pockets. The investors get a claim on a percentage of the revenue or profit generated from the sale of the electricity produced by the project. Although the platform currently primarily operates in the area of renewable energy, they aim to venture into social needs and ethical benefits in the future.
Want to read more about Abundance Generation?
Website: www.abundancegeneration.com
Abundance Generation invents democratic finance (The Guardian)
Abundance Generation sets new green crowdfunding record (BusinessGreen)
Abundance:small business,big idea (the Guardian)
P.S: Meet Bruce Davis,one of the founders of this platform at the Renewable Energy Crowdfunding Conference
LAUNCH: 2013
COUNTRY: UNITED STATES OF AMERICA
MONEY RAISED: ~6.3 MILLION EUROS
AVERAGE ROI: 5%
MODEL: INVESTORS RECEIVE PERCENTAGE OF THE REVENUE OR PROFIT GENERATED FROM THE SALE OF THE ELECTRICITY PRODUCED BY THE PROJECT.
Launched in 2013 , Mosaic has made more than 6 Million euro in a very short span of time. The platform operates similarly to Abundance energy, providing investors with returns generated through the sale of the solar energy generated by the project. The company functions like a virtual renewable energy bank, soliciting investments for solar projects and giving out loans that are to be paid back, typically, over about 10 years. The platform allows investors to invest from $25 on and provides them with returns of an average of 5%. The platform has become a major player in its own right in the solar PV market where more and more investors have become interested in crowd financing models for their solar projects. It has drawn a lot of attention from the media, and is usually being refferred to as the 'kick starter' for solar (for instance, by well known 'techie blog , TechChrunch). The platform is well known as the first US online marketplace for solar and is seen to be rapidly growing in the sector with many upcoming projects. Currently only investors from New York and California are able to participate, but the platform aims to enable investors from other states to be part of their success.
Want to read more about Mosaic?
Website: www.joinmosaic.com
Is crowdfunding the future of solar financing? (The Motley Fool)
Solar Mosaic Raises $2.5 Million Series A To Be The "Kickstarter For Solar" (TechCrunch)
Startup Launches Online Platform To Let Individuals Invest In Solar projects (Forbes)
P.S :Meet Gregory Rosen , the Chief Investment Officer of Mosaic Inc at the Renewable Energy Crowdfunding Conference
LAUNCH: 2013
COUNTRY: UNITED KINGDOM
MONEY RAISED: ~1256 K EUROS
AVERAGE ROI: NO DATA
MODEL: INVESTORS EARN MONEY ON ENERGY SOLD FROM THE PROJECTS THEIR FINANCED AND COMMUNITIES WITH LIMITED RESOURCES BENEFIT FROM THE ELECTRICITY PROVIDED.
The GenCommunity platform launched in 2013, has only had two projects so far but has raised around 1 Million Pounds with these two projects. Their aim is to develop and invest in socially beneficial projects that build community knowledge and resilience, alleviate fuel poverty, and support the sustainability and security of UK energy supplies. The platform allows investments for solar PV projects across UK with returns of an average of 7% and 30% electricity saving per annum which approximately saves 12.000 pounds per annum. The platform aims to help communities that are in 'fuel poverty' and don't have resources to overcome their obstacles by enabling investors to lend capital for these projects. The model is a win-win system where investors receive capital rewards and communities receive energy benefits. The platform has received the British Renewable Energy Award in 2013 for their contributions.
Want to read more about GenCommunity?
Website: www.gen-community.co.uk
GenCommunity project to tackle fuel poverty (Social Enterprise UK)
Solar co-op closes share offer after raising £450,000 from 98 investors (Blue and Green tomorrow)
LAUNCH: NO DATA.
COUNTRY: UNITED KINGDOM
MONEY RAISED: ~480K EUROS
AVERAGE ROI:NO DATA
MODEL: COMMUNITIES FUND PROJECTS FOR THE LOCAL SCHOOLS AND RECEIVE PAYMENTS THROUGH FITS AND SCHOOLS BENEFIT FROM ENERGY GENERATED THROUGH THE PROJECT.
Solar Schools is an initiative to install PV panels of the rooftops of schools across England and Wales. The platform allows parents, teachers and local communities to fund as little as 5 Pounds to install PV panels on the roofs of local schools. So far, 17 schools have already been funded. 27 other projects are still running and waiting for complete funding. The platform partners with 10:10; a charity organization that has pledged to take responsibility in running the projects after the funding. Schools receive Feed in Tariffs from the energy generated by their panels and receive energy benefits from the panels as well, guaranteed up to 20 years. This scheme has developed energy consciousness amongst the youth and has bought communities closer and more importantly have raised over 480000 Euros.
Want to read more about Solar Schools?
Website: www.solarschools.org.uk
Power to the Pupils (Dept. of Energy and Climate change UK)
Solar Schools Create Educational Opportunities In UK & Cut Costs (Clean Technica)
Ten reasons to apply for solar schools (10:10 Global)
Crowdfunding has become a serious source of capital to kick-start new ventures. It is also proving to be a powerful method to quickly raise capital for renewable energy projects worldwide, be it based on a steady ROI for a multitude of investors or a community effort to empower a shared building.
The Renewable Energy Crowdfunding Conference will connect the leaders in crowdfunding to project developers, investors and banks with an interest in exploring and using crowdfunding for their business.
30 OCTOBER 2014 /// LONDON, UK
The content & opinions in this article are the author's and do not necessarily represent the views of AltEnergyMag
---
Comments (0)
This post does not have any comments. Be the first to leave a comment below.
---
Post A Comment
You must be logged in before you can post a comment. Login now.
Featured Product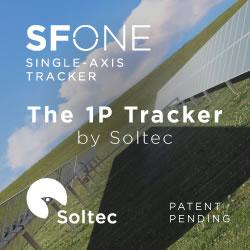 Soltec manufactures and supplies solar trackers designed and proven for extreme climate conditions, which is an ideal solution for any region's environment. Soltec's trackers are self-powered, requiring no additional PV module or grid-powered connection. Bifacial modules collect energy on both the front and rear sides, capturing reflected irradiance from the ground surface under and around the tracker and from other modules. Depending on site conditions, bifacial yield-gain can reach +30 percent.