Far below a catwalk that runs along the side of ArcelorMittal Dofasco's (AMD) hot mill plant in Hamilton, Ontario, 20-ton slabs of red-hot iron rattle by on a long conveyer belt. As the heat radiates upwards, it's easy to understand why the process of making steel is extremely energy-intensive.
Ian Shaw, AMD's manager of energy management, likens the appearance of the slabs to "giant chocolate bars." Before being placed on the conveyer belt, the slabs are stacked on the mill floor—and they are very big. Each one contains enough metal to make 10 cars.
After being heated to 1,200 degrees Celius for more than two hours in one of the mill's massive furnaces, the fiery blocks are sent down the conveyer belt every 90 seconds, passing through a series of mills that stretch them into steel sheets up to 1,600 meters long, with a finished thickness of 0.15 to 1.4 centimeters.
This extraordinary transformation takes place in a highly automated plant in a Canadian city affectionately known as "Steeltown." The factory employs approximately 5,000 people and consumes vast quantities of energy—equivalent to 25 percent of its total operating costs.
To reduce wasted energy, carbon emissions and cost, AMD, a Canadian operation of the world's largest steel maker ArcelorMittal, has recently invested in eight energy conservation projects at the Hamilton plant. Through the Ontario Power Authority's (OPA) Industrial Accelerator Program, AMD has reduced demand on Ontario's electricity network by 10 megawatts.

With funding from the Ontario Power Authority's Industrial Accelerator Program, ArcelorMittal Dofasco has invested in eight energy-conservation projects at its Hamilton, Ontario, Canada, plant, and reduced its electricity demand by 10 megawatts.
"Over the past three years," says Shaw, "we have implemented more than 300 conservation projects that have benefited AMD by reducing overall consumption by the equivalent of producing 100,000 tons of steel at no additional energy cost."
The Ontario government has been working to become the first jurisdiction in North America to remove coal-fired generation from the regional electricity system. Since 2009, energy officials have also pushed ahead with energy and economic development policies intended to spur private investment in renewables, smart grid technology and conservation.
Established in 2005, the OPA, an independent corporation responsible for ensuring an adequate, long-term supply of electricity in the province, has launched a number of conservation incentive programs targeted at industrial players like AMD. Energy-reduction measures on the scale seen in the AMD plant are a cost-effective addition to provincial investments in wind, solar and biomass generation, according to government officials.
AMD's conservation program includes installing equipment to capture the heat thrown off by the furnaces and convert it into electricity for use on site. AMD will also convert its system to a high-efficiency conveyer belt, and is gradually replacing all existing lighting with LEDs.
While AMD is using well-established technology to reduce energy consumption, other firms are developing new engineering solutions to improve the productivity of renewable power sources.
Temporal Power Ltd., a three-year-old Mississauga, Ontario company, has created a state-of-the-art energy storage system based on a specialized flywheel that converts electricity into kinetic energy. Company officials say the invention, which was developed with R&D funding from the OPA as well as private sources, acts as a "shock absorber" that helps manage the power surges generated by wind turbines and solar panels.
As much as 50 kilowatt-hours of energy can be stored in a single, spinning cylindrical unit that weighs as much as 4,100 kilogram. While the flywheel to revs up to full speed in a mere six minutes, the cylinder spins so rapidly that it would take days for it to come to a complete stop. Driven by an electric motor, the flywheel behaves like a battery and the kinetic energy created can be used over time as needed. Unlike a conventional battery, such flywheel devices do not degrade over time, nor do they require any electrical input when turned off. Temporal Power claims its system holds two to 50 times more energy than other commercially available flywheels.
The payoff, says Temporal CEO Cam Carver, is that the technology provides grid stability—generating power when the wind doesn't blow and the sun isn't shining, thereby making more efficient use of existing power sources by capturing energy that would otherwise be lost. Carver adds that the flywheels may be especially well suited for remote communities, where energy costs can be exorbitant due to the reliance on diesel generators.
"You want to use renewables in remote areas," says Carver. "But these energy sources are erratic. Flywheels help stabilize supply through storage and release."
Other Ontario R&D firms are looking to similar solutions to squeeze extra energy from industrial equipment such as the conventional electric motors that run grinders, sawmills, conveyors and cranes. Those motors consume huge quantities of power, but the majority of them operate at low efficiency levels, according to a recent U.S. Department of Energy study.
The reason? They tend to be oversized because of the additional torque required for start-up, says Paul Bottero, CEO of InMotive. The Toronto firm, which has offices in a high-tech incubator facility known as the MaRS Centre, is developing a high-efficiency transmission—known as a mechatronic variable speed drive—that allows conventional motors to quickly get up to speed without gorging electricity. Bottero says prototypes have added 10 percent efficiency to existing motors. But another big incentive for industrial users will be a 30 to 50 percent reduction in capital costs as they replace inefficient older motors with models fitted out with InMotive's transmission.
Industrial motors aren't the only hidden—and largely untapped—sources of additional electricity. ENBALA Power Networks, a technology company established in 2003 with offices in Toronto, and operations in the United States, has built a highly sophisticated, real-time demand-management platform for utilities and system operators. By working with commercial, industrial and institutional power consumers—such as cold storage facilities or hospitals—ENBALA's trademarked "GOFlex" platform coordinates the continuous balance between energy demands and a changing supply mix.
With 5,000 megawatts of new wind, solar, and biomass generation coming online in 2014, Ontario's grid operators have had to find innovative ways of dealing with the intermittent nature of these renewable sources. "We have to deal with this increased volatility," says ENBALA's President and CEO Ron Dizy. "There's actually a lot of storage that already exists on the grid."
The firm's technology automatically makes small, real-time shifts in the power usage of large electricity users. ENBALA's platform helps the province's grid operators balance supply and demand, enabling them to reliably integrate intermittent renewable energy. ENBALA's early demonstrations were funded through Ontario's $50-million Smart Grid Fund, and the OPA selected the company's load balancing solution through a competitive tendering process in 2012.
Back at the AMD plant in Hamilton, Shaw considers the impressive environmental benefits of the facility's conservation measures. But AMD's efforts have an even more interesting message: in a traditional smoke-stack factory, management-driven energy efficiency measures funded by a provincial conservation program are producing enough energy savings to power 10,000 homes every year. Not exactly what you'd expect from the inferno of a steel mill.
About Ontario's Ministry of Economic Development, Employment and Infrastructure
The Ministry of Economic Development, Employment and Infrastructure supports a strong, innovative economy that can provide jobs, opportunities and prosperity for all Ontarians. The ministry delivers a range of programs, services and tools to help businesses innovate and compete in today's fast-changing global economy, including business support and youth entrepreneurship programs, strategic investments and international trade and export expertise. Through the government's Open for Business initiative, the ministry helps make investing in Ontario more attractive for businesses, while protecting the public interest.

Through the Accessibility Directorate of Ontario, the ministry works with the disability, private and public sectors in the interest of promoting accessibility for all.
The content & opinions in this article are the author's and do not necessarily represent the views of AltEnergyMag
---
Comments (0)
This post does not have any comments. Be the first to leave a comment below.
---
Post A Comment
You must be logged in before you can post a comment. Login now.
Featured Product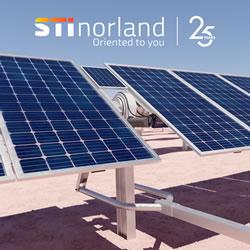 Developed in 2017, the STI-H250™ is consists of two linked torsion beams that rotate simultaneously following the sun's path. They are moved by just one motor, cutting supply and maintenance costs. STI-H250™ dual-row tracker includes backtracking mode to avoid shadowing between adjacent rows and stow function to protect the tracker in extreme wind conditions. For cleaning, vehicles can pass between trackers and each row can be placed in a different position.