A sustainable small pocket neighborhood development alternative to the traditional subdivision housing model and even to the standard condo / townhouse model.

Don Harmon | Tilapia Village
Community
Noise from the outside is shielded in part by tall trees that surround the 12 + acre sanctuary of solitude and peace. Once inside the place and forgetting the world outside, the centerpiece is a canal that brings the bodily five senses to life. Eyes and hands can see and feel dew-sprinkled trees and grasses in the mornings. Ears can hear the sounds of chirping birds and fish jumping and splashing in the canal. The nose can smell the wild flowers and native plants and occasionally, a squirrel or a tree lizard can be spotted. A resident can expect quiet mornings, lazy afternoons and slow evenings. One might paddle a kayak to visit a neighbor or catch a couple of fresh Tilapia from her private dock for dinner with friends.
Ranch Style Home Options
Choose between our 1300,1968 or 2568 Sq. Ft. Models including attached rear garages & optional private docks. We also include, with All models, an outdoor entertainment deck with a Spa, and an Optional turn - key Hydroponic Green House package for those who want to grow their own vegetables year round. We have a Plan to fit everyone!
Landscape
The surrounding Canal Landscape is a "Native Plant" - low watering / no maintenance feature that will be maintained by a low HOA fee which also supports stocking of the fish.
NET ZERO RANCH HOUSE PLANS
Selling price will include the cost of lot and the low additional hoa fees for will be set on a yearly basis.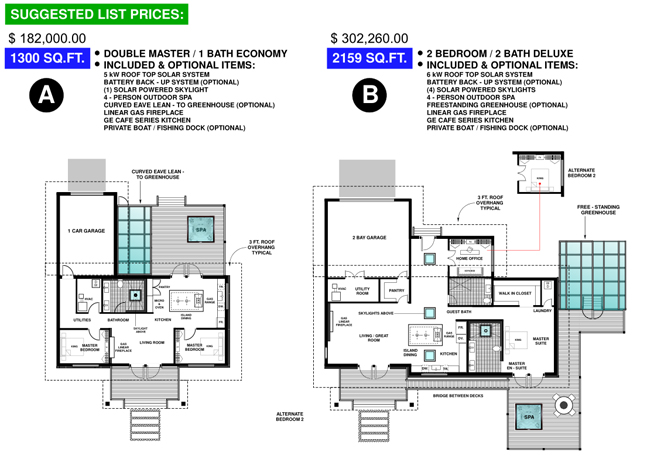 NET ZERO RANCH HOUSE ROOF PLANS
Once the village is complete it will have an aggregate Solar capacity of 180 kW. We think this is enough to make a small self - sufficient Off - Grid Substation. This means TILAPIA VILLAGE doesn't have to create a drain on the main grid system.
NET ZERO RANCH ELEVATIONS
1,200 SQ. FT. HOUSE OPTIONS: TOTAL OF (40) UNITS
TILAPIA VILLAGE LOT PLAN STANDARDS
SCALE: 1/8" = 1.5'
LOTS: 1/2 OR 1/4 ACRES
Includes your own lot, private dock & piece of the canal. We can fit (36) mixed ranch style units on a 12 acre + property including a ring road access around the lots. These are all single family mixed size detached homes which form a low density residential neighborhood. The developer will provide native plant elements & all canal amenities. A low monthly hoa will maintain the developer furnished amenities including the canal, bike path & the xeriscape irrigation systems. Security is enhanced by all homes facing the canal with garages facing the rear access road.
"TILAPIA" CANAL STOCKED WITH FISH: 3 Acres of Canal
A common Bible story says Jesus fed 5,000 people with five loaves and two fish, which scholars surmise were Tilapia. Americans ate 475 million pounds of Tilapia last year, four times the amount a decade ago, making this once obscure African native the most popular fish in the United States.
CANAL BENEFIT
Since all homes face the Canal the central focus is inward which fosters community interaction and insures a safer neighborhood. Strangers will be noticed quickly and greeted by a neighbor and a friendly inquiry as to who they might be looking for? This is an intuitive security based community by design.

"TILAPIA" CANAL STOCKED WITH FISH: 3 Acres of Canal
There will be approximately 22,000 cubic yards of dirt removed to excavate the 6 ft. deep Canal. In order to prevent costly removal from the site it will be used for a berm on both sides of the Canal that will raise the level of the home foundations approximately 3 feet above the level of the Canal thus re-distributing the excavated material on the same site. This is also a better ecological solution.

COMMON NET ZERO HOME SECTION
SCALE: 1/4 in. = 1 ft.
BUILD FEATURES:
The build includes Exterior Insulated Wall Panels using 6 x 8 framing with 2 x 4 frame interior walls. Exterior walls achieve R 36. Crawl Space Foundation. Garage roof = R 48. Windows are double pane - U value of 0.25 Options to change these Specs. are to be approved by TILAPIA VILLAGE.
DECKS & PORCHES: THERMO - TREATED WOOD
SCALE: 1/8 in. - 3/4 ft.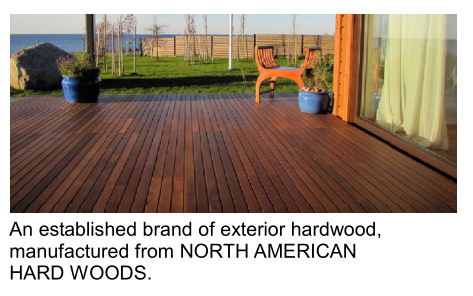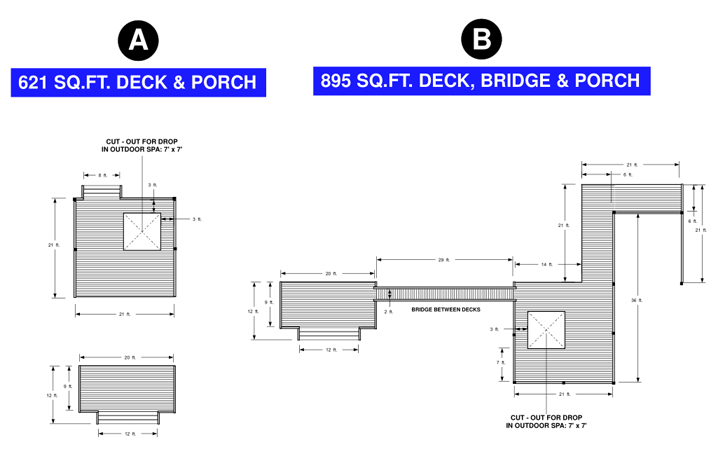 NET ZERO RANCH STYLE HIGH VELOCITY HVAC PLANS
Including Geo - Indoor Thermal Heat Pump
SCALE: 1/8" = 0.75'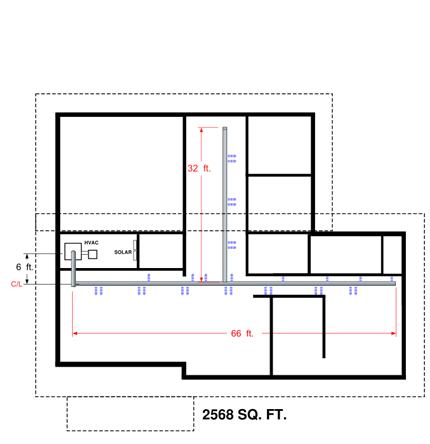 Kitchen and bath fixtures offered @ Tilapia Village are high end energy star appliances and european style plumbing fixtures mixed with old world craftsmanship.
TILAPIA VILLAGE RESIDENTIAL MIXED MODEL MASTER PLAN

IDEAL SITE PARAMETERS
TILAPIA VILLAGE SMALL HOUSE MODEL MASTER PLAN
12 acre pocket neighborhood development / 48 ranch style pre-fabricated homes (1300 sq. ft.) each.
2 ranch style homes (2568 sq. ft.) custom built on - site. although the homes look very close to each other here on this plan they are actually 14 feetapart from each other and all roofs have a3 foot overhang.
Property plot must be facing north / south, be relatively flat, and have asource of water available (creek or well) to feed the canal.
Access to municipal water and sewer is also required
3 acre fresh water canal with (2) community boating / fishing docks.
Solar rooftop systems provide net zero electric bills.

A BRIEF BACKGROUND:
We found plenty of master planned communities, such as Del Webb pioneered, all focused around golf courses, grand clubhouses, and socially planned activities - but this is just not our style. If we want to play golf there seem to be many public golf courses available everywhere and living on one is something I tried once before. Replacing huge picture windows from shanked golf balls is not a pleasant experience and I hardly ever played the course.
The quest lead me to investigate new building products and methods to construct a truly Net Zero energy efficient single story residential village - one that I could see myself living in. It encompassed every item in this list below:
Ideal square footage and floor plans.

High Velocity HVAC systems and clean air exchanges.

Modern Energy Star appliances and water saving plumbing fixtures.

Cost effective building materials and insulation.

Passive Solar site principals.

Photo Voltaic solar systems including Battery Back Up (OPTIONAL).

Off - Grid vs. Grid - Connect.

Modern Skylights to provide natural indoor lighting & natural ventilation.

LED lighting and DC vs. AC wiring schemes.

Generous Outdoor Decks to bring the outdoors into the homes.

Optional Architectural quality Hydroponic Green Houses for growing your own vegetables.

Developing a "commons" area which all the homes face to encourage community interaction.

Hiding garages and driveways in the rear of the homes.

Having large covered front porches facing the Canal.

Having a private dock for small canoes / kayaks and to catch fresh fish for dinner. (OPTIONAL).

Changes in Zoning happening around the country that can allow for more "pocket"

neighborhoods" to be developed.
This study has resulted in the TILAPIA VILLAGE proposal you are now reviewing here in my presentation today. I hope you like it and will want to see it built.
We've just launched a crowd funding campaign here http://www.indiegogo.com/project/preview/a5f0977e
The content & opinions in this article are the author's and do not necessarily represent the views of AltEnergyMag
---
Comments (0)
This post does not have any comments. Be the first to leave a comment below.
---
Post A Comment
You must be logged in before you can post a comment. Login now.
Featured Product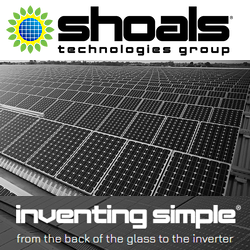 Inventing Simple® isn't just a slogan to us, it's a way of life. Using simple plug-and-play ideology, we revolutionized solar installations in 2003 with our Interconnect System™. Our harnessing system is now the gold standard EPC's use around the world. By using simple ideas, we are making solar energy a more affordable and clean power source for future generations.