AltEnergyMag.com has once again partnered with SPI 2014 to bring all the industry news and exciting new products to help our readers make sense of this key tradeshow. Here we have compiled a list of some product releases from this years show.

Brandon Hetherington for | AltEnergyMag
This years show took place October 20 - 23, 2014 in Las Vegas, Nevada. Over 15,000 + visitors are expected in attendance to learn about the latest technology innovations, financing models, business best practices and policy and incentive programs that are contributing to the growth of the solar industry. With over 600 exhibitors from 100 countries on display showcasing the entire system of solar technology and advances in solar cell and module technology, balance of system components, solar heating and cooling and energy storage.
This year Solar Power International will offer 100 sessions, eight tracks, Master Speakers, 25-minute QuickTalks, and some of the best education in the industry Whether you're an attendee or an exhibitor, an installer or manufacturer.
As a media partner AltEnergyMag.com is covering Solar Power International 2014 and bringing industry news and exciting new products to our eMagazine to help our readers make sense of this massive event. Make sure to check out our special SPI 2014 Newspage for Exhibitor news.
AltEnergyMag.com has once again partnered with SPI 2014 to bring all the industry news and exciting new products to help our readers make sense of this key tradeshow. Here we have compiled a list of some product releases from this years show.
---
IronRidge - XR Rail Family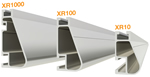 The XR Rail Family offers the strength of IronRidge's curved rail in three targeted sizes: XR10, XR100 & XR1000. Each size supports specific design loads, while reducing material costs by as much as 15-20%.
---
Maxwell Technologies - K2 2.85V/3400F High Capacity Cells
The newest member of Maxwell Technologies' K2 family of ultracapacitors is the 2.85-Volt, 3400-Farad cell. It expands the power range of the K2 family by 17% and the energy range by 23%, making it the most powerful cell available in the industry-standard 60 mm cylindrical form factor. It is also the first cell to incorporate Maxwell's DuraBlue™ Advanced Shock and Vibration technology. Products with DuraBlue technology are tested to some of the most demanding environmental requirements for transportation, increasing vibrational resistance by approximately three times and shock immunity by four times when compared to ultracapacitor-based competitive offerings. Simply put, it the world's most ruggedized cell.
---
Outback Power - OPTICS RE
OPTICS RE is a cloud-based system that provides installers and owners of OutBack systems the ability to easily monitor PV/solar system operation, performance and output via an intuitive dashboard from any Internet-enabled device. Additionally, OPTICS RE will soon provide system owners with the ability to control their energy production and use, which results in higher satisfaction levels from their renewable energy investments. Paired with OutBack's newest Radian inverters—which feature GridZero technology and Advanced Battery Charging for compatibility with any future or existing utility energy scenario—OPTICS RE gives installers more control over their renewable energy production and higher returns on their system investments.
---
Panasonic Eco Solutions - End-to-End Solar Solution

Panasonic Eco Solutions is a leading green innovation company providing customized, integrated renewable energy solutions for customers in both the public and private sectors. Panasonic Eco Solutions has joined forces with Coronal to deliver the first truly comprehensive end-to-end solution to facilitate the development and commercialization of solar PV projects in the commercial, industrial, municipal, and small utility markets.

Working together, our dedicated and experienced team has developed a new model that brings everything under one roof, eliminating the frustration of involving multiple third-party vendors at each phase of development. Serving as a one-stop shop for renewable energy, this streamlined, end-to-end solution provides project development, engineering, financing, construction, and long-term service and maintenance backed by Panasonic. Offering a variety of financing options that eliminate the need for up-front capital outlays, our integrated model simplifies solar and mitigates project delivery risk for a more efficient and cost effective solution that ensures attractive and reliable benefits for decades to come. Panasonic's long-term, differentiated capabilities offer a comprehensive and reliable platform to those companies, communities, and institutions looking for ways to lower their energy costs while also reducing their carbon footprint. Together, we're bringing solar power to light.
---
LG Solar - Mono X NeON solar panels

The LG Mono X NeON solar panels have improved, weighing only 16.8kg, it's 11.1 percent lighter making installation and handling even easier. High performance combined with LG's N-Type cell technology equals one leading-edge solar panel.
---
EcoFasten Solar - Tile Flashing System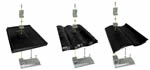 The new Tile Flashing System from EcoFasten Solar® was specifically designed for use on new or existing roofs and is available in 3 profile options for Flat, "W" and "S" tile. Each innovative flashing system replaces one complete tile, eliminating the need for cutting, drilling, grinding or replacing of tiles. Multiple fastener points in the system's base plate allow for attachment into the rafter, regardless of flashing alignment. The embossed cone-shape stamped into the underside of the flashing is fitted with an EPDM rubber bushing, creating a watertight seal when paired with a compatible EcoFasten Solar Compression Bracket. The system attaches to the roof deck with as little as two lag bolts, resulting in a very fast and extremely easy installation. An optional second flashing at the roof deck is available for jurisdictions that demand. Third party tested for pullout and shear. Proudly made in the USA using recycled materials.
---
The genuine advance of SMARTracking™ is based on a three-dimensional positioning analysis of each solar tracker on site, thereby achieving the best alignment for the trackers and enabling to individualize the control of each solar tracker. Consequently, SMARTracking™ allows the plant to generate up to 5% more energy yield annually compared to other traditional single-axis trackers, maximizing ROI. For example, thanks to the implementation of SMARTracking™ on a 7 MW project in South West France, 440 MWh of electricity can be produced more per year.
SMARTracking™ is a real breakthrough in movement management. Its results have been validated by an independent third party.
Kaco New Energy - Three phase invertrer 10.0 TL3
KACO new energy is excited to introduce our updated three phase invertrer for commercial projects. This updated inverter offers all-in-one features like an integrated AFCI detector, multiple MPPT channels, AC and DC overcurrent protection, and an AC and DC disconnection menas with lock-out-tag safety; representing a range of installer time saving features never before seen from a leading global inverter manufacturer.
---

Quick Rack is a simple, cost-effective rail-free solar mounting system that works with standard module frames. The system is engineered to be robust and structurally sound and features Quick Mount PV's superior waterproofing technology. Quick Rack will be featured at Quick Mount PV's booth at Solar Power International with live product presentations. Stop by and learn more! Booth # 1412
---
AET (Applied Energy Technologies) - First-in-Kind Shade Cover and Disconnect Mounting Kit for its Rayport-I™ Solar Inverter Mounting Kit

The Rayport-I shade cover is the first product of its kind and helps decrease and maintain inverter temperatures, particularly during the summer months, in order to preserve the function of the inverter. The Rayport-I disconnect mounting kit allow for disconnect units to be fixed in a convenient location on the front or rear of the rack, close to the inverter itself. AET has already seen a highly positive industry response to its Rayport-I inverter mounting kit and the newly launched options.
---
Solar Data Systems, Inc. - Solar-Log 350 & GE Meter

This first of a new series, is specially designed for the residential PV market and is engineered for simple installation. The compact design consists of a General Electric I-210+ residential meter and Solar-Log's proven technology which provides cellular data access and PV monitoring services. The Solar-Log 350 & GE Meter puts itself in service automatically after being plugged in to any standard socket meter base, thus making the traditional complex and time consuming LAN and inverter connectivity obsolete.
The built-in Solar-Log technology monitors and logs incoming data from the solar array with revenue-grade precision required to collect state and utility incentives, including performance-based incentives (PBIs), solar renewable energy certificates (SRECs), and many other financial incentive programs.
---
SMA - Sunny Tripower TL-US

The Sunny Tripower TL-US brings the sophistication of SMA's utility-scale approach to the commercial market. Ideal for decentralized PV systems, this three-phase transformerless inverter is suitable for both 600 V DC and 1,000 V DC applications, allowing for flexible design and a lower levelized cost of energy. It is available as the Sunny Tripower 12000TL-US, 15000TL-US, 20000TL-US and 24000TL-US.
---
3M - Expanded presence in the solar industry

Visitors to the 3M booth will experience 3M's broad range of solutions including Solar Films & Tapes, Light Management Solutions, and Specialty Glass for Conductive Pastes, all designed to enhance performance, improve reliability and reduce the cost per watt. Additionally, the booth will showcase complimentary energy storage, power and conversion solutions including 3M's Lithium Ion Battery Materials and Electrolyzer, Fuel Cell and Redox Flow Battery components.
---
SolarMax USA - RX A Solar Inverter Technology
The SolarMax RX A is a new powerful central inverter that addresses the needs of large-scale commercial solar and utility-scale solar projects. Available in 500kW or 600kW versions, the RX A is an outdoor-rated central inverter with flexible and modular design that increases energy production and reduces system costs of large utility-scale projects.
---
SnapNrack Solar Mounting Solutions - Universal Tile Roof Hook

The SNR Universal Tile Roof Hook 100 is designed specifically to work with Flat, S and Wave shaped tile roofs. Optimized for the SNR 100 Standard Rail, it's engineered to provide faster installation times and lower costs, especially where double flashing is required. The Universal Tile Roof Hook arm is fabricated from 304 Stainless Steel for maximum stiffness with the lowest possible thickness, meaning that you can typically install without any cutting or grinding of tiles. This also prevents the need for respiratory protection when cutting tiles due to silica becoming airborne.
---

Mersen -New PV Safety System solutions

The New PV Safety System featuring Greeneye and Greenbrain devices. The Mersen PV safety solution provides an individual, remotely controlled shutdown feature per PV module, meeting the requirements of NEC690.12 and safeguarding against potential electrocution hazards of PV installations. The shutdown feature can be remotely controlled two ways: manually by hitting the emergency stop button or automatically by a DC arc detector or any other safety system to shut down the PV array. In case there is a need for urgent shutdown, when activated, the Mersen PV Safety Solution brings the output current and voltage of the individual PV modules to zero. The PV installation therefore becomes fully disconnected; safe for electrical workers performing construction and maintenance or, in the event of fire, safeguarding responding firefighters from risk of electrocution.
---
Canadian Solar - Diamond Module
Rated for 1500V systems, the Diamond module significantly reduces Balance of System (BOS) costs by increasing modules in a string and decreasing the number of combiners, cables, and other system parts. The innovative glass-on-glass cell encapsulation blocks moisture permeability, enhancing long-term system performance reliability. The first year annual power degradation is 2.5% and 0.5% each year afterwards. With that, module output at the 25th year is maintained at 85% versus the current 80%.
---
Zilla Corporation - Zilla® Phantom® XL System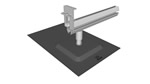 The new Zilla Phantom® XL is a fully flashed, waterproof, self-grounded compact attachment solution that attaches to sheathing or structure, reducing installation time and providing more flexible layout options. Phantom® XL builds on the popular Zilla® Double Stud XL Flashing to create a completely watertight rooftop installation that attaches anywhere on a composite roof, in almost any configuration. The Phantom® XL features a patented base plate design that allows for quick installation into sheathing or structure, while the Zilla® Top Clip provides module-to-module grounding, requiring even fewer materials for your installation. This compact solution provides ease in shipping and transport, while still allowing for superior strength, flexibility and field adjustability. Zilla® Phantom® XL: So Simple It's Scary.
---
Enphase Energy, Inc. - Enphase AC Battery
An advanced energy storage solution with a modular, plug-and-play storage device fully integrated with the just-introduced Enphase Energy Management System. Based on a distributed architecture, the AC Battery is a safe, reliable and easy-to-install storage solution, designed for residential and commercial applications. The modular battery provides system owners with the ability to store solar energy for nighttime or future use, optimizing solar power consumption and giving owners greater energy independence.
---
The content & opinions in this article are the author's and do not necessarily represent the views of AltEnergyMag
---
Comments (0)
This post does not have any comments. Be the first to leave a comment below.
---
Post A Comment
You must be logged in before you can post a comment. Login now.
Featured Product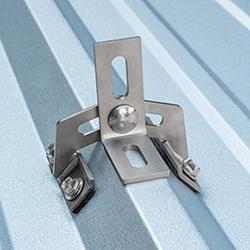 They have been changing the game for 10 years with their original Top Mount line for Asphalt Shingle roofs, and by now supplying one of the widest ranges of solar mounts in North America. From their patented products, to the custom production services they offer, QuickBOLT has been working with solar installers for nearly a decade to make solar installations easier than ever before.