For SPI in 2014, we will be introducing the all-new control capabilities of our OPTICS RE user application. Launched this spring, the OPTICS RE cloud-based user-interface application provides installers and owners of OutBack systems the ability to easily monitor PV/solar system operation, performance and output via an intuitive dashboard from any Internet-enabled device.
SPI 2014 - Interview with Mark Cerasuolo of Outback Power Technologies
Mark Cerasuolo | OutBack Power Technologies
What are the primary features of SPI that you focus on (i.e. Show floor, training, seminars etc.)?
OutBack Power fields many installer and customer questions about new product features or new technology standards from the show floor. We also take part in training and presentation opportunities as part of industry outreach, and find it useful for business development purposes. Last year for example, we partnered in hosting a trade delegation from Turkey interested in PV/solar technology.
What makes SPI an important show for your company?
It is the most "international" of the North American events, so provides a good forum for brands with significant business both inside and outside North America; also it coincides well with product cycle activities.
What is the main goal of your SPI booth and presence at the show?
The goal of our SPI booth is to reconnect with customers, old and new. Many of OutBack Power's most successful partnerships began from the company's inception, and have resulted in subsequent deals and projects between trusted members of the solar industry. We also look forward to fielding questions about the new technology we introduce each year. We take customer feedback into serious consideration, and develop new products with their desired features in mind. The show is valuable for testing and calibrating that activity.
Who are you trying to attract at SPI and how do you go about it?
We have an aggressive pre-show outreach effort, with e-blasts, digital media placements, product previews and other activities to gain exposure with a wide audience.
Do you attend other tradeshows and if so where does SPI rank in order of importance for you?
This is difficult to assess, as many of our shows and events target markets and channels for sales, business development and other purposes. Solar shows are an mportant part of that mix, as are builder shows, distribution shows, specific application shows (mobile, marine and others). Each plays an important role in our strategy.
What does SPI do right and how could they improve?
SPI has great media outreach and on-site opportunities. I think predictability would help in location, with a focus on the more solarized regions. Returning to Southern California in 2015 is a welcome change toward that goal. There are a lot of events in September and October competing for budgets and mindshare; ease of attending and exhibiting is not trivial when it comes to making show decisions.
What will you be introducing at SPI this year?
For SPI in 2014, we will be introducing the all-new control capabilities of our OPTICS RE user application. Launched this spring, the OPTICS RE cloud-based user-interface application provides installers and owners of OutBack systems the ability to easily monitor PV/solar system operation, performance and output via an intuitive dashboard from any Internet-enabled device. As personal devices are increasingly connecting users to their data, OPTICS RE leverages communications technology to provide users with the energy intelligence to not only optimize their systems for maximum output, but also to quantify their returns in real time. This fall, installers can provide users with varying degrees of control while retaining higher-level functions to ensure optimum system performance and health. We'll also be showing other product solutions addressing safety and installability needs, as well as continued developments in energy storage and integrated system designs and new products for world markets.
Mark Cerasuolo
Mark Cerasuolo is the marketing director and head of the training program for OutBack Power, a designer and manufacturer of balance-of-system components for renewable and other energy applications. Prior to his work with OutBack Power Technologies, he held senior marketing roles at Leviton Manufacturing as well as with prominent consumer electronics companies such as Harman International and Bose Corporation, and was active in the Consumer Electronics Association (CEA). More recently he was the marketing lead for the Washington State Department of Commerce. Mark also serves as a business & marketing advisor for the educational non-profit organization Healing the Culture in Kenmore, Washington, and was a volunteer field literacy tutor for the Ventura County Adult Literacy program in California.
OutBack Power Technologies
OutBack Power Technologies, a member of The Alpha Group, is the leading designer and manufacturer of advanced power electronics for renewable energy, back-up power and mobile applications. Founded in 2001 to pioneer power conversion technologies considered de facto standards today, and with an emphasis on product performance and reliability, OutBack has established itself as the product of choice in harsh environmental conditions and applications where product reliability is paramount. Whether the application is village microgrids in Africa, rural electrification projects in Latin America, remote off-grid cabins in Alaska, or a suburban home in Southern California, OutBack Power Technologies has set the bar for delivering advanced power conversion electronics.
The content & opinions in this article are the author's and do not necessarily represent the views of AltEnergyMag
---
Comments (2)
The concept of UGE is great. The problem comes with delivery as promised. We started talking to UGE back in Feb 10'. It is now Nov 10' and we are still trying to get our turbine up. First they delivered the incorrect color on a product with only two real options color and size. Code dictates our color, wind ratings for the tower etc. Even when provided local requirements UGE did not meet these on their own. Months after our incorrect turbine was received we got our second turbine. This time they shipped us a turbine that does not fit the tower they supplied. Not even close, different number of bolts and different diameters. The company is very poorly run from CEO on down. Distributors are ill trained and you must do lots of leg work calling manufacturers etc. I've been continuing to poor in manual suggestions as the manual does not reflect what is shipped or best ways to install. Keep in mind this device is not UL rated which may be a problem. My advice is go with another method to make the world green. I would if I had to do it all again.
Finally, an energy generating/savings application that is not only available for the individually business/home owner but is also affordable. This product does not create visual blight nor will it injure wildlife. I am just disappointed with the fact that it is not produced in the USA. I have the perfect site, the best workforce and a state that would welcome their manufacturing plant-Michigan. JP jp@nuenergies.com
Post A Comment
You must be logged in before you can post a comment. Login now.
Featured Product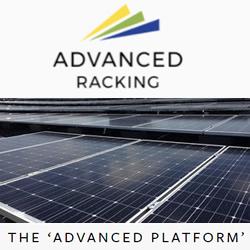 The 'Advanced Platform' simplifies the installation process by using universal mounting hardware that works perfectly across all roof types. Smart roof connection kits then connect to the specific roof's surface. The Advanced Platform is versatile: Our common design can be your single solution for all roof types.