Turquoise International has called for more clarification concerning the prioritisation of technologies in the UK energy sector.
Turquoise calls for clarity on UK energy goals
Robin Whitlock | Freelance Journalist/Writer
The future of the energy sector in the UK is already becoming a hot topic in the country in the run-up to the general election in March 2015. Resource infrastructure was a key theme in the recent Autumn Statement released by the Chancellor, George Osborne, but director of Turquoise International, David Casale, believes many questions remain unanswered. Mr Casale is therefore calling for more clarification into the prioritisation of technologies in the energy sector.

"Despite outlining a number of new investment programmes and some interesting insight into a variety of national energy developments, a high percentage of the energy spending plans proposed in the recent Autumn Statement seem to be focused solely towards the identification and exploration of shale gas reserves" Mr Casale said. "In fact, with more than £5 million in research alone allocated to shale reserves, alongside £31 million allocated to the development of sub-surface test centres, the government's prioritisation of shale gas seems clear."
Mr Casale said that while this is understandable from a balance of payments perspective, reports show that it will actually have very little effect on gas prices. In essence, there seems to be very little progress to note since last year's statement. Mr Casale said that it is very disappointing that the government didn't take the opportunity to provide further clarity on proposed routes to funding new and innovative energy projects in the sector. The issues of security, diversity and reliability of energy supply remain the primary challenges for society as a whole, not just politicians.
The UK is a hub for energy innovation, with thousands of businesses nationwide actively developing new technologies to create affordable solutions that deliver clean, safe and renewable energy. Distributed technologies in particular should be developed in order to properly innovate and solve future energy challenges. Industries such as electricity storage and tidal power, for example, need to overcome significant supply chain barriers to reach an affordable solution and therefore, need greater support and funding. In both cases, return on tax spend has been poor and a new more structured approach might be needed. Markets need support where there are imperfections and in both these cases this seems to be the case.
Turquoise International isn't the only company to have expressed reservations about the Autumn Statement since its release. Real estate and capital advisory service Savill's Energy has also criticised the statement with the company's Director of Strategic Projects, Tim Waterfield, accusing the government of creating an information vacuum. He added that this is a particularly pertinent issue with regard to ground-mounted solar and offshore wind, the importance of which the government continues to downplay.
Turquoise International is a merchant bank specialising in energy and the environment. It was established in 2002 and offers in-depth industry knowledge and extensive capital raising, transaction advisory and investment management expertise.
For additional information:
Robin Whitlock
I am a freelance journalist based in Bristol, UK. I cover many subjects in my writing but I have a special interest in environmental issues and renewable energy. Among other things I am a correspondent for Renewable Energy Magazine and I also sub-edit press releases for IWA Publishing, a company working within the international water treatment industry.
http://robinwhitlock1966.wix.com/robin-whitlock
The content & opinions in this article are the author's and do not necessarily represent the views of AltEnergyMag
---
Comments (1)
Come on is this a joke?? This isn't an article- a semi-objective, informative article written by an INDEPENDENT OBJECTIVE expert in their field... its a sales pitch. Regardless of how great these guys are, no one should be given this much space to promote themselves under the guise of "article".
Post A Comment
You must be logged in before you can post a comment. Login now.
Featured Product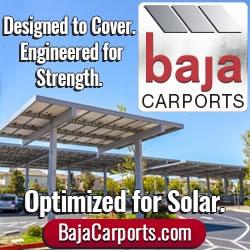 Baja Carports offers an extensive solar support system product line customized to customers' site specifications by in-house engineers, meeting their parking lot coverage, plus optimal PV production needs. Baja's Full Cantilever Tee is often paired with its Semi and Full Cantilever carports to meet live/loads up to 60psf and wind speeds to 160mph. All Baja products are pre-fabricated, bolted connections, pre-galvanized structural steel for fast on-site installation and project aesthetic requirements."