AltEnergyMag.com has once again partnered with Intersolar to bring all the industry news and exciting new products to help our readers make sense of this key tradeshow. Here we have compiled a list of some product releases from this years show.

Brandon Hetherington for | AltEnergyMag.com
This years show took place July 13th - 16th at the Moscone Center in San Francisco, California. Over 20,000 visitors attend to learn about the latest technology innovations, financing models, business best practices and policy and incentive programs that are contributing to the growth of the U.S. solar industry. The event's exhibition showcased ​ products from nearly 600 exhibitors from 22 countries focused on the areas of photovoltaics, PV production technologies, energy storage systems and solar thermal technologies. The Conferences highlighted the latest innovations in the fields of PV, energy storage and solar heating/cooling with an expanded focus on topics like energy storage, financing, utility-scale solar and installation best practices.
As a media partner AltEnergyMag.com will be covering Intersolar and bringing all the industry news and exciting new products to our online publication to help our readers make sense of the massive event. Make sure to check out our special Intersolar 2015 Newspage for Exhibitor news.
---
EcoFasten Solar unveiled the newest product in their line of solar roof mount solutions, the Rock-It System. ETL Listed to UL subject 2703, the Rock-It System holds a Class "A" Fire Resistance Rating when using Type 1, listed PV modules.
Top-down leveling allows the installer the freedom to "level as you go", while North-South adjustability provides an extremely fast, easy, no-hassle installation. An integrated wire management tray is an added benefit of using the Rock-It System, and only one tool is required to install any size or orientation array. The system also features a built-in array skirt and integrated electrical bonding. The Rock-It System utilizes the company's best-selling GreenFasten flashing, which creates the patented, watertight compression seal EcoFasten Solar is known for.
---
Applied Energy Technologies' (AET) Rayport™ ECO series of solar racking systems have quickly become the industry standard for developers and EPCs in need of high-quality racking solutions that provide superior strength and durability at a cost competitive price point. The Rayport™ ECO line is lightweight, compact, and designed for easy installation, resulting in lower installation and shipping costs. Having undergone rigorous testing, it is currently one of the highest quality systems on the market. The Rayport™ ECO series is available in rooftop or ground-mount configurations, and fits all solar panels available on the market.
AET is now offering a 25-year warranty for its Rayport™-B ECO and Rayport™-G ECO racking systems. Backed by rigorous testing, high quality standards and precise engineering, AET stands behind its ECO line by offering this industry-leading warranty.
---
Canadian Solar's new CS6K-260/265P-FG Diamond double-glass module is a 60-cell double-glass module. By replacing the traditional polymer backsheet with heat-strengthened glass, the Diamond module has a lower annual power degradation than a traditional module. In addition, with increased protection against environmental hazards, the Diamond double-glass module is PID-free and has lower annual power degradation and more system power yield over its lifetime. Canadian Solar is proud to offer a 30 year performance warranty and a 10 year product warranty on this new and exciting module.
---
DPW Solar an early pioneer of solar module mounting systems, designed the POWER XPRESS™ Ballasted Flat Roof Mounting System, to help installers mount solar modules faster and easier. Installers of PV solar modules can spend hours aligning mounting racks in perfect rows while wrenching their necks and raking their knuckles to tighten hard-to-reach clamps. Now they can do the same job in a fraction of the time at a fraction of the cost with none of the discomfort, thanks to the POWER XPRESS™ Ballasted Flat-Roof Mounting System.
The POWER XPRESS is one of the simplest flat-roof systems to assemble. It has only two main components, a chassis and a clamp, which makes it easier to transport and quicker to set up. The smarter design also makes POWER XPRESS cost less than other top-quality, flat-roof racking systems.
---
teamtechnik has once again cut the cycle time and increased the stringer throughput to 50 MWp per year. At a cycle time of 2 seconds it is possible to produce up to 27 modules per hour.
The throughput of a complete standardized system has been increased to 100 MWp. A complete system consists of two new STRINGER TT1800 and a layup. The 6-axis robot of the layup is a highly flexible package which allows the system to be adapted quickly to different applications, or cell and glass sizes. Due to its proven technology, the teamtechnik 100 MW systems are ready for operation within a short time.
---
The Solis inverter represents a well-respected, value priced brand from Ginlong Technologies, founded in 2005. Since achieving UK G83 certificate in 2006, Ginlong Technologies has led the inverter innovations for the next generation. Ginlong Technologies became the first Asian inverter manufacturer, which achieved UL 1741 certification in 2009.
Ginlong Technologies will be presenting the industry first four (4) MPPT 30kW and 36kW Solis Three Phase Inverter products, which optimizes the power production at each MPPT level, thus maximizing the energy output. They are ideal for large complex solar installations. Solis Inverters will be available in the US through AEE Solar.
---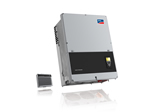 The Sunny Tripower 60-US is SMA's newest solution for medium to large-scale PV plants. This 60 kW inverter combines the advantages of a decentralized system layout with the benefits of a centralized inverter design, bringing together the best of both worlds. It offers high efficiency, industry-leading power density, easy installation, simple commissioning and low maintenance requirements, which all contribute to reduced system cost.
The Sunny Tripower 60-US boasts maximum efficiency of 98.8 percent, power density of 60 kVA at just 165 pounds, and DC input voltage of up to 1,000 V. It also provides a scalable PV building block approach and full grid management features, making it ideal for medium and large commercial systems, as well as distributed utility-scale applications. For a complete system solution, the Sunny Tripower 60-US can be paired with the SMA Inverter Manager, Local Commissioning and Service Tool and a combiner box.
---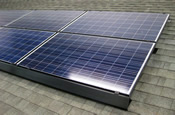 EcoX is an innovative, simple, rail-free racking product, optimized for residential installations. Ecolibrium Solar has been providing rail-less racking products since early 2014, and since that time has supported over 150MW of residential projects. After spending over a year gaining feedback and reviewing the installation process, the Ecolibrium R&D team has developed the new EcoX product.
Available to ship starting in June 2015, the new EcoX improves installation efficiency and offers a wide adjustability and leveling range in all directions. In addition, the new EcoX product offers significant price improvements, offering the advantages of rail-less racking system at a price at or below traditional rail products. EcoX is fully certified to the UL2703 standard, including grounding and bonding, fire testing for both Type I and II modules, and mechanical load testing.
---
JuiceBox Energy develops and builds advanced lithium-ion energy storage systems to support grid tied and off grid residential energy storage applications. The company brings years of automotive engineering experience to provide energy storage solutions that are safe, reliable, and interoperable with today's energy and automation networks. Their systems can be paired with new and existing external power sources such as PV solar, wind, grid tie, and generators through an inverter/charger. The system controller constantly monitors the state of the battery, power source output and building loads, and determines the mode of operation based on customer priorities and bill rates. It also balances the battery charge/discharge cycles, operating temps, & depth of discharge to achieve long, maintenance free energy storage up to 10 years of operation. Remote monitoring, control and firmware updates are available via cellular or Ethernet and the systems will qualify for both Federal & State incentive programs.
---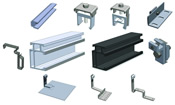 Magerack designs and manufactures solar mounting products for solar system installations. Its Magerack Solar Mounting System is turn-key solar mounting solution including all components from rail and clamps to roof attachments. It is reliable, easy-to-install and cost-effective used by major solar installers in California.
The system is UL 2703 certified and has Class 'A' file rating with integrated bonding and grounding. In particular, its patented and innovative L-foot with flashing is easy to install and absolutely waterproof at very competitive price. Magerack has become one of the leading solar mounting manufacturers. It continues to innovate and provide exciting new mounting products.
---
EagleView Technologies offers Pictometry® Intelligent Images® and analytical tools for accurate pre-contract assessment. The high-resolution images provide top-down, north, south, east and west views to easily identify shading and roof obstructions. With image libraries covering the U.S. and Canada, neighborhoods in any geographical area can be evaluated right from the desktop. After the sale, EagleView Solar Roof Reports use patented, 3D technology to deliver detailed measurements including orientation, tilt and total square footage and provide CAD files that can be imported into existing workflows for precise solar design and installation.
---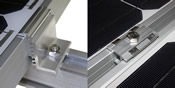 BURNDY®, a leading manufacturer and provider of bonding and grounding solutions to the Solar PV industry, announces the addition of new Clamping Solutions to their Wiley line of products. The WEEB-BMC2-516 and BEC2-516 lines of Wiley products are designed and manufactured to meet and exceed industry standards and to deliver maximum reliability.
The Clamping Solutions line of Wiley products contains a line of bonding mid-clamps and adjustable end-clamps. The WEEB-BMC2-516 line is perfect for incorporating integrated bonding into your solar PV system. It features the proven WEEB® washer technology, which creates a bond between the PV modules. WEEB-BMC2-516 line just requires a minimum top module flange thickness of 1.5mm and 14mm of module spacing.
The BEC2-516, adjustable end-clamp, is compatible with any height between 30mm to 55mm. All of the clamping solutions are available in mill finish and black or clear anodizing. Both are compatible with 5/16" (M8) hardware, other stud hole sizes are available upon request. The WEEB-BMC washer can be pre-installed on an existing clamp for an alternative integrated bonding solution.
---
The FLEXpower Radian line of pre-wired, pre-tested and pre-assembled systems make installation quick and easy, saving solar professionals up to half a day of labor time in the field. And the acclaimed Radian A Series grid/hybrid inverter/chargers with advanced features such as GridZero technology, seven programmable operating modes, and advanced battery charging profiles can accommodate nearly any power scenario from off-grid to grid-interactive.
Available in 4kW or 8kW models, the entire system including charge controllers, MATE3 programmer, networking hub and GS load center is prebuilt onto a backplane that can be hung on the wall with the included mounting bracket. After making a few simple connections to external loads and sources the system is fully operational. OutBack's GridZero technology optimizes the balance between stored and renewable energy sources, minimizing grid dependence and Advanced Battery Charging profiles support leading-edge battery technologies, including lithium-ion.
---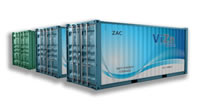 The ZAC platform is a turnkey energy storage system which simplifies installation, reduces procurement challenges and provides quick payback. The new system integrates ViZn's Z20 zinc-iron redox flow battery with Princeton Power Systems' inverters, grid connects and auxiliary components into a single-unit system. The ZAC system is available in several sizes with optimized inverter and controls ranging from 320 kWh to 960 kWh and includes a simple AC connection for meter or utility interconnection.
ViZn's redox flow battery utilizes an abundantly available, non-toxic, nonflammable and low cost zinc and iron chemistry. It has been designed with a water-based, two-phase flow system that consists of a zinc electrode and an iron redox counter electrode, a design that aids steady and safe operation. It offers one of the fastest charge and discharge responses on the market and can withstand significant temperature fluctuations at multiple cycles per day while providing full access to the state of charge. It is the most cost-effective flow battery system on the market.
The content & opinions in this article are the author's and do not necessarily represent the views of AltEnergyMag
---
Comments (0)
This post does not have any comments. Be the first to leave a comment below.
---
Post A Comment
You must be logged in before you can post a comment. Login now.
Featured Product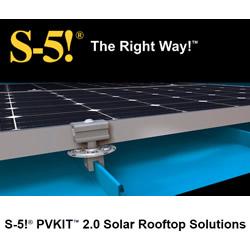 The concept of combining PV arrays with standing seam metal roofing is growing-for good reasons. Metal roofs have a life expectancy of more than 40 years. Shouldn't the mounting system last as long? With S-5! zero-penetration attachment technology and PVKIT 2.0, the solarized metal roof is the most sustainable system available -and without compromising roof warranties! PVKIT 2.0 is the also the best solution for attaching PV modules directly to any exposed fastener metal roof.