By conducting ion implantation with a particle accelerator, Rayton can produce 20 solar panels using 20x less silicon than what is typically used to create just one.
Float Zone Silicon Solar Panels - 60% less expensive and 25% more efficient
Andrew Yakub | Rayton Solar Inc
Using a patent-pending process for use of Float Zone Silicon, Rayton Solar has developed the technology to produce solar panels that are 60% less expensive and 25% more efficient than the industry standard. By conducting ion implantation with a particle accelerator, Rayton can produce 20 solar panels using 20x less silicon than what is typically used to create just one.
How does Rayton Solar develop the world's most cost-effective source of renewable energy?
We have engineered the process of ion implantation and exfoliation for use with Float Zone silicon. Previously, float zone silicon was too expensive to be used in the solar industry. It costs ~10 times more per kg as conventional solar grade monocrystalline silicon. By using a particle accelerator to produce a 5 micron layer of float zone silicon we have brought the cost down significantly. Overall we see a 60% reduction in the cost to manufacture a solar panel. The float zone silicon, being low in oxygen content, gives us a 25% boost in sunlight conversion efficiency.
What materials are used in this process? How is this different from the standard?
We use float zone silicon as the sunlight absorber in a solar cell. We use a particle accelerator at 300 KeV to implant and exfoliate a 5 micron thick layer of FZ silicon. Conventionally wafers are cut from raw silicon at 200 microns using a diamond coated steel wire. This conventional method is unable to produce wafers thinner than 100-200 microns. By utilizing the particle accelerator technique we can get our wafer of silicon down to sub 5 micron thicknesses.
How does the technology work to bring down the cost and increase the efficiency of the solar cell?
By using a particle accelerator to bring down the thickness of a silicon wafer and reduce raw material waste we reduce the cost. The efficiency is increased by using a higher grade of silicon, float zone silicon.
What part of your process and technology is patented? What does this mean for competitors?
The idea of using float zone silicon in an implant and exfoliation technique is patented by us. The accelerator technology is exclusively licensed to us for use in the solar industry. Any competitor who wishes to use this process would have to use the lower quality Czochralski silicon and would not see a 25% efficiency boost. Additionally, they would have to build their own particle accelerator from scratch which would put them 5-7 years behind us. For our competition using the conventional manufacturing process; they would have to compete with our lower costs and higher efficiency. We can manufacture for 23 cents/watt whereas the conventional competition manufactures for ~52 cents/watt.
What still needs to be done to bring this technology to a point where manufacturing can begin on a commercial scale?
We have raised $1.3MM for our seed round which gets us a UL certified panel. To begin manufacturing we need $5MM to build a 6MW per year manufacturing facility.
How long will it take to bring the product to market?
We are 18-24 months away from having a 6MW per year manufacturing facility. Once this is completed the technology can be scaled up to 54 MW per year and then 1 GW per year.
How much money has Rayton Solar raised in funds? Are you currently seeking other investors?
Rayton has raised $1.3MM in funds to date. We currently have a bridge round between our Seed and Series A open for $500K. This is open to accredited investors via a regulation D offering.
What is Rayton Solar's long-term goal? How will this affect the industry?
Rayton's long-term goal is to be the low cost leader in solar panels. When the US tax credits end in 2016 installation companies will need a supplier of less expensive panels in order for them to keep doing business. Rayton aims to provide this and manufacture completely in the US. This will provide green manufacturing jobs, and help secure a sustainable future for all society.
About Andrew Yakub
Andrew Yakub is the founder and CEO of Rayton Solar Inc, a solar manufacturing company who's proprietary manufacturing process makes solar panels 60% cheaper and 25% more efficient than the market standard. To date, Rayton has raised over 1 million dollars in seed funding. Prior to Rayton Solar, Andrew founded ReGen America Inc, a solar finance company that developed and financed some of the largest commercial solar rooftop projects in Los Angeles. ReGen successfully received over 3 million in government grants and operates over 6MW of commercial rooftop solar. Before entering the solar industry, Andrew was a design engineer at the UCLA Particle Beam Physics Laboratory and an engineer at NASA's Jet Propulsion Laboratory working on the Mars Science Laboratory exploratory probe. Andrew holds a Bachelors degree in Physics from the University of California at Santa Barbara.
The content & opinions in this article are the author's and do not necessarily represent the views of AltEnergyMag
---
Comments (0)
This post does not have any comments. Be the first to leave a comment below.
---
Post A Comment
You must be logged in before you can post a comment. Login now.
Featured Product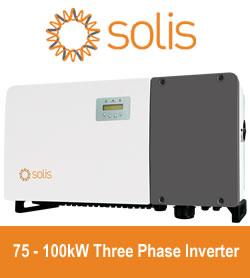 Solis75kW - 100kW series high-power string inverters are widely used in industrial and commercial rooftops. Solis's new three-phase string inverter is the first choice for industrial and commercial photovoltaics. 75-100kW three phase series string inverter have Maximum 28 strings input, support "Y" type connection in DC side. Maximum string input current 13A, support bifacial modules access.Supports anti-PID function to improve system efficiency.