The Solar Decathlon is the ideal venue to utilize R&D advancements with integrated energy efficiency and renewable energy technologies.

Len Calderone for | AltEnergyMag
In sports, a decathlon involves ten events. Traditionally, the title of the world's greatest athlete was given to the man who wins the Olympic decathlon. The events included the 100-meter dash, long jump, shot put, high jump, 400-meter dash, 110-meter hurdles, discus, pole vault, javelin, and 1,500-meter run.
The Solar Decathlon also comprises of ten events where the U.S. Department of Energy challenges collegiate teams to design, build, and operate solar-powered houses that are cost-effective, energy-efficient, and attractive. The winner of the competition is the team that best blends affordability, consumer appeal, and design excellence with optimal energy production and maximum efficiency.
The ten solar events are architecture, market appeal, engineering, communications, affordability, comfort, appliances, home life, commuting and energy balance. For this decathlon, collegiate teams spend two years designing and building energy-efficient houses powered by the sun.
The winning team is the team that can produce a house that is inexpensive, eye-catching, and easy to live in. The house must maintain a comfortable and healthy indoor environment. It needs to supply energy for cooking, cleaning, entertainment, and commuting, while providing adequate hot water; and it needs to produce as much or more energy than it consumes.
Let's look at the requirements for each event. Architecturally, the house needs to be comfortable for occupants and compatible with the surrounding environment. The natural and electric lighting should be well-integrated. The quality of the material, detail and implementation has to be demonstrated; and the house has to show a creative approach to residential architecture.
The house has to have interior and exterior market appeal through detailing and outstanding features. Basically, the house has to be a good value for potential homebuyers.
The engineering approach must be effective and practical, making the house energy efficient with good overall system performance. It must compare with typical systems, showing energy savings over the period of a year.
The communications strategy must be inclusive, consistent, and integrated with helpful educational and outreach messages. The team needs to communicate its message to online audiences through a logical website and effective social media.
Affordability is another important factor with a target construction cost of $250,000 or less. The house must also be comfortable and maintain a narrow temperature and relative humidity range during specified periods of time with temperatures between 71°F and 76°F and the relative humidity less than 60%.
The teams earn points for operating their refrigerator and freezer within set temperatures, washing and drying laundry within a specified time, running the dishwasher at 120°, and simulating cooking by vaporizing 5 pounds of water within a specified period of time.
The house is required to accommodate the pleasures of living, such as sharing meals with friends and family, watching movies in a home theater, checking social media, and taking a warm shower.
The teams must drive an electric vehicle charged, using their house's electrical system several times during the competition with full points awarded for driving 25 miles or more in two hours or less eight times during contest week.
For energy production, the house needs to produce at least as much energy as the house needs, thus achieving a net energy consumption of zero. For energy consumption, the house must use 175 kWh of energy or less over the competition.
The Stevens Institute of Technology in Hoboken, NJ won the 2015 contest with its SU+RE HOUSE as in, SUstainable + REsilient. They won seven of the ten categories. Their Empowerhouse was 13th in 2012 and they finished 4th in 2014 with their Ecohabit house.
Sure House
The competition produced some very stunning, creative and sustainable home designs while helping build a world-class workforce to address one of the biggest challenges of the 21st century—reducing harmful carbon pollution.
The competition provided real-world, hands-on experience to teach collegiate students the science, technology, engineering and mathematics (STEM) concepts they need in order to build future environmentally sound houses.
Since the beginning of the competition in 2002, 130 houses have competed in the United States alone. These houses are now spread throughout the world with many of them used for public tours. Because of the success of the U.S. decathlon, other competitions have begun in Europe, Asia, the Middle East, and Latin American and the Caribbean. Through these international decathlons, we will see more next generation houses utilizing clean energy.
Crowder College and Drury University's ShelteR3 (pronounced "shelter cubed") is a disaster-resilient house designed to be both elegantly simple and secure, which will not only accelerate the recovery of those affected by tornadoes but also counter the effects of future disasters.
ShelteR3
R3—Respond, Recover, Resist—is the thinking behind ShelteR3. In the aftermath of a tornado, ShelteR3 can be quickly transported and installed in two modules, which are equipped with a kitchen, bath, living spaces, and independent power facilities for heating and lighting. Smaller window openings in the bedrooms, kitchen, and bath create privacy and protection. The rooftop solar power system and energy-efficient appliances ensure independent energy. Finally, the ultra-strong core, strengthened by walls of multiple layers of shielding, is further enveloped by an unyielding fence that deflects projectiles in high winds.
California Polytechnic State University students designed the INhouse, a net-zero house. Shaded by a solar panel-topped structure, the water-smart INhouse drains all of its greywater into a constructed wetland system that then filters and redirects the water into landscape irrigation. The modular home also includes a home monitoring system that tracks and sends real-time building performance data to a smartphone app.
INhouse
The future solar-powered dream home could snap together like a puzzle without the need for any power tools. Clemson University students designed and built Indigo Pine, a solar-powered house constructed from CNC-milled interlocking pieces that can be put together by hand without a single nail. Since plywood can be milled using any local CNC machine, Indigo Pine could be built almost anywhere its digital blueprints are received. Indigo Pine can be built largely by the homeowner. Because the house exists largely as a set of digital files, the plans can be sent anywhere in the world, constructed using local materials, adapted to the site, and influenced by local culture.

Indigo Pine
The State University of New York introduced the GRoW Home, which provides sustainable urban living by adjusting to seasonal change through operable elements and a spatially flexible design that allows for adaptable living. The Growlarium—part greenhouse, part solarium—supports vegetation year-round and provides an extraordinary living space. A tight thermal envelope encloses the living spaces to reduce heat loads in the winter, and an intermediary sun space changes based on weather and user needs.
GRoW Home
UC Davis' goal was to design an affordable zero-net-energy house that provides comfort, safety, and a better quality of life for farm workers and other underserved communities. A double-wide, factory-built house divided into northern and southern halves, Aggie Sol can be constructed and transported quickly and cost-effectively.
Shower room
A secondary entry and cleansing room with shower and double-sided lockers provides farm workers with an area to remove clothing contaminated with dirt or work-related debris and cleanse before entering the rest of the house. A unique radiant cooling and heating system uses a large rainwater reservoir that is cooled by exposing the water to the air during the chilly night hours through a sprinkler system on the roof. The chilled water is then filtered and pumped through the radiant floor slab during the day to cool the house.
The Solar Decathlon is the ideal venue to utilize R&D advancements with integrated energy efficiency and renewable energy technologies. It gives educational benefits to students from engineering, architecture, and other academic disciplines working together on the design, construction, and operation of energy efficient housing. It allows unique workforce development training to prepare students for clean energy jobs. It educates the public in the use of residential energy and the best methods for generation. The next U.S. decathlon will be held in 2017.
The content & opinions in this article are the author's and do not necessarily represent the views of AltEnergyMag
---
Comments (0)
This post does not have any comments. Be the first to leave a comment below.
---
Post A Comment
You must be logged in before you can post a comment. Login now.
Featured Product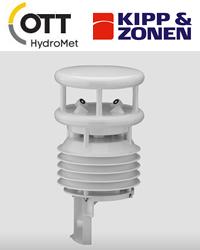 The WS50PV is an affordable, compact all-in-one weather sensor measuring the most critical parameters for commercial and industrial PV monitoring. Equipped with a suite of professional measuring sensors, the WS50PV can handle air temperature, relative humidity, barometric pressure, wind direction, and wind speed in one efficient housing to simplify mounting. Add an external temperature or rain sensor to the single-wire digital Modbus interface for fast and easy integration. The WS50PV is the tool you need for unlocking solar energy performance.