Solar-powered recharging stations also provide off-grid back-up power during emergencies.
Kyocera Expands Number of Solar Recharging Stations in Japan as Electric Vehicle Use Grows
Contributed by | Kyocera
Kyocera Corporation (President: Goro Yamaguchi) and its subsidiary Kyocera Communication Systems Co., Ltd. (President: Setsuo Sasaki) announced today that the companies supplied two more solar-powered recharging stations in Kyotango City, Kyoto Prefecture, Japan which began operation earlier this month*1. The stations power electric vehicles (EVs) as well as plug-in hybrid vehicles (PHVs). In addition, the stations become central hubs for back-up power during emergencies by switching to grid-independent operation, improving access for electric-powered transportation, as well as contributing to the community's overall disaster preparedness infrastructure.
Schematic of Kyocera's solar recharging station
More than 740,000 electric cars were on the road across the world by early 2015*2, with the U.S., Japan and China among the top markets — and the U.S. leading the world with more than 11,000 recharging stations*3. In Japan, the government is aiming to increase the ratio of EVs and PHVs to 15-20% by 2020*4 and is promoting the expansion of charging facilities for next-generation vehicles. In conjunction with this project, Kyotango City is adding recharging stations at multiple convenient public sites for tourists and residents who rent or own EVs and PHVs.
Kyocera's solar recharging stations provide an ideal configuration for independent power production to help with emergency situations as well as daily electric vehicle charging. The two stations for this project, installed by Ostem Co., Ltd., each include a 3.2kW Kyocera solar power generating system, standard charger, 30kW Nichicon quick charger and 7.2kW Nichicon battery storage system. In addition, the stations are equipped with LED lighting and disaster control boxes which include an emergency power strip, radio, flashlight and work gloves.
During normal operation, electricity generated by solar modules assists the commercial grid in powering the standard charger, and is also sent to the storage system for LED lighting at night. In times of disaster, the solar-generated electricity saved in the storage system powers the disaster control box in addition to powering LEDs at night. By operating off-grid during disasters, the stations will enable the community to charge devices such as mobile phones during power outages.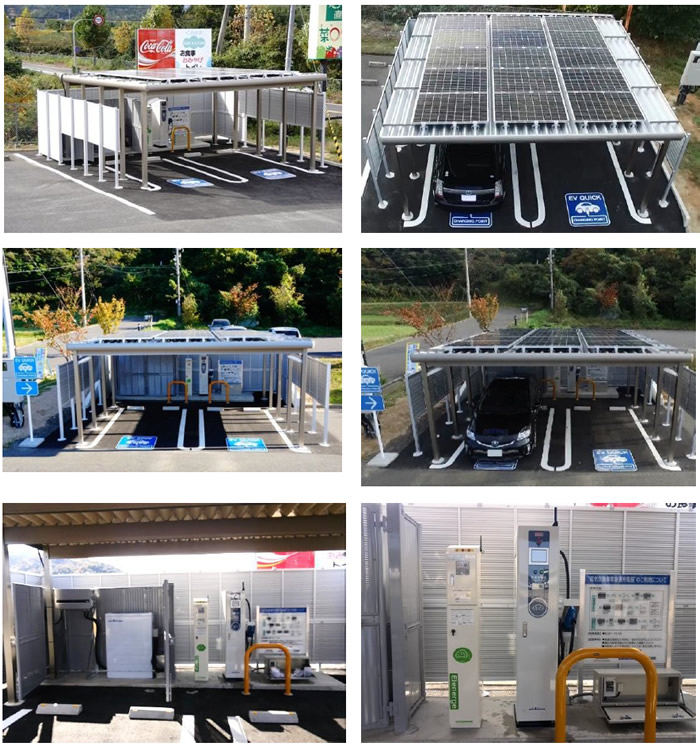 Kyocera's two new solar recharging stations installed at a highway rest stop facility (top row) and a hot spring complex (middle row)
About Kyocera's solar recharging stations
Originally, Kyocera's solar recharging stations were developed in 2010 as an environmentally-friendly solar-powered station to power electric-assisted bicycles, using the company's high performance PV modules. Based on this system, the company developed solar recharging stations to power EVs and PHVs in 2012. By making solar technology more ubiquitous in society, Kyocera hopes to contribute to the development of sustainable and resilient communities.
*1 In addition to the two solar recharging stations, Kyocera supplied a charging facility consisting of a quick charger and a standard charger for another location in Kyotango City.
*2 Based on information issued by the Centre for Solar Energy and Hydrogen Research Baden Württemberg (ZSW) in March 2015.
*3 Based on data provided by the U.S. Department of Energy.
*4 Based on information issued by the Ministry of Economy, Trade and Industry of Japan in March 2015.
About Kyocera
Kyocera Corporation, the parent and global headquarters of the Kyocera Group, was founded in 1959 as a producer of fine ceramics (also known as "advanced ceramics"). By combining these engineered materials with metals and integrating them with other technologies, Kyocera has become a leading supplier of solar power generating systems, mobile phones, printers, copiers, electronic components, semiconductor packages, cutting tools and industrial ceramics. During the year ended March 31, 2015, the company's net sales totaled 1.53 trillion yen (approx. USD12.7 billion). Kyocera appears on the latest listing of the "Top 100 Global Innovators" by Thomson Reuters, and is ranked #552 on Forbes magazine's 2015 "Global 2000" listing of the world's largest publicly traded companies.
The content & opinions in this article are the author's and do not necessarily represent the views of AltEnergyMag
---
Comments (0)
This post does not have any comments. Be the first to leave a comment below.
---
Post A Comment
You must be logged in before you can post a comment. Login now.
Featured Product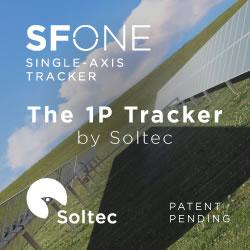 Soltec manufactures and supplies solar trackers designed and proven for extreme climate conditions, which is an ideal solution for any region's environment. Soltec's trackers are self-powered, requiring no additional PV module or grid-powered connection. Bifacial modules collect energy on both the front and rear sides, capturing reflected irradiance from the ground surface under and around the tracker and from other modules. Depending on site conditions, bifacial yield-gain can reach +30 percent.