If storage costs can demonstrate price reductions comparable to what weve experienced with wind and solar, storage will be a big part of the story.
Alternative Energy Project Financing
Jim Murphy | Invenergy
Tell me about Invenergy and your company's history.
Invenergy has roots that stretch back to the very beginnings of the independent power business and we have built the largest independent, privately-held renewables company.
Our history in the electric power industry goes back 30 years to the dawn of the independent power business, when the United States utility industry first opened to competition. At that time our Founder, Michael Polsky, started one of the first so-called IPP's – Indeck Energy, which was one of the most successful early industrial cogeneration companies. This was part of early energy conservation efforts in response to the oil crises of the 70s. In 1991, Polsky founded SkyGen Energy and built on that success and with one of the largest gas fired generation portfolios in North America before being acquired by Calpine in 2000.
In 2001, Michael, myself and other members of the SkyGen management team founded Invenergy and we are celebrating 15 years next month. Invenergy continued the success of the predecessor companies as a prolific developer of gas-fired generation facilities, but also repurposed its development capabilities to build an industry-leading renewables business, and is one of the largest owners of renewable power generation assets in the U.S.
What type of renewable energy projects is Invenergy currently involved in?
We develop, own and operate large-scale renewable and other clean energy generation and storage facilities in the Americas, Europe and Asia. To date, we have developed nearly 14 GW of projects that are in operation, construction or advanced development, including wind, solar, natural gas-fueled power generation and energy storage projects.
How is project financing for renewables changing and what are the biggest challenges facing the industry?
There are several key changes and challenges impacting the industry right now. In terms of project financing for renewables, we are seeing a trend in the type of players that are pursuing purchase power agreements (PPAs) versus asset ownership. Corporate offtakers, for instance, are trending toward PPAs, while utilities are focused more on owning assets to put in rate base. Certainly, there is a limit on the number of corporate PPAs that are possible since you can only do so many deals in organized markets, but the last four deals we have done as a company have been with corporate offtakers, and this is a notable change.
We are also seeing a fluctuation in cash equity, or true equity. There has been a surprising resiliency of capital sources filing in where we had some contraction from the YieldCos. In many cases we have seen strategics, funds, real estate investment trusts (REITs) and other institutional investors enter the space, and this has been a helpful and surprising trend, and one I anticipate will continue.
In terms of challenges, one of the biggest currently facing the industry is regulation. There is increasing regulation of the business, whether a company is public or private. Dodd-Frank is a burden on private companies, and it has been difficult for all companies to understand, execute and comply with new regulations. Another area of concern is interest rates. We have been in this tremendously low interest rate environment for such a long time that we seem to be taking it for granted. When it changes, we are going to have to reset customer expectations on the prices for electricity or innovate in other ways.
Which technologies are the most promising, economically feasible and easiest to fund at the current time?
All of the technologies that we employ are commercially proven. Their financability is a function of our ability to create predictable cash flows profiles for each project. Most fundamental to that is completing long-term contracts for the sale of the energy and capacity to creditworthy third party buyers.
Do you see this focus shifting in the future or will the current technologies continue to dominate the market?
We expect renewables and natural gas fired generation to represent the major share of all new generation installed in the next five to ten years. We are really excited about energy storage technologies. We've been a leader in the installation of storage systems in the grid. If storage costs can demonstrate price reductions comparable to what we've experienced with wind and solar, storage will be a big part of the story. But storage is not a replacement for other generating sources per se, but rather a complement that provides stabilization of the load and other services that make the grid operate more efficiently.
How does Invenergy finance its projects and why is this approach unique or different from other companies?
Invenergy is an independent, privately-held company, so we are doing 100% project financing. We do not have a corporate parent to lean on – and this is one of the key differentiators that has helped set us apart from other players in the industry. Remaining private has given our company a competitive edge and long-term financial benefits – particularly in a complex and highly regulated industry such as energy. We are not publicly traded, we're not state-affiliated and we're not backed by a hedge fund or private equity firm. In the power sector, which requires billion-dollar investments, this is very unusual. It affords us the ability to focus on value creation and operating in a disciplined manner.
We have also focused on sourcing capital from private investors rather than stockholders, which has helped position Invenergy for long-term success in a highly competitive and challenging market. In addition, we are committed to staying highly disciplined and put our own capital behind all of our investment decisions, which provides a long-term focus and ability to generate sustainable results.
What are the primary requirements that you seek out before considering a new project for financing?
As mentioned above, long-term contracts for the sale of the output are the key. Of course the technology of the equipment needs to be proven and competitive, and the maintenance requirements understood. For renewables projects, we need to have confidence in the resource (wind or solar) available at that site, and we obtain that confidence by measuring and studying the resource long before we initiate financing.
How has Invenergy positioned itself to address the changing landscape?
The fact that we are privately held gives us great flexibility to handle the changing landscape. Development is a complex business and we need to be nimble in our approach and think outside of the box when it comes to finding solutions to energy challenges. Being privately held allows us to respond quickly to changes in the industry and make decisions that are best for our business – not for the next earnings call.
About Jim Murphy, CFO at Invenergy
Jim Murphy has more than thirty years of financial and management experience, primarily in the energy industry, having managed the negotiation and execution of over $20 billion in private equity and debt investments, power plant acquisitions and sales, and project debt and equity financing. He is a member of Invenergy's founding group and is responsible for the general management of the company, as well as corporate and project finance, risk management, and asset optimization. Murphy currently is a member of the Board of Directors of the American Wind Energy Association (AWEA). Prior to the formation of Invenergy, he was Chief Financial Officer at Sky Gen Energy LLC, and previously was a Vice President with financial advisory and investment firm The Deerpath Group, Inc. and a manager with Arthur Andersen. He earned a BS from the University of Illinois, magna cum laude, as well as CPA certification.
The content & opinions in this article are the author's and do not necessarily represent the views of AltEnergyMag
---
Comments (0)
This post does not have any comments. Be the first to leave a comment below.
---
Post A Comment
You must be logged in before you can post a comment. Login now.
Featured Product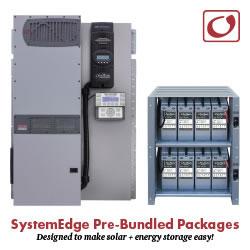 Each pre-bundled package is designed to make solar plus energy storage easy. By combining OutBack's most popular FLEXpower pre-wired systems with matched OutBack energy storage, SystemEdge takes the guesswork out of installing solar plus storage. Every SystemEdge package includes a FLEXpower factory pre-wired system, application-specific EnergyCell batteries and racking, FLEXware ICS Plus combiner and all the necessary connection hardware.