As this result shows that the combination of two PV technologies can outperform the power generation of single junctions the significance of this result shouldnt be underestimated as it breaks the current limitations of solar technology and shows that higher performing modules can be expected to become part of the energy system ... Tom Aernouts, imec
What is a Stacked Perovskite/CIGS Solar Module?
Tom Aernouts | imec
The following is an interview with Tom Aernouts, the Group Leader of Organic Photovoltaics at imec.
Please give a brief background on imec on what the company does.
imec is the world-leading research and innovation hub in nano-electronics and digital technologies. Leveraging our widely acclaimed leadership in microchip technology and profound software and ICT expertise, we create groundbreaking innovation in application domains such as healthcare, smart cities and mobility, logistics and manufacturing, and energy. We bring together close to 3,500 researchers from over 70 nationalities. imec is headquartered in Leuven, Belgium and also has distributed R&D groups at Flemish universities and across the globe.
What is a Stacked Perovskite/CIGS Solar Module and why is it important to the solar energy industry?
For the first time a module-on-module stack of perovskite and CIGS has been demonstrated with relevant sizes of both devices of several cm². The constituent modules are mechanically stacked with the perovskite module on top such that light which is not harvested by the perovskite can be further transmitted into the CIGS bottom module. Optimal use of the solar spectrum is therefore created which results in a power conversion efficiency of this stacked configuration that is higher than for the separate modules on its own.
Can you please give some background on imec's perovskite solar cell research? When and why did imec tap into this space?
imec has a long tradition in Si-PV research, since its start in 1984. Since late nineties also organic photovoltaics (OPV) is being investigated, as a new thin-film PV technology. We made progress with up to 10% efficient cells and over 6% efficient modules. However the efficiency improvements in OPV were stagnating in last few years due to limitations in the materials available. When perovskite showed to be a novel material system that could yield higher efficiency, we stepped into this field in 2014, and contributed since then to improve efficiency of cells to a current level of 20% and modules of more than 15%.
What are some previous innovations that imec has made in this space?
This result could be achieved by the realization of the highly-efficient semi-transparent perovskite module which showed already 12% of power conversion efficiency.
What is unique about this specific innovation?
Often reports on stacked configurations can be seen where however only single cells are combined. Here we bring two modules together, meaning that each of them consists of multiple, already interconnected cells. This comes much closer to the way how real implementation needs to be done
What is the significance of this record efficiency?
As this result shows that the combination of two PV technologies can outperform the power generation of single junctions the significance of this result shouldn't be underestimated as it breaks the current limitations of solar technology and shows that higher performing modules can be expected to become part of the energy system.
For which applications can this technology be used?
High-performance PV modules are often firstly exploited for power plant application. However this result demonstrates the combination of thin-film PV technologies and therefore lightweight and more advanced integrated applications can be targeted also with curved surfaces like carroofs ...
How will this technology make its way into the commercial marketplace?
As it involves a perovskite modules which is still an early-stage, emerging technology the market-readiness of this part of the stack needs to be secured. This will mainly need to address the longer term stability - perovskite have already shown very high cell efficiencies – where we do see nowadays also very good progress being made with several reports showing >1000h stable performance in industrial relevant measurement conditions
What's next?
We believe that on both perovskite and CIGS module progress can be made on short term to improve their module performance which should then also lead to a further increase of the stacked module, with potential to break 20% performance. To achieve this, optics need to be fine-tuned both on the modules itself with higher transparency of electrodes but also with better optical coupling of the modules in the stack. Light management techniques are to be introduced for that.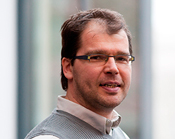 About Tom Aernouts
Dr. Tom Aernouts is leader of the organic photovoltaics group at IMEC. Over the last few years this activity has grown steadily with currently more than 10 permanent and additionally several student and internship positions. He earned his Master of Science and PhD degree in Physics (in 2006) at the Catholic University of Leuven, Belgium. Firstly, he worked on organic oligomer-based diode structures, afterwards continuing his research on organic photovoltaics at IMEC. There, his work focused on the processing and characterization of polymer-based organic solar cells and monolithic modules, introducing techniques like screen and inkjet printing. He has authored or co-authored more than 80 journal publications, book chapters and conference contributions.
The content & opinions in this article are the author's and do not necessarily represent the views of AltEnergyMag
---
Comments (0)
This post does not have any comments. Be the first to leave a comment below.
---
Post A Comment
You must be logged in before you can post a comment. Login now.
Featured Product
What if you could maximize the Ground Coverage Ratio (GCR) on your next project and not have to worry about the complicated variables that come with a tracker system? With a low tilt and clearance design, Dahlia® has the highest GCR of any fixed-tilt system in the marketplace. The system is available in three tilt options (7.5, 10 and 12.5 degrees) and designed to accommodate any sized PV module. The lightweight system is engineered with fewer components, several of which are shipped to job sites pre-assembled. This design feature reduces freight costs and rapidly trims the amount of on-site installation time required to complete construction. Maximizing PV coverage on a site can lead to an increase of production, which creates greater financial return for project owners. Over 100 MW of Dahlia® projects have been deployed across the United States, in regions of variable snow and wind loads. How much can Dahlia® cover and save you on your next project?