S2S is intelligent communication that begins at the sensor level and targets servers for specific reasons. These servers could include anything from a Supervisory Control and Data Acquisition (SCADA) data server that collects and monitors through the SCADA system or a Big Data engine.
Connecting Wind Power with Sensor-2-Server Communication Solutions
Eddie Garcia | FreeWave Technologies
The concept of total connectivity for utility and energy networks is relatively new, yet it has completely disrupted the way these industries operate. When Industrial IoT (IIoT) adoption picked up speed, it became a forcing function behind the demand for more connectivity. For the wind power industry, an IIoT network can connect even the most remote wind turbine or field asset, allowing it to be analyzed, acted upon and transmitted from anywhere in the network. The result is advanced data analytics that drive smarter business decisions, reduced CAPEX and OPEX, safer operations, and much more. The challenge for decision makers today is finding a technology solution that will enable all of these benefits.
Sensor-2-Server Solutions for Wind Power
As the renewable energy market makes strides in the power industry, decision makers are looking for economical ways to manage their systems. Wind power generation plants, for example, require systems that ensure reliable, secure real-time data transmission from remote locations. These wireless networks need to be rugged enough to withstand turbine vibrations, be easily maintained, and have the ability to achieve high data throughput at high speeds. Sensor-to-Server (S2S) solutions that leverage 900 MHz Frequency Hopping Spread Spectrum (FHSS) technology can meet these increasing and frequently changing demands.
What is S2S?
By definition, S2S is intelligent communication that begins at the sensor level and targets servers for specific reasons. These servers could include anything from a Supervisory Control and Data Acquisition (SCADA) data server that collects and monitors through the SCADA system or a Big Data engine. S2S could be leveraged in a predictive analytics environment or server farm that compares data at rest to data in motion at the access layer – or the outermost edge of the IT network. The concept of S2S extends beyond transmitting data. It is about creating intelligent transmission from a specific location back to the appropriate server with the appropriate intelligence to drive action for change.
In wind power networks, Sensor-2-Server communications provide proven, reliable data transmission and advantages where:
There are remote assets at the access layer, such as wind turbines, that need to be connected into the network

Communication security is a priority

Budgets require efficient communications investment

The wind power provider needs to stay competitive in the modern energy market where real-time data is crucial
In other words, S2S Solutions for IIoT networks offer wind power generation facility developers and operators a viable solution for meeting their communication network's requirements while also cutting costs. As the industry continues its fast-paced growth, the need to identify ways to lower infrastructure costs, improve time-to-market and increase performance with reliable, easily installed networks is no longer a wish, but, a requirement. To achieve this with a modern communication system, wind power organizations will likely experience a transition in decision making.
Bringing IT to the Access Layer
IIoT networks shift decision-making from the traditional operations technology (OT) staff to the information technology (IT) department. Until recently, these groups worked in silos and rarely crossed paths. However, in order to have enterprise connectivity – from the edge of the field and back to the corporate office -- IT/OT convergence is inevitable.
The addition of new technology and IoT networks is exactly where operators are starting to see a closer line between the IT and production groups. As more technology is leveraged, these two disparate groups will have to work together more often. There is now a drive for a more holistic picture of what is going on in IT, what is going on in the field at the wind turbines, and whether the technology used will be compatible with future needs.
Convergence also has left many questions around the role of SCADA, and its future in these modern networks. The good news is that SCADA likely will always have value for industrial communications but, going forward, there will be an increase in the use of other technologies as well. In markets like wind power, one of the many benefits of S2S solutions is the ability to connect legacy SCADA-type systems and new technologies into the IT network.
Benefits of Ruggedized S2S Technology
Hypothetically, if a wind farm is located in an isolated region with several hundred turbines, it can be challenging to connect these assets in the access layer into the enterprise IIoT network. Ruggedized S2S solutions are specifically designed to meet connectivity needs in these types of remote environments. Today, decision makers can find solutions where range or link distance is more than 60 miles line-of-sight. These S2S solutions are proven to perform in extremely harsh conditions with high vibration, which is commonly present in wind turbines.
Predictive Analytics
Think of wind turbines as mini jet engines inside of housings that run 250 feet tall. If there is any sign that something might be going wrong in the turbine, vibration is typically one of the best places to start, as it's a good way to look at the general health of the wind turbine and see if things are functioning the way operators are expecting. The faster the IT side can detect problem signals, the sooner that loss can be mitigated and potential disasters avoided. There's a lot of value in vibration monitoring because it gives more predictive ability to identify problems before they cause damage. The danger in not monitoring for potential issues could result in a loose blade. A vibration reading will signal the operator before the blade actually becomes loose, preventing damages in the $2-$5 million-dollar range.
From a business perspective, wind turbines are huge investments costing millions of dollars. As wind turbines near the end of their warranties, typically lasting 20 years, operators tend to be proactive about detecting problems in the turbines before the warranty period expires. This often is a catalyst to connect the edge assets (turbines) into the network. In order to inspect the turbines for problems, an operator will physically go into the turbine. During an inspection, they can easily install an S2S solution that will monitor the turbine on a real-time basis. With wind turbines then connected into the IIoT network, decision-makers can leverage all the benefits of advanced data and predictive analytics to reduce costs, optimize performance and improve safety measures for the field operations staff. S2S solutions can also be scaled to monitor wind speed coming from an anemometer, or the RPM of the actual engine itself within the turbine.
Scaling S2S Networks
An additional benefit of S2S implementation at the access layer is field scalability. Many wireless modems have multiple data ports that can be utilized in the future when additional instrumentation is needed, or if existing devices (lubrication particulate sensors, inverter monitors, in-tower data loggers) need to be accessed remotely later on. Also, because many of these communication solutions are Ethernet-enabled, expanding on an existing FHSS network is as easy as assigning a new IP address to a new device and installing it up-tower.
Each of the benefits from S2S solutions are worth the cost savings and operational efficiencies. However, with more technology physically in the field there will always be concerns around network security.
Secure Access Layer Networks
Deploying sensors at the wind power access layer presents interesting security challenges. Technology providers need to ensure that the technology is taking advantage of all the security features that are available to make sure data is protected through a variety of means, including encryption, authentication, virus and intrusion protection, and, by being physically tamperproof.
With the growing interest in IIoT, the system is providing a communication path with highly valuable information. These sensors may be running an application on the edge of the network on the wind turbine, with many of these devices using IP. When there are Ethernet and IP devices going out to edge devices in the field, each one of those devices has the potential to become a threat to the entire corporate network if they're not secure. Wind power decision-makers that adopt IIoT environments need to be concerned with everything that could be introduced to the network at every single connection point. Data protection is a fundamental and extremely important element in determining the effectiveness of S2S communication. Technology vendors must be mindful of security in every step of the design and installation process, and operators must require security features that will protect their data and networks.
Many of the applications that can be performed using S2S solutions in wind power generation plants are securely and reliably conducted today in other utility and energy applications. These solutions are relied upon in mission critical monitoring, controlling and data acquisition situations in the harshest weather and RF conditions. Therefore, advances of connected networks in the renewable energy power markets on both an industrial and commercial scale are likely to increase.
By adopting S2S solutions, wind power facilities not only prepare for the future, but they can potentially save millions of dollars by connecting to and monitoring the assets at the access layer. As IIoT catches on in renewable markets, wind power providers should embrace the new technology options that are designed for enabling an environment of operational excellence.
The content & opinions in this article are the author's and do not necessarily represent the views of AltEnergyMag
---
Comments (0)
This post does not have any comments. Be the first to leave a comment below.
---
Post A Comment
You must be logged in before you can post a comment. Login now.
Featured Product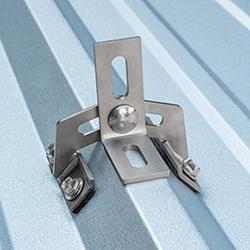 Explore new lines of income for your solar installation business with QuickBOLT's Stone Coated Steel roof mounts designed in partnership with metal roof manufacturers themselves. These SCS roof mounts work on all metal tile profiles and will help you bring in money you're missing out on. By not driving into the roofing material, QuickBOLT's Stone Coated Steel roof hooks maintain the integrity of the roof. Install with ease and confidence knowing your roof is protected against the harsh elements that these hooks are designed for.