The latest step in SEVs renewable energy program is a new 12 MW wind farm located in Húsahagi, on the island of Streymoy. Since coming on line in 2014, the wind farm has increased the islands wind share to 26 percent of total electricity production.
Case Study: Energy storage enables SEV to optimize wind power for the Faroe Islands
Contributed by | Saft
SEV, the Faroe Islands utility, has commissioned Europe's first fully commercial Li-ion energy storage system (ESS) operating in combination with a wind farm. Saft's containerized solution is helping to maintain grid stability so that the islanders can capture the full potential of their new 12 MW Húsahagi wind farm.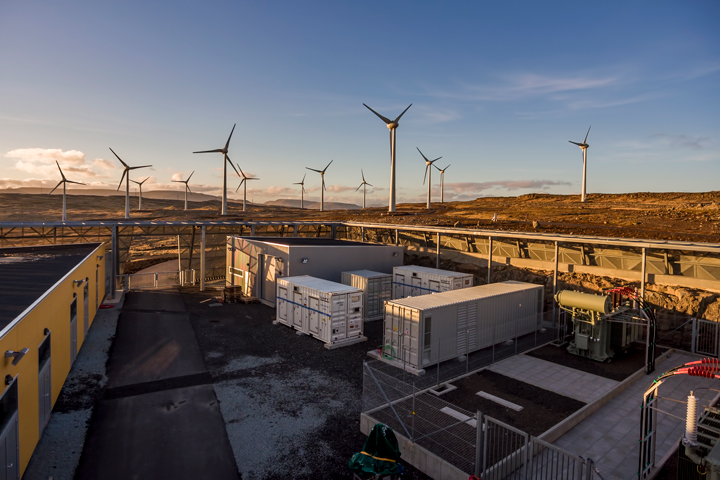 SEV has a green vision for 100 percent renewable electricity production by 2030 by making full use of the Faroe Islands' abundant wind and hydro energy resources, together with emerging technologies like photovoltaics and tidal energy. By 2030, SEV will double its current 314 GWh annual demand for electricity.
Overcoming the variability of wind power
The latest step in SEV's renewable energy program is a new 12 MW wind farm located in Húsahagi, on the island of Streymoy. Since coming on line in 2014, the wind farm has increased the islands' wind share to 26 percent of total electricity production.
To overcome short-term variations linked to the variable nature of wind, lasting from seconds to minutes, a 2.3 MW Li-ion ESS has been deployed. It provides ramp control to smooth out sharp increases and decreases in power, as well as frequency response and voltage control services. The use of energy storage also helps to minimize the risk of curtailment during periods of high wind and low consumption. Excess wind energy that cannot be injected into the grid is now stored in the batteries.
Húsahagi wind farm - key facts
• Serving a remote community of 18 islands with 50,000 inhabitants
• Located between Iceland and Norway with harsh weather conditions
• 12 MW wind farm
• 13 wind turbines producing 41 GWh a year
• Annual demand – currently at 314 GWh - will double by 2030
Saft Intensium® Max solution
The 2.3 MW ESS at the Húsahagi wind farm comprises two Saft Intensium®Max High Power containerized Li-ion batteries. They were delivered in standardized 20-foot containers for ease of transportation and installation and they integrate the communications interface, battery management and cooling and fire prevention equipment. The batteries are combined with ENERCON's power conversion and control equipment. The complete installation – wind turbines and ESS – is designed to limit short term power variations in order to maintain grid stability.
Successfully enhancing grid stability for SEV
Historically, the islands have experienced a higher number of blackouts compared with mainland Europe – between one to three per year. Power network stability has become further challenged with the significant increase in the penetration of wind power.
The Húsahagi ESS was commissioned in December 2015. With SEV's operational expertise in renewable energy allied to Saft's leading-edge energy storage technology it is already making a significant contribution to enhancing grid stability.
Terji Nielsen, SEV R&D Manager, says:
"Saft and ENERCON were our partners for the Li-ion battery and energy conversion systems. They were a natural choice due to their combination of fully commercialized technology and the capability to support us from initial concept and solution modelling through to final delivery. So far the ESS is functioning exactly as planned and the benefits of energy storage are clear."
Húsahagi Intensium® Max - key features
• 2 Intensium® Max containers
• Nominal 620 V
• 700 kWh
• 2.3 MW
• ENERCON 2.3 MVA power conversion and power control system
• Dynamic cycling with daily turnover of 2.5 x capacity
• Operating life of 20-years plus
Saft ESS solution - key benefits
• Enhanced grid stability
• Smoothing ramp rates
• Providing ancillary services such as frequency control
• Minimizing curtailment
The content & opinions in this article are the author's and do not necessarily represent the views of AltEnergyMag
---
Comments (1)
What energy storage capacity and backup power should ideally be configured for the Faroe Islands 12 MW Húsahagi wind farm? This is best answered by using the "Wind, storage and back-up system designer" webpage, setting wind power equal to 12 MW, or 12000 kW, which can be viewed at this link. http://scottish.scienceontheweb.net/Wind%20power%20storage%20back-up%20calculator.htm?wind=12000&units=kW As can be seen, the suggested ideal energy storage capacity is about 5 hours @ 12 MW, which is 60 MWh or 60,000 KWh, much more - 86 times more - than the "700 kWh" battery which has been selected by SEV. In general terms, we may say that batteries are not the right technology to be cost effective to provide for 5 hours of wind capacity of energy storage. Where pumped storage hydro is possible that's the best option. Otherwise, more energy can be cost effectively stored by power to gas, creating hydrogen fuel gas by electrolysis of water. Peak demand, wind and back-up power / energy storage capacity calculator For the specification and design of renewable energy electricity generation systems which successfully smooth intermittent wind generation to serve customer demand, 24 hours a day, 7 days a week and 52 weeks a year. Adopting the recommendation derived from scientific computer modelling that the energy storage capacity be about 5 hours times the wind power capacity, the tables offer rows of previously successful modelled system configurations - row A, a configuration with no back-up power and rows B to F offering alternative ratios of wind power to back-up power. Columns consist of adjustable power and energy values in proportion to fixed multiplier factors. Scottish Scientist Independent Scientific Adviser for Scotland https://scottishscientist.wordpress.com/ * Wind, storage and back-up system designer * Double Tidal Lagoon Baseload Scheme * Off-Shore Electricity from Wind, Solar and Hydrogen Power * World's biggest-ever pumped-storage hydro-scheme, for Scotland? * Modelling of wind and pumped-storage power * Scotland Electricity Generation – my plan for 2020 * South America – GREAT for Renewable Energy
Post A Comment
You must be logged in before you can post a comment. Login now.
Featured Product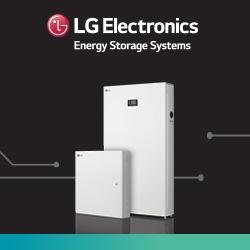 LG Solar is transforming today's solar landscape, offering precision-manufactured and high-efficiency solar panels for homeowners who demand high performance, reliability and consistently strong energy yield from a brand they can trust. LG modules feature outstanding durability, appealing aesthetics and high-efficiency technology, backed by a limited 25-year product, performance and labor (up to $450) warranty. Homeowners who purchase LG Solar modules know they're protected by a diversified global brand.