Being so far away from mainland Massachusetts, it made sense for Cuttyhunk Island to have an inexhaustible source of energy in the form of solar PV.
Massachusetts Island Famous for Relaxation Discovers Solar Peace of Mind
Alicia Auhagen | RBI Solar
Cuttyhunk Island—a mile and a half stretch of land at the outermost band of Massachusetts' Elizabethan Islands—is home to a single school, many bed & breakfasts, and little more than 50 permanent residents. The population can swell into the hundreds in the summer as tourists and travelers flock to this quaint little New England island for fishing and relaxation.
Everything that comes to the island, from food to fuel, must be transported via boat or barge. For barges, that's a three hour drive from the mainland.
Being so far away from mainland Massachusetts, it made sense for Cuttyhunk Island to have an inexhaustible source of energy in the form of solar PV.
Big Green Takes a Barge Ride
Transporting a 351.9 kW ground mount solar system to an island is no easy feat. But with careful planning and local expertise from Synergy Solar's foreman and RBI Solar's Project Manager, Cuttyhunk's solar PV system was installed in no time.
RBI's big green post-driving machine (GRT), two barges of racking material, gravel, a drill rig, and other construction equipment had to be transported to the island to begin construction. Two trips were made on the first day to get all materials and equipment to the island. Another trip was made halfway through installation to take the drill rig and GRT off the island, and another trip was made at the completion of the project to transport the remaining equipment off the island.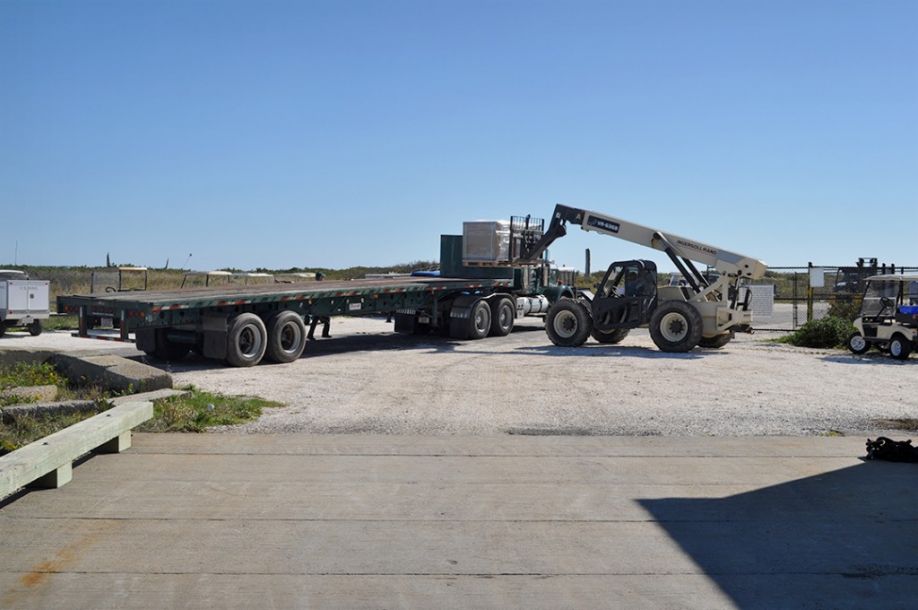 Another transportation challenge was that the GRT moves very slowly and there was no trailer on the island capable of moving the post-driver. Our crews were required to drive the GRT to the barge about a mile away from the dock with a truckload of racking which was then unloaded at the site. There was little room for error in this process as each barge trip was time-consuming and costly. We worked closely with the barge captain to ensure the safety of equipment, materials, and crew members with every trip.
Other Site Challenges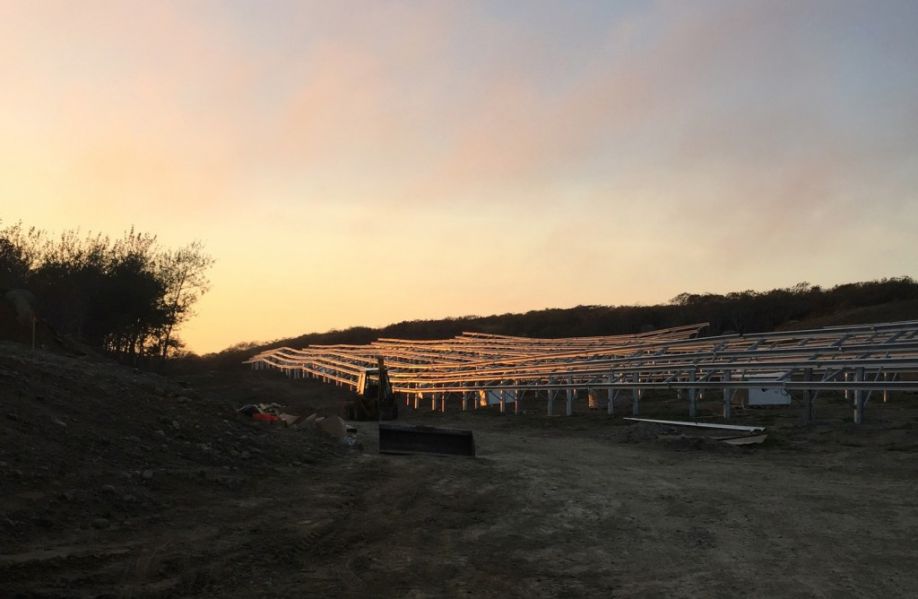 Because the project site was hilly and rocky, we knew there would be areas where we would not be able to drive posts into the ground. To prepare for these challenges, a drill rig was transported to the island to drill out any holes. Once the hole was driven, it was filled with gravel and then compacted to create better post-driving conditions. With the approval of our in-house engineering team, extra-long post top brackets were shipped to the site to make the rows level.
Despite major site access and topographic challenges, our crews were able to install the ground mount system quickly. Now, Cuttyhunk Island residents and visitors enjoy the peace of mind of an unlimited energy source.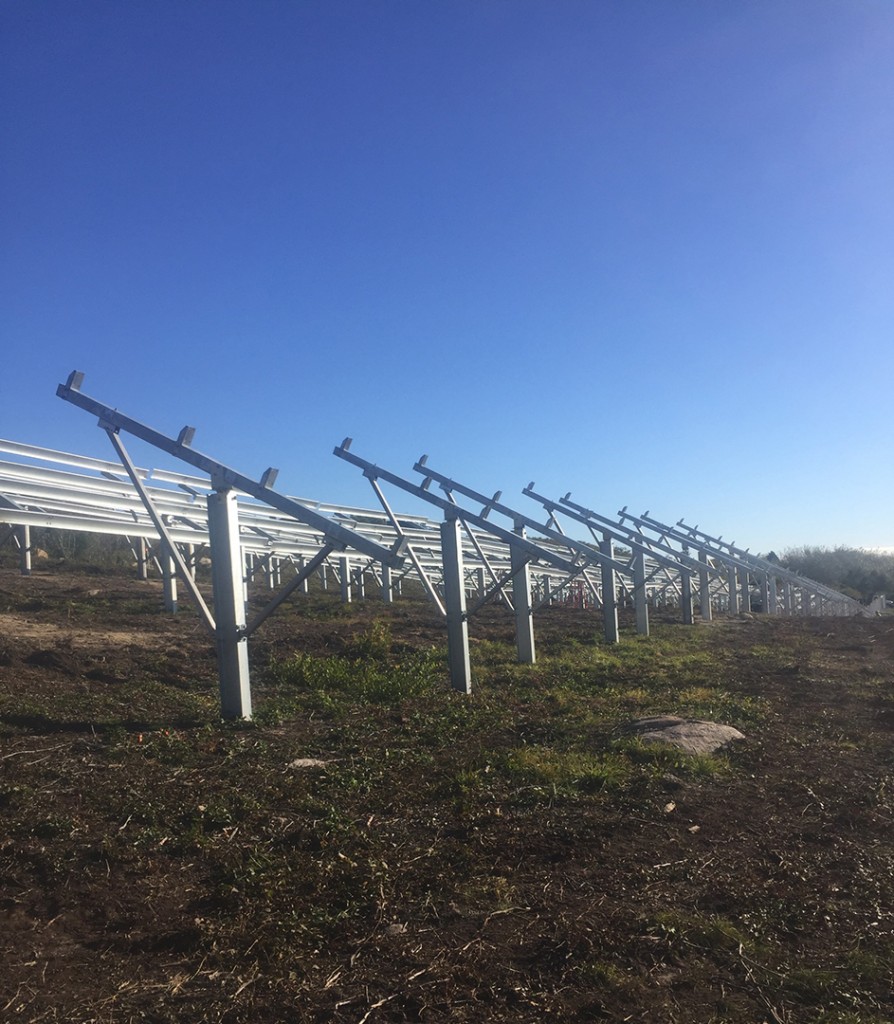 Specifications
Location: Cuttyhunk Island, MA
Structure: ground mount
Size: 351.9 kW
Modules: 1,020
Module Type: SolarWorld 345W
Module orientation: portrait
Post configuration: single post
Foundation: driven post
Many thanks to our friends at Synergy Solar, Solar Design Associates, Gosnold Electric Light Company, Tug Jaguar, Thomas Drilling, and all who contributed to the success of this project!
The content & opinions in this article are the author's and do not necessarily represent the views of AltEnergyMag
---
Comments (0)
This post does not have any comments. Be the first to leave a comment below.
---
Post A Comment
You must be logged in before you can post a comment. Login now.
Featured Product
With Baja Carports 35 plus years in the industry installing our Solar Support Systems nationwide and whose founder Bob Hayworth was one of the first to use solar panels as the rooftops on commercial carports ~ is assurance that you will receive Baja expertise in all phases of installation. Our team's diligence makes the design-build process easy for customers. You don't need a set of architecture plans to begin talking to us about your project. Baja's in-house design engineers will work closely with you to meet your project specifications and city's criteria. You'll have our design team's years of experience applied to your plans. Our engineers will deliver a set of stamped plans, which maximize canopy coverage and details the most-effective layout for your business' parking lot.