High-performance and flexible multiport power converters will be a key enabling component for solar-plus-storage adoption, and deployment. The power conversion system is critical when implementing solar coupled with storage, as the efficiency of conversion will come into play at several stages throughout the system: PV to grid, PV to battery, and battery to grid.
Power Conversion Technology
John Merritt | Ideal Power
Please tell us a little bit about Ideal Power and where its solutions fit in the energy landscape.
The energy landscape has witnessed significant transformation over the past decade with the widespread proliferation of renewables. One of the biggest challenges we face for the continued growth of both utility-scale, and behind-the-meter sited solar is the intermittency of solar generation. The unpredictable nature of solar power actually stresses the grid in some regions of high-penetration solar, specifically in Hawaii and areas of California, where adding additional solar may actually de-stabilize portions of an aging electrical grid.
Energy storage systems are a key solution to this roadblock – balancing the supply of renewables with the demands of the grid. Ideal Power's multiport power converters enable the direct integration of solar and energy storage in one compact box, supporting both on-grid and off-grid applications. Our converters are based on a revolutionary method of power conversion that delivers unprecedented flexibility and versatility in a broad range of applications.
Who can benefit the most from Ideal Power's conversion technologies?
Ideal Power's converters are applicable to projects of all types, whether they are grid-integrated solar-plus-storage; storage-only systems for customer-side demand management; AC microgrids; DC microgrids; critical load support and backup power; or even electric vehicle charging stations. As such, those who can benefit the most from Ideal Power's products include renewable project integrators; storage system integrators; utilities; and corporate energy managers, or ESCO's (Energy Service Companies); seeking to deliver lower energy costs while delivering additional value streams to their end customers.
How do Ideal Power's conversion units differ fundamentally from others in the market?
Ideal Power's conversion solutions represent a fresh approach to power conversion and a technological leap compared to conventional systems. Our units achieve the same electrical isolation as traditional converter technologies at significantly reduced size and weight — weighing just 20 percent of competitive alternatives. These smaller and lighter platforms enable us to deliver a product that is also more versatile and efficient at an attractive system price point.
Our multiport converters are unique. Most existing solar-plus-storage solutions, utilize two separate power converters: one dedicated to PV; and one dedicated to the battery. The management and integration of these two units is a headache for system integrators, from both a hardware and software point of view. Additionally, the 2-converter approach suffers from efficiency losses as a result of either DC coupling (intermediate DC power bus shared between the two converters) or AC coupling (AC-grid shared between the two converters). Note that there is considerable industry debate regarding the technical merits and performance of either coupling approach. Ideal's Power Packet Switching Architecture (PPSA™) is neither AC- nor DC-coupled, further improving the system efficiency, flexibility and performance of our multiport solutions.
Ideal Power's conversion systems are software-enabled devices, allowing the capabilities of our converters to be tailored to suit specific project requirements. Ideal's converters support both 50 Hz and 60 Hz grid-standards, and are easily configured for grid-tied, AC or DC microgrids, or grid-resilient (backup power applications). Multiple units may be paralleled on their AC or DC ports for higher-power applications, utilizing a novel power-sharing algorithm. Lastly, the DC voltage range is wider than most conventional systems, enabling support of almost all battery technologies.
Why is power conversion so critical for the deployment of solar-plus-storage?
High-performance and flexible multiport power converters will be a key enabling component for solar-plus-storage adoption, and deployment. The power conversion system is critical when implementing solar coupled with storage, as the efficiency of conversion will come into play at several stages throughout the system: PV-to-grid, PV-to-battery, and battery-to-grid. Additional factors influence the choice of power conversion technology, including whether the solar-plus-storage system needs to be microgrid-enabled, or if battery storage is being retrofitted to an existing PV system.
Lux Research forecasts that the global market for distributed storage for solar systems will be worth $8 billion by 2026. Power conversion technologies are helping to make this growth possible by contributing to efficient solar-plus-storage installation and performance. Conventional AC, or DC-coupled systems require two separate power converters – one for the battery and another for the PV system. These approaches present significant difficulties for both on-grid and microgrid applications, where external high-speed control loops are required to manage energy-flows between converters and the grid in real-time. Ideal Power's compact multiport converters eliminate this high-speed controls requirement, minimizing control complexity. This will accelerate solar-plus-storage adoption and deployment.
Who is your primary customer and why?
As noted above, Ideal Power appeals to a broad range of system integrators and project developers, who focus on minimizing system design, installation, and ongoing operating costs.
All of the above have a big impact on project economics. Ideal's technology addresses all three cost components:
1) our power converters are flexible, supporting a broad range of applications in one multiport package, while also offering simplified controls integration;
2) our converters are the industry's smallest and lightest form-factor, and do not require an external isolation transformer, and lastly;
3) our power converters are efficient, minimizing losses between PV, battery and grid.
What does the future look like for the power conversion market and what is Ideal Power's growth strategy?
With the recent announcement of Ideal's Stabiliti™ product family, it is obvious that offering grid-resiliency is increasingly important to many of our integration partner's end-customers. Note that 99%+ of today's deployed PV systems, solar-plus-storage systems, and storage-only systems are NOT grid-resilient. They CANNOT provide backup power to critical loads when the grid is down. Both the 30kW Stabiliti multiport, and the 30kW Stabiliti dual-port offer grid-resiliently, and they are easily paralleled to support larger system nameplate sizes.
The Stabiliti family has created considerable interest in the MUSH (municipalities, universities, schools and hospitals), market segment, where providing disaster-recovery and shelter-in-place services to the local community now requires expensive, noisy and dirty diesel generators. Depending on solar resource, battery size and load, a Stabiliti-powered in-building or campus microgrid may offset diesel runtime and fuel use by 50% or more at such facilities.
However, there remains another class of applications for multiport power converters, where grid resiliency or microgrid support is not required. These applications include "solar shift" where solar and storage are paired to better align the PV array power output with the demands of the grid. Ideal's SunDial™ inverter family is designed to serve such projects.
Lastly, Ideal intends to develop larger versions of the existing 30kW Stabiliti and SunDial offerings, starting with a 125kW platform. Please stay tuned.
Is the current market in the US as strong as it was last year or have things slowed a bit with the new administration in Washington?
We have registered no significant change to market growth upon the introduction of the new administration. From our perspective, the adoption of renewables and energy storage continues to grow at an accelerating rate. It is expected that this will be sustained for the foreseeable future, as both the private and public sectors continue to recognize the stacked value-streams and business benefits of clean energy integration. The outlook remains positive for the power conversion market, which will continue to grow due to demand from new projects and retrofits to existing projects. Trends such as the increased deployment of utility-scale storage, community solar and microgrid projects in recent years further substantiate these expectations.
About John Merritt, Director of Applications Engineering, Ideal Power
John Merritt is the Director of Applications Engineering at Ideal Power. John has more than thirty years of technical marketing experience spanning product marketing, product development, engineering, and project management in both high-tech and cleantech companies. Prior to joining Ideal Power in early 2013, he spent three years at Draker/Solar Power Tech working on both solar monitoring and solar power optimization technologies. He is a hands-on and collaborative leader, dedicated to building strong ties between engineering, operations, marketing, sales and end-customers.
The content & opinions in this article are the author's and do not necessarily represent the views of AltEnergyMag
---
Comments (0)
This post does not have any comments. Be the first to leave a comment below.
---
Post A Comment
You must be logged in before you can post a comment. Login now.
Featured Product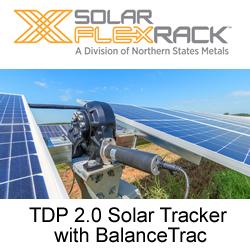 Solar FlexRack's latest solar tracker technology bundles an advanced tracker design with a full team of seasoned engineering and installation experts at your service. The next-generation solar tracker delivers a package of features that both enable increased energy yields for commercial and utility-scale solar installations, and significantly reduce project risks. That translates to smart installation cost-savings across your project budget.