Despite the resistance of giant fossil fuel enterprises, and despite the misguided efforts of some local, state and federal governments to forestall solar energy (as well as other alternative sources), the march has begun. While the U.S. may be behind Europe right now, the inevitability is a foregone conclusion.
5 Signs that Solar Energy is Changing Society's Consumption Behavior
Amanda Sparks
If you travel to the country of Belize, you will not see power lines. Belize never built such infrastructure, and sources of traditional electricity are rare and prohibitively priced. And so, when Belize began to develop its infrastructure, solar power was a natural solution.
In fact, the use of renewable energy had become quite common in developing countries, especially solar power, in those countries that are tropical.
U.S. adoption of renewable energy has been slower than that of developing nations, and, of course, there are several reasons for this.
Coal and oil industries have long held privileged positions, especially with politicians who are responsible for policy and legislation.

Solar power is an expensive proposition for home owners who want to be environmentally responsible but who find the costs of transition prohibitive
The Whole Word is Getting Serious Now
The recent Paris Accord has focused the entire world's attention on environmental destruction and, when all but 3 countries are now a party to this accord, it's obvious that things are getting serious.
And the dangers to the planet for the next generation have caused individual consumers to change their behaviors – they recycle; they are beginning to purchase hybrid cars; they are purchasing only energy efficient appliances, and they are looking for renewable energy sources that will provide cheap electricity which will also be environmentally friendly. Solar energy is perhaps the most viable alternative, and the number of consumers making this transition continues to grow.
And as consumers adopt solar energy and demand that their governments do as well, there are definite changes in consumption behavior, all for the better. Here are five signs that consumption is changing.
A University of Texas study pointed to the conclusions that making the transition to solar power triggers much greater awareness on the part of consumers of both energy usage and energy prices. They begin to watch their consumption amounts and how much electricity companies will be paying them at the end of each month, as they watch their meters run backwards.

Another study at Stanford reported that just awareness, not necessarily full-out adoption, causes consumers of electricity to be more mindful of their own consumption behaviors and to take steps to reduce them. When they discover the lowered energy prices through solar, they look for ways to lower their own costs, even if they cannot make the transition to solar at that point.

The latest U.S. Census Bureau statistics show that people are moving into urban areas. And, except for New York City, the 15 urban areas experiencing the largest growth are in the southern and western parts of the country. They are not flocking to these cities because there is some big draw from solar power. But they are flocking to them because these cities are all offering environmentally-friendly and healthier lifestyles. They are called "smart cities" and the movement in the U.S. and the world is to continue to develop eco-friendly cities through technology (IoT) and through alternative renewable energy sources, especially solar. Smart cities are on the rise, because the pressure is on, and the advent of solar power has been a part of this pressure.
Reducing energy consumption on the part of entire communities is on the rise. The idea of entire cities that are programmable is no longer the fodder of science fiction or academic research papers. It is a reality.
Government incentives for residential and commercial consumers include financial incentives and grants. The city of Amsterdam, for example, is currently offering residential energy storage units and solar panels for all homes that are connected to their smart grid. The benefit for the city of course is that consumers can store energy during non-peak hours and use it during peak hours, relieving stress on the grid. The added incentive is that these consumers can sell their spare from the panels back to the grid. These incentives have radically changed consumer behavior in the city, with an exploding number of consumers connecting to the grid and using the solar panels and batteries. This is a sign of things to come all over the world.

Peer pressure is still alive and well. A recent report that was published by two researchers from NYU Stern School of Business and Yale School of Forestry and Environmental Studies, shows ten years of data about the change in consumer behavior once solar energy is introduced into a neighborhood. They refer to solar energy as a "gateway drug" for neighborhoods. Once a homeowner or two goes solar, other neighbors are curious. They see the before and after energy audits that these solar households generate. And they want a piece of this action too.
Despite the resistance of giant fossil fuel enterprises, and despite the misguided efforts of some local, state and federal governments to forestall solar energy (as well as other alternative sources), the march has begun. While the U.S. may be behind Europe right now, the inevitability is a foregone conclusion.
The content & opinions in this article are the author's and do not necessarily represent the views of AltEnergyMag
---
Comments (0)
This post does not have any comments. Be the first to leave a comment below.
---
Post A Comment
You must be logged in before you can post a comment. Login now.
Featured Product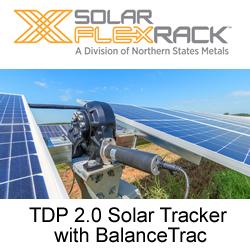 Solar FlexRack's latest solar tracker technology bundles an advanced tracker design with a full team of seasoned engineering and installation experts at your service. The next-generation solar tracker delivers a package of features that both enable increased energy yields for commercial and utility-scale solar installations, and significantly reduce project risks. That translates to smart installation cost-savings across your project budget.