The learning type thermostat allows the home owner to pay attention to their daily business while the climate in the house takes care of itself.
Should You Invest in a Smart Thermostat?
Len Calderone for | AltEnergyMag
There are many ways to utilize smart technology and smart thermostats are a good way to save energy. They allow the control of a home's temperature via a tablet, smartphone or desktop for better control over the central heating and cooling.
A conventional room thermostat allows the temperature in a home to be changed by using a dial or control panel, whereas a smart thermostat allows for more effective, user-friendly and manageable control over a home's heating and cooling using three basic components.
The first component connects to the heating system and wirelessly talks to the smart thermostat, which is the second component. The last component is an app, which is downloaded to a smartphone or tablet. This is the basic configuration.
Smart thermostats usually come in two varieties. One type learns automatically from the home owner's behavior and adjust themselves accordingly. They don't need to be programmed, and the type that offers internet connectivity for remote management and programming, such as being notified by the smart phone when the owner is on the way home and setting the temperature to a desired comfort level. The best models are contained in both groups.
If someone is retired or a stay at home mom, a smart thermostat might not be an advantage, but if work or a hectic schedule is the driving need, the ability to remotely control a home's temperature will appeal to those.
Unless there is a wide range of temperatures in the house from morning to night, a smart thermostat won't save money in the short run, but a smart thermostat will pay off in the long run if the house can be heated or cooled efficiently.
The smart phone will receive reports about usage, which can help better understand the heating/cooling usage. This possibly will help adjust behavior and preferences, which could save money while maintaining the house at a comfortable temperature to save money.
Smart thermostats are inclined to be expensive from $200 to $500, depending on the model and features. This isn't an enormous investment to a homeowner, considering the cost of other home improvement projects, but for a renter, it is not practical. The EPA's Energy Star program determined that homes with smart thermostats can save up to $180 per year on heating and cooling.
A smart thermostat will certainly save money if the home owner is the forgetful type who'll leave the AC or heater running all day even if they're not home. The learning type thermostat allows the home owner to pay attention to their daily business while the climate in the house takes care of itself.
So, what should a home owner look for in a smart thermostat? The key factor is a thermostat that isn't difficult to install, even if you're not a DIY type. The instructions should be easy-to-understand with a lot of photographs or drawings as a guide.
Geofencing is a feature that uses the thermostat's app and the smartphone's GPS chip to ascertain a perimeter around the property. When the phone senses that the owner has left the property, the thermostat presumes that the heater or AC is no longer needed to heat and cool your home and adjusts the house's temperature.
Remote access will be needed to control the thermostat from far away, so that the home owner can adjust the temperature from wherever there is a connection to the internet.
Gibberish is the last thing that a family wants when all they want is more heat or a cooler temperature. Therefore, the thermostat should convey important information at a glance and should easily adapt to the family's specific need, and not be difficult to understand.
The C wire, or common wire, enables the continuous flow of 24 VAC power to the thermostat. If the system doesn't have a C-wire, a new cable will need to be run from the furnace to the thermostat to install most of the modern smart thermostat models.
Here are a few smart thermostats to be considered:
Nest is one of the oldest companies that make smart thermostats and they have an assortment of models. Once the simple installation process is finished—usually 30 minutes or less—the Nest immediately begins learning how the owner moves around the house, while adjusting temperatures automatically based on the time of day through a series of sensors, and a smartphone.
Most homes aren't the same temperature throughout. Nest has an accessory to solve that problem. With the Nest Temperature Sensor, the thermostat knows which room should be the most comfortable room in the house and adjusts.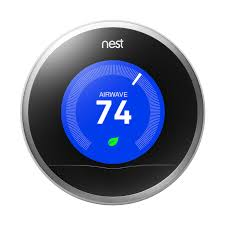 The Vine Smart Thermostat offers a bright colored 3.5" LED touch screen, large classic dial, and programmable nightlight. It offers many features without a large price tag. The addition of Wi-Fi connectivity pairs with the free smartphone application on both Android and iOS, so quick and easy temperature changes can be made. Vine has some minor, but favorite extras such as hourly or five-day forecasts, humidity reports, a programmable nightlight, as well as reminders of when to change filters.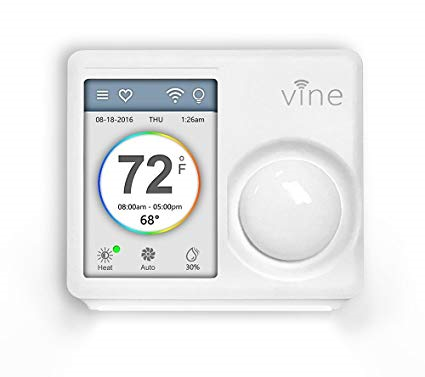 Honeywell's Lyric T5, works with Alexa for voice control. It uses geofencing technology to keep track of the smart phone's location. The Lyric T5 can be set to decide if the home's system should be heating or cooling to deliver maximum comfort. It gives notice for filter changes and extreme temperature warnings.
The Lyric is Energy Star certified. The Lyric T5 Wi-Fi thermostat is compatible with most single-stage and multi-stage conventional and heat pump heating and cooling systems.
With a built-in speaker and microphone for Amazon's Alexa service it's easy to see why the Ecobee4 is the best-integrated system. It has an average cost savings of 23 percent per year on heating and cooling. The installation takes just a few minutes to be up and running. It has a room sensor to help manage hot and cold spots.
Once installed, the Ecobee can read the news, tell a joke or order a pizza with the pre-loaded Alexa skills. The available smartphone app for both Android and iOS allows temperature adjustments from down the block or on the other side of the world.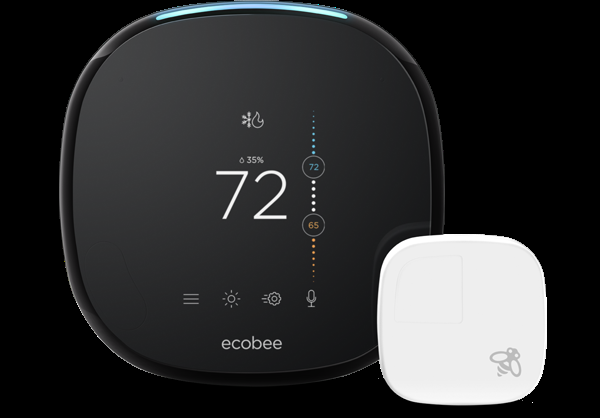 The choices do not stop here. Check out Carrier, Emerson, GoControl, Lux, Radio, Schneider Electric and Venstar.
If you are one of those people who forget to change the thermostat when leaving the house, or you have to get out of bed because you forgot to set the temperature for comfortable sleeping, a smart thermostat may be worth the money. Plus, you'll like the long run savings.
The content & opinions in this article are the author's and do not necessarily represent the views of AltEnergyMag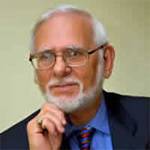 Len Calderone - Contributing Author
Len contributes to this publication on a regular basis. Past articles can be found with an Article Search and are listed below. He also writes short stories that always have a surprise ending. He has also written a book on wedding photography on a budget. These can be found at http://www.smashwords.com/profile/view/Megalen
Other Articles
With over 20,000 solar professionals, 700 exhibitors, and more than 300,000 square feet of expo hall space, navigating North America Smart Energy Week can be a real challenge.
Only 10% of energy used in the U.S. comes from renewable sources—mostly hydroelectric energy. Worldwide, 85% of the energy comes from non-renewable sources. These sources, such as oil, natural gases and coal, will eventually be depleted.
There is a fast-growing demand for energy and a rising concern for the environment, which is providing a serious energy challenge. That challenge is how to provide secure power supplies and protect the climate.
---
Comments (0)
This post does not have any comments. Be the first to leave a comment below.
---
Post A Comment
You must be logged in before you can post a comment. Login now.
Featured Product
What if you could maximize the Ground Coverage Ratio (GCR) on your next project and not have to worry about the complicated variables that come with a tracker system? With a low tilt and clearance design, Dahlia® has the highest GCR of any fixed-tilt system in the marketplace. The system is available in three tilt options (7.5, 10 and 12.5 degrees) and designed to accommodate any sized PV module. The lightweight system is engineered with fewer components, several of which are shipped to job sites pre-assembled. This design feature reduces freight costs and rapidly trims the amount of on-site installation time required to complete construction. Maximizing PV coverage on a site can lead to an increase of production, which creates greater financial return for project owners. Over 100 MW of Dahlia® projects have been deployed across the United States, in regions of variable snow and wind loads. How much can Dahlia® cover and save you on your next project?