SPI's expanded range reflects the growth of energy innovation through the addition of ESI, Hydrogen + Fuel Cells North America, and the Smart Energy Microgrid Marketplace.
The Show You Don't Want to Miss!
Len Calderone for | AltEnergyMag
Solar Power International is the fastest growing and largest solar show in North America, and it will take place in Anaheim, California from September 24 – 27. Solar Power International (SPI) and Energy Storage International (ESI) is the show for energy professionals. SPI's expanded range reflects the growth of energy innovation through the addition of ESI, Hydrogen + Fuel Cells North America, and the Smart Energy Microgrid Marketplace.
The demand for solar installations has flourished significantly the past decade. In the U.S., solar power capacity doubled from 2015 to 2016. The main reason why solar is growing at such a rate is that solar technologies have reached a level of economies of scale. The cost to install solar has plummeted by more than 70 percent since 2010. Plus, the federal solar Investment Tax Credit (ITC) has made available a 30 percent tax credit for residential and commercial installations.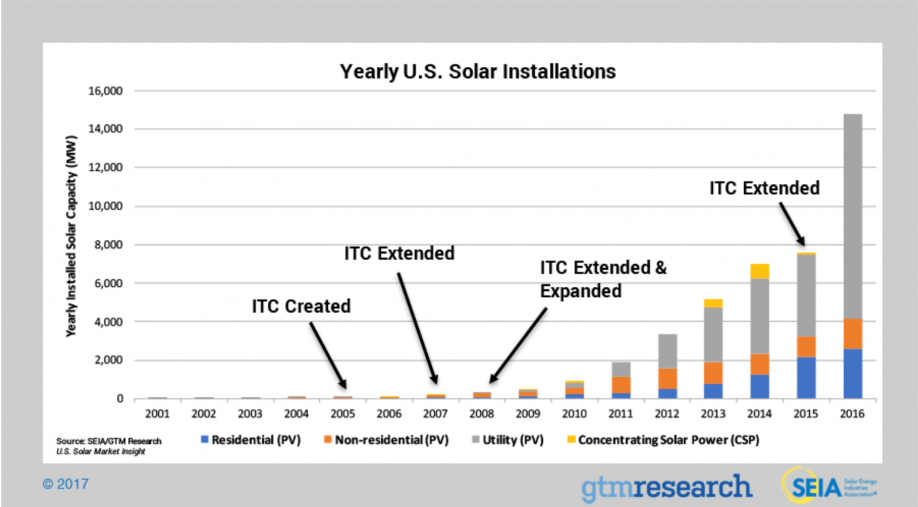 Latest Report
Need a reason to attend? There are over 100 education sessions throughout the event, including sessions that will be held on the show's floor. Meet the top suppliers and manufacturers. Network with distributors, installers and contractors, engineering firms, architects, builders and developers, investors and financiers. Uncover new solutions and ideas that you can take back and utilize in your business. Identify new trends and innovations.
ESI is the largest energy storage conference in North America with more than 160 energy storage exhibitors, with dedicated full conference education, with show floor education in Storage Central and an exclusive storage networking event.
Energy storage is a game-changer for the solar industry, and SPI is proud to host one of the largest meetings of energy storage companies in North America. SPI draws some of the biggest players in energy storage, as well as featuring an education track devoted to new technology, trends and analysis of energy storage.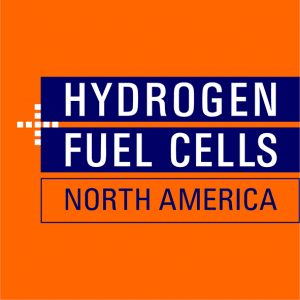 Hydrogen + Fuel Cells NORTH AMERICA is the only Hydrogen and Fuel Cell trade fair in the USA in 2018. Market leaders will present the storage of renewable energy through electrolysis. Honda, Hyundai and Toyota will offer fuel cell cars for a ride. Nikola Motors will bring you up-to-date regarding hydrogen-powered trucks.
One of the major topics of Hydrogen + Fuel Cells NORTH AMERICA will be the storage of renewable energies. Wind and solar energy can be stored through the production of hydrogen via water electrolysis.

Home, building automation, and smart energy technologies are natural compliments to the solar industry where everything comes together at SPI in The Smart Energy Microgrid Marketplace. In 2018, the marketplace will include the entire solar, energy storage, hydrogen fuel cells, distributed wind, and smart energy microgrid landscape.
The marketplace features a fully-functioning "live" microgrid, power conversion equipment, energy management systems, building and home smart energy products, electric vehicle charging stations, energy storage systems, and solar energy products, making the connection between solar, energy storage, hydrogen fuel cells, distributed wind, and smart energy.
After a productive start in 2017, with 40 exhibitors and partners, Hydrogen + Fuel Cells NORTH AMERICA will be co-located with SOLARPOWER International and Energy Storage International. This exhibit will cover hydrogen generation, storage and transportation, fuel cell systems and applications, components and supplying technology, and fuel cell testing. Hydrogen + Fuel Cells NORTH AMERICA combines the innovation of HANNOVER MESSE with the largest deployment of hydrogen-powered FCEVs in the world.
So, what can you expect to see at the event?
World Wind & Solar is an Independent Service Provider, with clients in more than 34 states. The WWS team provides construction, commissioning, operations and maintenance services to both wind and solar projects. Their team is made up of solar technicians, solar leads, wind technicians, wind leads, tower wiring technicians, master electricians and supervisors.
Socomec offers a wide range of UL/CSA solutions in power switching, power monitoring and power conversion. Their specialties are converters, energy storage solutions, fusible and non-fusible disconnect switches, enclosed disconnect switches, transfer switches, metering and monitoring solutions for AC and DC applications, and single-phase UPS.
Socomec Inc, booth 3166
Aurora is the solar industry's leading platform for PV sales and system design. They streamline and automate the solar design process, allowing solar installers to focus on satisfying customers. Just using an address and an electricity bill, Aurora can accurately ascertain a site's solar potential, design the ideal photovoltaic system, perform a financial analysis, and create a sales proposal in under 10 minutes. Aurora is used by solar installers around the world, with over 15,000 installations designed by their software every week.
Aurora Solar Inc., booth 138
PDC Machines makes compressors for hydrogen refueling stations. PDC provides complete solutions for alternative energy applications. They are the #1 supplier of gas compressors for automobiles, bus and material handling fueling market with nearly 350 compressor installations worldwide and counting. They have decades of experience in hydrogen compression system integration. Their contamination-free and leak-tight, diaphragm compressors can be used for hydrogen powered fuel cell vehicles, hydrogen powered fuel cell trucks, hydrogen powered fuel cell buses, hydrogen powered fuel cell material handling vehicles, hydrogen powered back up fuel cells stationary for stationary power generation, and hydrogen powered back up fuel cells for telecommunication towers.
PDC Machines, booth 4263
Solar Panel Wash by American Polywater Corporation cleans panels to increase output performance. It is approved by industry leading panel manufacturers because it does not harm the panel's various films or aluminum rails. It uses less water to clean because it carries dirt and sand off of the panels by its sudsing, hydrophobic action. FST foam duct sealant protects inverters, combiners, transformers and switchgear by keeping water and gases out.

American Polywater, booth 1790
The POWERGRID by Clean Energy Storage is on the leading edge of technology and is tailored for each individual's power habits and consumption needs. Each POWERGRID is built and delivered as a turn key system with all the programming, battery management system and necessary interconnection hardware with UL listings. The POWERGRID is designed to discharge with maximum benefit, eliminating expensive demand costs while generating cost avoidance savings similar to net metering for kWh energy costs. The system can produce up to 50% more savings than other demand saving systems on the market.
Clean Energy Storage, booth 2255
Myers Power Products has been a global leader in the manufacture and integration of power distribution solutions ranging from medium voltage AC and DC switchgear and equipment, custom designed enclosures & power distribution centers to low voltage switchboards and panelboards and electrical service entrance pedestals. With manufacturing facilities throughout U.S., Myers is uniquely positioned to deliver quality solutions designed, fabricated, assembled, and integrated under one roof, regardless of complexity.
Myers Power Products, booth 2249
Trina Solar is a leading global total solutions provider for solar energy. Founded in 1997, Trina Solar develops proprietary smart PV solutions for large power stations as well as commercial and residential solutions, energy storage systems and photovoltaic modules. As the world's leading provider of integrated solar energy solutions, Trina Solar has taken the lead in evolving into a brand in the world of energy IoT and is committed to becoming a global leader in this new and emerging sector.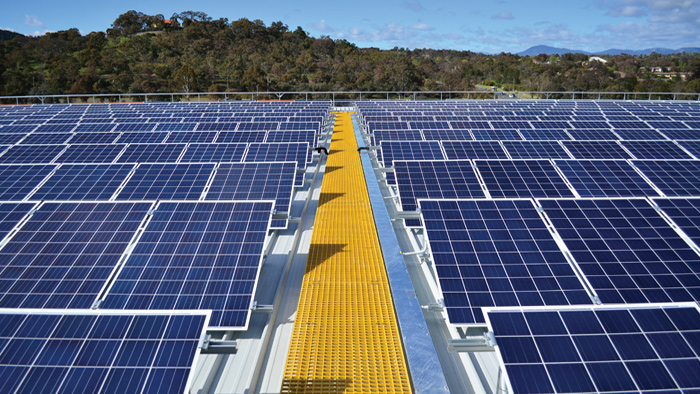 Trina Solar, booth 2138
Last year, 20,000 solar, storage and smart energy professionals from 120 countries attended this show. There was a lot to see, as 750 exhibitors from 27 countries exhibited. There were 162 energy storage exhibitors. All of this was held in 256,000 square feet of show floor. This is definitely the show to attended if you have anything to do in the solar industry.
The content & opinions in this article are the author's and do not necessarily represent the views of AltEnergyMag
---
Comments (0)
This post does not have any comments. Be the first to leave a comment below.
---
Post A Comment
You must be logged in before you can post a comment. Login now.
Featured Product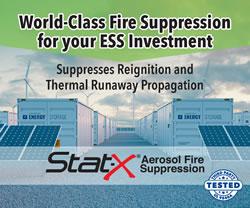 Stat-X® condensed aerosol fire suppression is a solution for energy storage systems (ESS) and battery energy storage systems (BESS) applications. Our Stat-X condensed aerosol fire extinguishing product was tested for efficacy in suppressing li-ion battery fires. It was found that the product successfully extinguished single and double cell battery fires. This testing was conducted in parallel with a large battery fire testing program on behalf of a large energy storage company.